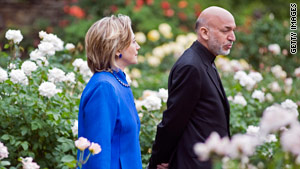 Secretary of State Hillary Clinton talks with Afghan President Hamid Karzai on May 13.
STORY HIGHLIGHTS
Afghan President Hamid Karzai visits the U.S. this week
He met with President Obama and Secretary of State Hillary Clinton
Labott: The welcome of Karzai aimed to reassure him of the U.S. commitment to Afghanistan
The improved climate does not mean the thorny issues aren't still there, Labott says
Editor's note: Since becoming State Department producer in 2000, Elise Labott has covered four secretaries of state and reported from more than 50 countries. Before joining CNN, she covered the United Nations. Follow her on Twitter at @eliselabottcnn
Washington (CNN) -- On the surface, President Hamid Karzai's whirlwind visit to Washington was all about atmospherics.
The effusively warm words for the Afghan president -- coupled with lunch at the White House, dinner at the vice president's residence and a reception at the State Department -- were all meant to show that after months of tension between Karzai and President Obama over Karzai's anti-Western comments and U.S. complaints he wasn't doing enough to address corruption within his government, the United States and Afghanistan were back to being friends.
But the warm embrace of Karzai was also part of a campaign to assure him and his government that the United States will not abandon Afghanistan, even after it begins to withdraw its troops next summer.
For his part, Karzai sought to reverse the perception he was insensitive to the sacrifices of the U.S. military. He stopped at Walter Reed Army Medical Center to visit wounded troops and paid tribute to fallen U.S. soldiers at Arlington National Cemetery.
Gone were the accusations and threats. This week the buzz words were "partnership" and "shared goals."
On Thursday afternoon, Secretary of State Hillary Clinton sat with Karzai for a "chat" at the U.S. Institute for Peace, a Washington-based think tank. The questions weren't all that probing, but the answers laid out an important truth, most pointedly outlined by Clinton, who said, "This visit was about demonstrating clearly and unequivocally the convergence of our two respective countries' interests."
Both sides have realized they have a lot of work to do together and, with NATO weeks away from undertaking a major offensive in Kandahar and a year from the deadline Obama set to begin to withdraw U.S. forces, the past few months of name-calling were not getting them closer to getting that work done.

Video: Obama reaffirms commitment to Afghan war

Video: Obama, Karzai commit to fewer casualties
Karzai brought with him a delegation of 15 Cabinet ministers. In inviting them, the White House was trying to make Karzai less central by building relationships with other members of the government, many of whom are viewed by U.S. officials as quite capable.
Officials from both sides said the three days of meetings helped put the countries on a better footing, enabling them to reach new understandings about their relationship. While the leaders were meeting, their staffs were breaking off into working groups and getting down to work on a wide range of issues, from finance to women's concerns to political reconciliation.
The improved climate does not mean the issues that led to the tensions between the two countries aren't still there.
President Karzai's plan to reintegrate members of the Taliban into Afghan society and eventually forge some kind of political reconciliation with the Taliban leadership remains an open question. The United States has tacitly supported the idea but has seen few details and remains skeptical.
Even though little mention was made by Obama and Clinton about corruption and drug trafficking in Afghanistan, both of which U.S. officials say have empowered the Taliban, the United States has serious concerns about Karzai's track record in tackling these issues.
Much of the success of the U.S. strategy for Afghanistan depends on the Karzai government's ability to take the lead in providing security and delivering services to the Afghan people.
If Karzai's government isn't able or willing to deliver on these "shared goals," it remains to be seen whether this fragile "strategic partnership" will withstand the tensions that will inevitably re-emerge and whether the new U.S. policy of carrots and warm words will turn back to one of sticks and stones.