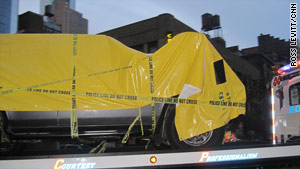 The Times Square bombing attempt has been linked to the Pakistani Taliban group Tehrik-i-Taliban.
STORY HIGHLIGHTS
Senators urge State Dept. to recognize Tehrik-i-Taliban as a "foreign terrorist organization"
The Pakistani Taliban group has been linked to the Times Square bombing attempt
State Department says the group is under consideration for inclusion on the terrorist list
Being on the list triggers U.S. government action such as freezing the group's assets
Washington (CNN) -- While the U.S. has been aggressive in using drone aircraft against the Pakistani Taliban, some Democratic senators want to know why the Obama administration has not used other tools against the group linked to the Times Square bombing attempt.
Sen. Charles Schumer, D-New York, and Sen. Kay Hagan, D-North Carolina, have written Secretary of State Hillary Clinton urging the State Department to formally name the Pakistani Taliban group Tehrik-i-Taliban as a "foreign terrorist organization."
That would automatically trigger U.S. government action such as freezing the group's assets, keeping its members out of the U.S., and making fundraising and other assistance to the group a federal crime.
"This group poses an existential threat to the safety, not only to our soldiers fighting abroad, but also Americans here at home. It is time we confront them with every tool at our disposal," Schumer said at a Tuesday news conference. "For years, Tehrik-i-Taliban, more commonly known as TTP, has been plotting and scheming right under the noses of the Pakistani government."
Schumer added, "U.S. forces have been working, for the most part covertly, with the Pakistani authorities to try and clamp down on this group. The TTP has already suffered losses due to drone strikes and Pakistani-led military offensives. But despite these efforts to stymie the TTP, they are still going strong."
State Department spokesman P.J. Crowley said TTP was under consideration for inclusion on the terrorist list.
"It is a group we have been focused on for some time. But in light of the Times Square attempt it is something we are looking at very closely," Crowley said at his afternoon briefing at the State Department.
But he would not say when consideration began or when it might conclude.
A State Department official not authorized to publicly discuss the procedure told CNN the process is careful and deliberative and is designed to stand up to legal challenges.
"Before the secretary of state can take any decision, she must consult with the attorney general and the secretary of treasury," the official said. "A very detailed administrative record is compiled, which includes open-source and classified information. This information is vetted through attorneys at State, Treasury and Justice."
Crowley indirectly confirmed U.S. intelligence-backed attacks against the Pakistan Taliban, suggesting that the U.S. had assisted with what he euphemistically called "leadership changes."
"In a number of ways we have been focused on this group for some time. You'll understand it has gone through some leadership changes that we have helped them with, so the idea we have not been focused on this group as part of our broader struggle against political extremism is not true," Crowley said.
"Without being too specific, we have been working with out Pakistani counterparts and we have taken appropriate action to diminish the capabilities of this group and others in the region. I am not going to go any further," Crowley said.
Senate Intelligence Committee Chairwoman Dianne Feinstein, D-California, told CNN she thought the group should be added to the foreign-terrorist-organization list, saying until CNN asked her about it, she thought TTP was already on the list.
Often the whole process collides with diplomatic concerns. For instance, although the United States is actively fighting the Taliban in Afghanistan, the U.S. government has not designated the Taliban there as a terrorist organization in hopes of persuading some Taliban members to give up the fight and reconcile with the U.S.-supported Afghanistan government.
Schumer raised the possibility that it might be Pakistan opposing the TTP terrorist designation.
"There has been speculation, and I don't know if this is within the State Department, that Pakistan itself might not like this to happen," Schumer told reporters Tuesday. But Schumer said the Times Square attempt might change any willingness to resist.
"I don't think there is much choice," Schumer said.