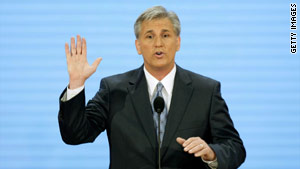 Rep. Kevin McCarthy, R-California, is leading the "Commitment to America" effort.
STORY HIGHLIGHTS
GOP is drafting a blueprint designed to take back control of Congress
House Republicans are teaming up with what they call a "major U.S. software giant"
The site will allow a debate about the merits of the party's policy priorities
Washington (CNN) -- Remember the 1994 "Contract with America" that propelled Republicans back into the majority of the House of Representatives with its author Newt Gingrich as their speaker?
Well, 16 years later, it's back to the future -- the GOP is again drafting a blueprint designed to take back control of Congress. But this time, it is looking for authors everywhere, and if you want help write the 2010 GOP "Commitment to America," you can take out your iPhone or BlackBerry and point your browser to a new GOP website coming soon.
House Republicans are teaming up with what they call a "major U.S. software giant" to hold an interactive discussion with people wherever and whenever they want to talk, blog or tweet.
While many details of the GOP effort to develop its midterm platform are still under wraps, here's the way it's supposed to work:
The House GOP will roll out a new website in coming weeks that will allow the public to post ideas, send e-mail and hold video conferences to tell Republicans what policies they should be pushing.
The online portal will allow anyone to log on and create a personal "profile," similar to Facebook. Users will be able to vote up or down on other people's submissions -- similar to the "like it" thumbs-up feature on Facebook. Proposals can be sorted by how popular they are, or how many "votes" they receive.
Visitors to the site will be anonymous and those setting up profiles can choose their own names, but the site's managers will verify e-mail addresses and postal codes. There will be a filter to weed out offensive language.
California Rep. Kevin McCarthy is leading the effort and he said if Republicans want to connect with voters, they have to prove that their policy proposals aren't cooked up by a group of insiders in Washington.
House GOP Leader John Boehner of Ohio tapped McCarthy, 45, to craft the 2010 equivalent of the 1994 "Contract with America." But McCarthy said he doesn't want his effort to be compared with Gingrich's '94 playbook and said he's using the "Commitment to America" as a temporary name that's likely to change after the public weighs in.
That's where the new technology comes into play. To connect to other popular social media sites, the GOP's website will also have Twitter and Facebook components. Like those sites, users can participate in the ongoing political debate from their laptops or from mobile devices like iPhones and BlackBerrys.
To encourage people to come back and be part of an online community, users will accumulate "points" every time they submit an idea or engage in a debate. McCarthy compared this to getting frequent flyer miles or points with an airline.
But users won't get prizes or free flights, just the bragging rights that they are helping the GOP write its agenda.
The site will include a few major topics like "jobs," and "the economy," but won't have any specific proposals laid out by GOP lawmakers. McCarthy said the goal is for "the public to take ownership."
The site will allow a continuing debate about the merits of the party's policy priorities. Once it goes live, Republican House members will have a widget posted on their Congressional web pages that will link to the main GOP "commitment" site on a real-time basis.
Although the software to do all these things is already available to the public -- NASA uses a similar web portal -- Republicans pointed out that no other political organization has yet used it this way.
McCarthy described the effort to come up with the party's policy priorities as a three-phase project.
First, the new interactive site will solicit input and be coupled with a series of GOP town hall meetings around the country over the upcoming Congressional breaks. Then leaders will evaluate which issues the public ranked at the top. Finally, the GOP will roll out its list of "solutions" as the official new Republican platform heading into the midterm elections.
The first phase of the project, according to McCarthy, is proof that that the GOP is responding to what it sees as a growing sentiment among voters: that Washington isn't listening to them. Collecting policy ideas directly from voters will allow the GOP to argue its 2010 midterm agenda came from a direct conversation with the American people -- Republicans, independents and even Democrats.
McCarthy said this transparent process brings home the point that Democrats have ignored the public's priorities and should be tossed out.
"We have to add this to the mix because this breaks all barriers. You are guaranteed your idea gets in and gets included," he said.
McCarthy contrasted this process with what he views as the closed process that congressional Democrats used to draft health care reform, and he noted complaints that there's no chance for real open discussion.
"They do not allow that debate to happen," he said.
Democrats said the GOP's effort to recast the Republican Party to show that it's listening won't work because, they argue, Republicans are still closely allied with powerful Washington business groups.
Doug Thornell, spokesman for Maryland Democratic Rep. Chris Van Hollen, who runs the House Democrats' campaign arm, said, "It's hard to stomach lectures on transparency from Republicans, who have spent years scheming behind closed doors with powerful corporate special interests on how to game the system and protect the status quo instead of the middle class. This isn't Hollywood, you can't reinvent yourself -- they have a long record of abusing the public's trust and we won't let anyone forget about it."
Although he's a relative newcomer on the Hill, first elected in 2006, McCarthy's profile rose when House Republican Whip Eric Cantor of Virginia named him his top deputy in 2008. Boehner asked McCarthy to write the Republican Party's platform for the 2008 national convention. As with this 2010 effort, McCarthy solicited public comments online.
Even McCarthy admitted it will be tough to please everyone when the GOP unveils its agenda in the fall.
As they work on their policy blueprint, Republicans are torn between showing they are heeding anti-government appeals from the conservative Tea Party movement and acknowledging the opinions of independents who aren't enamored with either political party right now.
McCarthy wouldn't answer questions about whether the final midterm platform will take a position on hot-button issues like immigration or social issues like same-sex marriage. He maintained nothing is in or out of the "commitment" until the public weighs in, but said the document will likely have a heavy focus on job creation.
He also conceded some of his Republican colleagues are leery of a totally open process where anyone, left-wing blogger or Tea Party activist, can post policy proposals or criticisms online.
"It's not going to be an easy job," McCarthy said. "You should have seen the blowback that I got when I opened up the [Republican] platform."
CNN Congressional Correspondent Brianna Keilar contributed to this story.