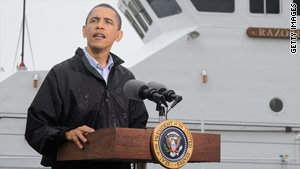 President Obama addresses the media Sunday in Venice, Louisiana.
STORY HIGHLIGHTS
Obama received $71,000 in 2008 election cycle, nonprofit says
BP, company at center of oil slick controversy, spent millions lobbying Congress
57 percent of BP's contributions went to Republicans, 43 percent to Democrats
Washington (CNN) -- As petroleum giant BP comes under congressional scrutiny as its ruptured oil rig pumps thousands of barrels of oil into the Gulf of Mexico, its political contributions are being scrutinized, too.
The top recipient of BP-related donations during the 2008 presidential election was Barack Obama, who collected $71,000, according to the nonpartisan Center for Responsive Politics.
When questioned about the donations Wednesday, White House Press Secretary Robert Gibbs made a point of noting that the money came from employees and not the company itself.
White House spokesman Ben LaBolt added that Obama wasn't tied to big oil companies.
"This claim lacks one thing: credibility," LaBolt said in a statement. "President Obama didn't accept a dime from corporate PACs or federal lobbyists during his presidential campaign. He raised $750 million from nearly 4 million Americans. And since he became President, he rolled back tax breaks and giveaways for the oil and gas industry, spearheaded a G20 agreement to phase out fossil fuel subsidies, and made the largest investment in American history in clean energy incentives."
BP employees gave more than $3 million in campaign contributions during the past decade and almost $110,000 in 2010.
Fifty-seven percent of BP's contributions went to Republicans, while 43 percent went to Democrats.
BP America President Lamar McKay has been asked to appear next week to discuss the oil spill before the House Energy and Commerce Committee, whose members received the largest share of BP's campaign contributions over the last two election cycles, the Center for Responsive Politics notes.

Video: White House oversight of BP response

Video: House leader speaks out on oil spill
"In 2009, individuals and political action committees associated with BP donated $16,000 to members of the House Energy and Commerce Committee," the center found.
The center says five of the top 10 recipients of BP dollars in the House sit on that committee: John Dingell, D-Michigan; Joe Barton, R-Texas; Ralph Hall, R-Texas; Roy Blunt, R-Missouri; and Fred Upton, R-Michigan.
"All have received upward of $13,000 from BP-related individuals and political action committees during the past two decades," according to the Center for Responsive Politics. "Dingell, the second most favored recipient of BP money in the House, has received $31,000."
Congress is demanding answers in its investigation of the Gulf of Mexico oil spill, and the BP executives likely to be grilled in the weeks ahead are no strangers to the ways of Washington.
"If BP faces heavy federal scrutiny, it's well-positioned to fight back: The London-based company has consistently spent top dollar to influence legislative and regulatory activity in Washington, D.C.," according to the Center for Responsive Politics.
The company spent almost $16 million lobbying Congress in 2009 and more than $3.5 million this year, the center found.
BP's ruptured undersea well off Louisiana continues to spew about 210,000 gallons -- or 5,000 barrels -- of crude a day into the Gulf of Mexico. Efforts to corral the rapidly growing spill have been unsuccessful.
There is a sheen of oil up to 60 miles across in the Gulf, threatening the coasts of Louisiana, Mississippi and Alabama as well as the Florida Panhandle, according to the National Oceanic and Atmospheric Administration. The overall area affected by the spill, CNN estimates, is almost as large as the state of Delaware.
CNN's Dana Bash, Ed Hornick, Shawna Shepherd and Alan Silverleib contributed to this report.