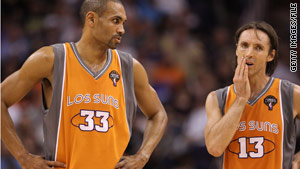 The Phoenix Suns, seen here in March, will be wearing their "Los Suns" uniforms again.
STORY HIGHLIGHTS
NEW: Civil rights and labor organizations say they'll announce boycott on Thursday
Tucson and Flagstaff vote to file suit against Arizona's new immigration law
Law allows police to ask anyone for proof of legal U.S. immigration status
Critics say it will lead to racial profiling; supporters disagree
(CNN) -- The city councils in two of Arizona's largest cities have voted to file suit over the state's controversial new immigration law, which allows police to ask anyone for proof of legal U.S. residency.
The Tucson City Council voted 5-1 to file suit, and the city council in Flagstaff approved a similar measure 7-0. Both votes occurred Tuesday.
Members of the Phoenix Suns basketball team, meanwhile, plan to wear jerseys that say "Los Suns" in a playoff game Wednesday as "a way for our team and our organization to honor our Latino community," managing partner Robert Sarver said in a statement.
Opposition to the law continued Wednesday, with some civil rights and labor organizations saying they will announce a boycott Thursday.
Joining in Thursday's announcement will be the National Council of La Raza, which bills itself as the largest national Hispanic civil rights and advocacy organization in the United States; the Asian American Justice Center; the Center for Community Change; the Service Employees International Union; and the United Food and Commercial Workers, the groups said in a release.
Arizona Gov. Jan Brewer signed the immigration measure April 23. It is scheduled to go into effect this summer.
Critics say the law will lead to racial profiling. Brewer and others who support the law say it does not involve racial profiling or any other illegal acts.
The city councils said they passed the measures because of concerns over enforcement costs and negative effects on Arizona's tourism industry. Opponents of the immigration law have called for a boycott of Arizona tourism and urge that no one engage in any commerce with businesses located in the state.
In Tucson, council member Regina Romero introduced a motion for "the city attorney to bring a legal challenge" because the immigration bill is "a bad law, which could cost the city millions of dollars in lawsuits and is unconstitutional."

Video: At odds over Arizona immigration law
"This bill opens the door to racial profiling, and it puts Latinos in Arizona in automatic suspect mode," Romero said.
Tucson Mayor Bob Walkup said up to 38 percent of retail sales in the city come from legal Mexican visitors.
The state immigration law threatens those businesses, Walkup said, just when "the city is just beginning to recover from the economic downturn."
The Mexican government issued an advisory to its citizens last week to avoid travel in Arizona.
The Organization of American States expressed its concern about the law last week, and presidents of South American countries meeting in Argentina for a gathering of the Union of South American Nations condemned the law Tuesday.
Well-known Mexican writer Carlos Fuentes recommended this week that dark-skinned people, men with mustaches, women who use shawls, or anyone who does not speak English well should not go to Arizona because the state has "officially declared itself racist," the government-run Notimex news service reported Wednesday.
The Phoenix Suns basketball team also criticized the new law.
"The frustration with the federal government's failure to deal with the issue of illegal immigration resulted in passage of a flawed state law," managing partner Sarver said. "However intended, the result of passing this law is that our basic principles of equal rights and protection under the law are being called into question, and Arizona's already struggling economy will suffer even further setbacks at a time when the state can ill-afford them."