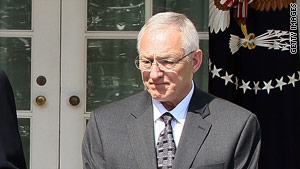 Joe Main, the assistant secretary of labor for mine safety and health, says mine regulations will be enforced.
STORY HIGHLIGHTS
Safety agency tells of 3 inspections; mines' owner says 8 workers fired, 3 suspended
Mine union leader says culture of safety violations, worker intimidation must change
Mine safety agency official testified about mine regulations Tuesday on Capitol Hill
He says his agency will immediately shut down mines engaging in unsafe behavior
Washington (CNN) -- A top federal mine safety official said Tuesday that existing laws and regulations have not been properly enforced but pledged that his agency will now use all its powers after the West Virginia mine disaster that killed 29 people.
Joe Main, the assistant secretary of labor for mine safety and health, told a Senate committee that the Mine Safety and Health Administration will start using its power to immediately shut down mines engaging in unsafe behavior.
Main said the powers have existed for decades but were never used.
Sen. Tom Harkin, D-Iowa, chairman of the Senate Health, Education, Labor and Pensions Committee, asked Main why the nation's mine safety inspectors and regulators never used their full power.
"It's never been used in the history of the Mine Act," Main said. "We're going to use it."
"I hope so," Harkin shot back.
"It will be used," Main said.
The hearing examined a pattern of safety violations at the Upper Big Branch Mine in West Virginia and the failure to prevent the April 5 explosion, which was the worst U.S. mine disaster in decades.
The mine, owned by Massey Energy Co., was cited for hundreds of safety violations in 2009 and in the first three months of 2010.
In a sign of tougher enforcement, the MSHA announced Tuesday that it has inspected three other Massey-owned mines in West Virginia since March 24 because of anonymous complaints about hazardous conditions.
An MSHA statement said it ordered the withdrawal of miners from particular areas of the three mines and issued "multiple citations for serious violations."
The three mines were Spartan Mining Co.'s Road Fork No. 51 Mine in Wyoming County; Inman Energy's Randolph Mine in Boone County; and Independence Coal Co.'s Cook Mine in Boone County.
Two of the complaints that triggered the inspections came before the explosion at the Upper Big Branch Mine, while the third came after the disaster, the statement said.
The statement said MSHA inspectors took control of company phone lines at two of the three mines to prevent mine employees from alerting colleagues in the mines that the inspections were imminent.
Massey Energy issued a statement Tuesday saying it had fired eight people and suspended three others at the inspected mines because of safety violations cited by the MSHA inspectors. One of the suspended workers quit, the statement said.
"Even though Massey disagrees with some of the citations written, there were conditions found that did not meet industry requirements or Massey standards, which equal or exceed industry requirements," the statement said, adding that the company "takes violations of regulatory requirements and Massey requirements seriously and will hold those that violate such requirements accountable."
In the audience at Tuesday's Senate committee hearing, family members held photos of miners killed on the job. They nodded in agreement when a mine union leader made an emotional plea for immediate change to what he called a culture of safety violations and worker intimidation at the Upper Big Branch Mine.
"Fear and intimidation is a rule there," said Cecil Roberts, president of United Mine Workers of America, his voice cracking. He said workers who complain about safety violations like the hundreds cited by federal inspectors get fired or otherwise ostracized.
"Congress should stand up and take a position and say we're not going to tolerate this," Roberts said, later adding: "Had the law been obeyed here, we would not have had this explosion and loss of life."
A miner who has worked at the Upper Big Branch Mine also told the committee about safety violations and efforts to conceal problems when inspectors arrived.
"I was sickened by what went on," said Jeff Harris, a third-generation miner. He described how mine officials would take multiple air readings until getting one they wanted, and said miners were prevented from filing accident reports.
"I worked there, and I talked to them guys," Harris said of fellow miners. "You know that they said? If you don't like it, you get out of here because if we stand up, we'll get fired."
In a statement later Tuesday, Massey Energy called the statements by Roberts "outrageous" and said they were intended to push a pro-union agenda. The statement also questioned the descriptions by Harris of conditions in a Massey mine.
"Mr. Harris worked for a Massey Energy subsidiary for a short period of time," the statement said. "We find his statements difficult to believe and do not believe he raised any such concerns while in our employment. The picture he paints is not representative of Massey's mines and Massey does not tolerate such conditions. Both federal law and Massey policies protect miners who speak out about safety concerns."
Senators and mine industry experts discussed in detail why sweeping mine safety legislation passed in 2006 had failed to prevent the recent disaster.
The Mine Improvement and New Emergency Response Act of 2006, along with tougher policies subsequently adopted by federal regulators, helped reduce mining fatalities to record low levels from 2007 to 2009.
The MINER Act focused on responding to emergencies to prevent a recurrence of the Sago Mine disaster of 2006, in which 12 of 13 trapped West Virginia miners died before rescuers could reach them. It required mining companies to improve communications systems, have rescue teams ready for immediate deployment and install underground chambers for trapped miners to seek out to await rescue.
The law also increased fines for companies that failed to report immediately a hazardous incident or safety violation. In addition, the MSHA implemented new regulations with tougher fines. However, the regulations have proved insufficient to crack down on chronic offenders, due in part to appeals of safety violations that have clogged the system.
In February, Main testified before the House Education and Labor Committee that the current backlog is 82,000 contested violations with $210 million in contested penalties. In 2005, mine operators contested 6 percent of the 128,000 cited violations. Last year, they contested 27 percent of the 175,000 cited violations, Main said at the time.
In addition, the number of citations contested in 2009 more than doubled the number that became final, Main testified in February. One reason is an apparent loophole in MSHA policy that allows mining companies cited for violations to avoid being designated as multiple offenders facing government-ordered shutdown.
The MSHA looks at citations over the previous two years to determine whether a pattern of safety violations exists. If it finds such a pattern, the agency can begin steps to shut down a mine, or part of a mine, where the violations have occurred.
The problem, experts say, is that the MSHA considers only final citations -- those that have completed the potentially lengthy administrative and legal process.
While mine operators are compelled to abate any safety violations quickly, they can appeal troublesome citations and subsequent fines to delay final resolution until the MSHA's two-year window for consideration expires.