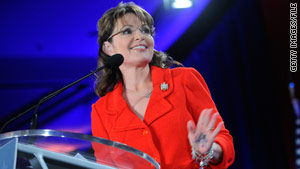 Former Alaska Gov. Sarah Palin testified last week in the case of a man accused of hacking into her e-mail account.
STORY HIGHLIGHTS
David Kernell accused of hacking into ex-Alaska Gov. Sarah Palin's e-mail account

Kernell, 22, son of Tennessee state legislator, pleaded not guilty to charges

Palin testified that life and 2008 campaign disrupted when hacked e-mails published

Report: Defense attorney told jurors that Kernell's actions closer to prank than crime

(CNN) -- A federal jury in Tennessee began deliberating Tuesday in the case of a man accused of hacking into former Alaska Gov. Sarah Palin's e-mail account, a court clerk said.
Deliberations began about 10:30 a.m. ET after jurors received their instructions, said Katherine Watson, deputy court clerk.
David Kernell, 22, the son of a Tennessee state representative, is charged with felony identity theft, wire fraud, intentionally accessing Palin's e-mail account without authorization and obstructing an FBI investigation. He has pleaded not guilty.
Kernell's defense rested Monday in the Knoxville trial, according to CNN affiliate WATE-TV. He did not take the stand. The defense called one witness, an FBI agent who said Kernell had been emotionally upset, according to the station.
Local coverage from CNN affiliate WATE
The prosecution rested Friday, according to online court records.

Video: Views on Palin e-mail hacking trial
In closing arguments Monday, prosecutors told jurors that Kernell, who was a student at the University of Tennessee, was persistent in gaining access to Palin's account, and once he did it, chose not to back down, WATE reported. At the time, Palin was the 2008 Republican vice presidential nominee.
Defense attorney Wade Davies told jurors that what Kernell did is closer to a prank than a crime, according to WATE. He pointed out that Kernell didn't use the information he obtained or harass Palin's family.
According to a federal indictment, Kernell allegedly accessed Palin's e-mail by resetting the password. He then allegedly read the contents and made screenshots of the e-mail directory and other personal information.
"The personal information included, and was not limited to, other e-mail addresses of family members, pictures of family members, at least one cell phone number of a family member, the dates of birth of Governor Palin and another family member, and Governor Palin's address book," the indictment said.
The screenshots were posted on a public website, and Kernell is alleged also to have posted the newly created password on that site, allowing others to access Palin's e-mail account, according to the indictment.
Palin testified Friday that she did not realize anyone had hacked her Yahoo e-mail account until the news media reported it, WATE said.
Palin took the stand for about an hour, testifying that her life and campaign were disrupted when the hacked e-mails were published, and it took several days for her to deal with media questions after personal photos and contacts were posted on the internet, according to the report.
Kernell's father, state Rep. Mike Kernell, is a Democrat who has served in the Tennessee House of Representatives for more than three decades.
CNN's Aaron Cooper contributed to this report.