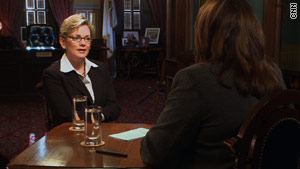 Gov. Jennifer Granholm says someone without federal appellate court experience could make a good addition to the Supreme Court.
STORY HIGHLIGHTS
Sen. Chris Dodd, D, and Sen. Richard Shelby, R, signal progress on financial reform
Dems' move to immigration instead of climate change gets muted response, Crowley says
Sen. Chambliss: Cheney's comments on Florida Gov. Crist probably not helping GOP
Washington (CNN) -- Reform or no financial reform deal?
Seriously, who knows? Sen. Richard Shelby, R-Alabama, says "we're conceptually very, very close." (The dictionary defines concept as "a general notion or idea." Not sure how close a conceptual agreement would get us to a bill on the president's desk.)
So, no agreement yet, but Shelby and Sen. Chris Dodd, D-Connecticut, looked quite agreeable sitting side-by-side on NBC, patting one another's arms while talking about their negotiations for a bipartisan reform bill. Dodd said, "we're getting there" -- even if we're not sure where there is, conceptually speaking.
On CNN, Sens. Robert Menendez, D-New Jersey, and Saxby Chambliss, R-Georgia, agreed, conceptually, that their respective parties really want financial regulation reform even as Chambliss bemoaned the difficulty of having "substantive bipartisan conversations."
Senate negotiators say deal close, but more talks needed

Video: Dems' plan for financial reform

Video: Gov. Granholm's Supreme Court chances

Video: Immigration vs. Wall Street reform
But wait -- there's more. Senate Minority Leader Mitch McConnell, R-Kentucky, said on Fox that he thinks there's a "good chance we're going to get it." (But not likely before Monday's vote on whether to proceed with a reform bill.)
Still, conceptually, that's big.
Next please?
Interestingly, the apparent decision by Senate Democrats to move to immigration reform, instead of climate change, got a fairly muted response for something that the GOP sees as a blatant political effort by Democrats to placate Hispanic voters and to jam up Republicans on a difficult issue. Shelby and Chambliss essentially said immigration reform would be just fine, right after we figure out how to secure the borders. Is that an echo I hear?
Not every Democrat seems enthused either. Menendez argued gamely the Senate can do both the energy AND immigration reform this year, which would be climate change of a different sort.
P.S. on Chambliss. He said expanding the Republican base is "probably not" helped by former Vice President Dick Cheney's blast at Florida Gov. Charlie Crist last week. Cheney accused Crist of not being a real Republican. Crist, trailing badly in his Republican primary race with Marco Rubio, is expected to decide this week whether to drop out and run as an independent candidate for the U.S. Senate.
Justice Jennifer Granholm?
Probably not. The Michigan governor, who made it to the vetting level during the last Supreme Court vacancy, is mum on the specifics this time around. But Granholm (term-limited in her current job) made a pretty good case for why someone without federal appellate court experience would make a good addition to the high court, conceptually.
'Wise' to look outside the courts, governor says
Enjoy the rest of your weekend -- Candy.