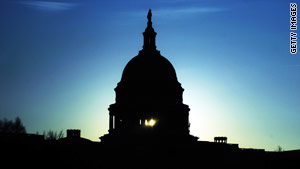 Immigration reform legislation has faced hurdles in the Senate throughout the years.
STORY HIGHLIGHTS
Latinos who voted for Obama upset with failure to tackle reform, sources say
White House is reluctant to move without bipartisan support
Obama reaching out to GOP senators in hopes they will back legislation
Climate change bill to be introduced Monday also may lack crucial support
Washington (CNN) -- The push for immigration reform may be on the front burner for congressional Democrats, but sources say that ultimately, they believe the issue is unlikely to have enough votes to pass.
Democrats say the goal is to try to take it up in the Senate before discussing the Supreme Court nomination this summer and spend the rest of the session before the midterm election on the politically potent issue of jobs.
One big reason for the immigration reform push, sources say, is that Senate Majority Leader Harry Reid is in a brutal battle to win re-election in Nevada, where a quarter of the population is Hispanic and he has promised to try.
More broadly, Democrats admit, they know that Latinos who voted in big numbers for President Obama are angry that Democratic leaders have not kept a promise to deal with immigration reform.
No bill has yet been through committee but it is believed it would be similar to an effort in 2007 -- improving border security and enforcement with a path to legal status for undocumented workers.
In its outline for reform, the White House also calls for strengthening the borders and creating a system to allow those in the country illegally to pay a fine, learn English and "go to the back of the line" for the opportunity to become a citizen.
It also wants to address what it calls the "dysfunctional immigration bureaucracy" and eliminate incentives to enter the country illegally by preventing employers from hiring undocumented workers.
Sources familiar with discussions about the issue say the White House is reluctant to move on the politically polarizing and divisive issue of immigration without bipartisan support.
Sen. Lindsey Graham of South Carolina seems to be the only GOP senator on board, but he has told Democrats they will lose his support unless they find another Republican.

Video: Arizona Governor signs immigration bill
Obama called Sen. Scott Brown, R-Massachusetts, to try to get him to sign on, as well as four other GOP senators: Lisa Murkowksi of Alaska, Richard Lugar of Indiana, George Lemieux of Florida and Judd Gregg of New Hampshire.
CNN contacted aides to those senators, and all said none gave the president a commitment to work with Democrats on immigration reform.
Democratic sources say they will probably work to get GOP support for another few weeks and then weigh how to proceed.
One likely scenario, according to the sources, is to craft legislation that has had bipartisan support in the past and try to bring it to the Senate floor in early summer. If they don't succeed, Democratic sources say, they will at least be able to show key political constituencies like Latinos that they tried.
The last major immigration reform efforts in Congress came in 2005, when Sens. John McCain, R-Arizona, and Ted Kennedy, Brown's predecessor, introduced a bipartisan bill that aimed to implement guest-worker programs and ways for more illegal immigrants to become citizens.
The McCain-Kennedy bill, however, never came up for a vote in the Senate.
Meanwhile, another issue is unlikely to find its way to the top of Congress' priority list: climate change.
Two Senate Democratic sources say that despite a new bipartisan push on climate change, legislation is unlikely to make it to the floor this year.
That would be a blow to Sens. John Kerry, D-Massachusetts; Joe Lieberman, I-Connecticut; and Graham, who are slated to release legislation Monday that would, among other things, set a goal of 17 percent reduction in carbon emissions in the next 10 years.
An energy bill had been stalled in the Senate after the the House passed its version in June by a 219-212 vote, with almost no Republican support and opposition from some Democrats.
Read a section-by-section summary of the bill (PDF)
A Kerry spokeswoman downplayed any talk of not moving on the issue before November.
"There are always people who think it's impossible to tackle big challenges in an election year, but Sens. Kerry, Graham and Lieberman have been working overtime to produce an approach that can succeed," Kerry spokeswoman Whitney Smith said.
"The majority leader reiterated yesterday to them that he is committed to make this the year bipartisan, comprehensive climate and energy reform passes the Senate, and Sen. Kerry knows the leader is tough and determined enough to make it happen."
CNN's Ed Hornick contributed to this report.