Senate panel approves Wall Street reform bill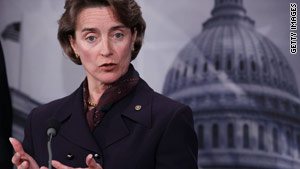 "This bill will bring 100 percent transparency to a currently unregulated, dark market," Sen. Blanche Lincoln said.
STORY HIGHLIGHTS
Senate Agriculture Committee approves bill to regulate derivatives
Sen. Chuck Grassley of Iowa is lone Republican to support measure
Leaders will seek to merge bill with another passed by Senate Banking Committee
Complicated derivatives blamed in part for Wall Street crisis
Washington (CNN) -- A Senate committee on Wednesday passed a proposal aimed at helping protect the economy from future meltdowns and taxpayers from more Wall Street bailouts.
The Senate Agriculture Committee voted 13-8 in favor of the bill, which would impose regulations on the complex system of Wall Street trades known as derivatives.
Senate leaders now will look at merging the measure with a financial regulations reform bill already passed by the Senate Banking Committee that is headed for debate by the full chamber.
Sen. Chuck Grassley of Iowa was the lone Republican to vote with Democrats on the agriculture panel for the bill.
While Wednesday's hearing was but one step in the legislative process, it could provide part of the framework for a congressional deal on financial reform legislation -- a major priority of the Obama administration.
Republican senators who last week expressed unanimous opposition to the Banking Committee's bill now, after continued negotiations, say a compromise is possible.
"Both sides have expressed a willingness to make the changes needed to ensure without any doubt that this bill won't put taxpayers on the hook for future bailouts of Wall Street banks," Senate Minority Leader Mitch McConnell, R-Kentucky, said Tuesday. "I'm heartened to hear that bipartisan talks have resumed in earnest."

Video: The shadow market explained
Sen. Blanche Lincoln, D-Arkansas, the Agriculture Committee's chair, opened the hearing by saying the legislation would confront "tough problems" in trying to increase regulation of Wall Street trading.
Lincoln, who is expected to face a tough re-election campaign this year, called the proposal "a robust package that balances the needs of strong, meaningful reform and recognizes the needs of these markets."
"This bill will bring 100 percent transparency to a currently unregulated, dark market," she said.
The Agriculture Committee oversees the Commodities and Futures Trading Commission, which has been in charge of derivatives for decades because they originated with farm commodities.
The House has passed its version of a finance reform bill, and now Democrats seek to bring a Senate version up for chamber debate.
The bill approved by Democrats on the Senate Banking Committee would set up new regulatory oversight of financial industry practices with the goal of preventing another Wall Street meltdown such as the one in 2008 that launched the U.S. recession.
It includes an "early warning" system intended to spot signs of another crisis as well as a $50 billion liquidation fund created with money from banks and other financial industry corporations to ensure an orderly process of closing down failing entities.