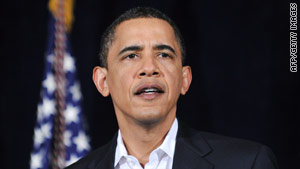 President Obama has been reaching out to potential candidates for the pending Supreme Court vacancy.
STORY HIGHLIGHTS
NEW: Senator says pick will be made before May 26
President says he doesn't have litmus tests on any issues
Source: Obama has been reaching out to candidates this week
Unclear which names on White House short list are being given most scrutiny
(CNN) -- President Obama met Wednesday with Senate leaders from both parties to discuss a replacement for retiring Justice John Paul Stevens.
The president welcomed Majority Leader Harry Reid, D-Nevada; Minority Leader Mitch McConnell, R-Kentucky; Judiciary Committee Chairman Patrick Leahy, D-Vermont; and the Judiciary panel's ranking Republican, Jeff Sessions of Alabama, to the White House meeting. Vice President Joe Biden also attended.
Stevens, who turned 90 on Tuesday, has announced that he will retire shortly after the Supreme Court's term ends in late June. White House officials have said they expect the president to pick his nominee by early May.
In brief comments before the meeting, Obama said he wants a new justice to support individual rights, including women's rights, but he stopped short of insisting that his nominee must support abortion rights.
"I don't have litmus tests around any of these issues," Obama said, adding that he wanted a nominee "who is going to be interpreting our constitution in a way that takes into account individual rights, and that includes women's rights."
Obama noted that a core constitutional value promotes the notion that "individuals are protected in their privacy and in their bodily integrity, and women are not exempt from that."

Video: Obama ponders Supreme Court pick

Video: Obama open to suggestions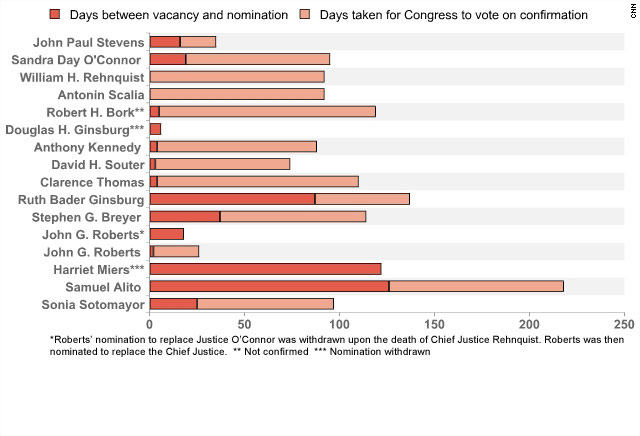 Past Supreme Court nods
Obama has been privately reaching out this week to candidates for the pending Supreme Court vacancy, an administration source said Tuesday. It was unclear which names on the White House short list of about 10 people are being given the most scrutiny.
In his brief remarks before Wednesday's meeting, Obama said Stevens leaves "tough shoes to fill."
The president noted that his first Supreme Court nominee, Sonia Sotomayor, won Senate confirmation last summer in plenty of time to join the court for the start of its next session in the fall. Obama said he expects another "smooth, civil and thoughtful nomination process and confirmation process" this time.
"I'm confident that we can come up with a nominee that will gain the confidence of the Senate and the confidence of the country," Obama said.
Sessions said Obama indicated that he would announce his nominee before May 26, the date he nominated Sotomayor last year.
A White House statement said Obama called nine senators on the Judiciary Committee after the meeting, as part of his consultations on the nomination. The calls were to six Democrats and three Republicans, and Obama intended to call more senators in coming days, the statement said.
Initially, government sources said that three names had the early edge: Solicitor General Elena Kagan and federal appeals judges Diane Wood and Merrick Garland.
However, officials now say the president had expanded the list of names he wanted his staff to vet before he makes his decision. Others being considered include Michigan Gov. Jennifer Granholm, Homeland Security Secretary Janet Napolitano and Montana-based federal appeals judge Sidney Thomas.
A national poll released this week suggests that a majority of Americans expect Obama to appoint a liberal to the Supreme Court, but only one in four wants that to happen.
The CNN/Opinion Research Corp. survey indicates that 61 percent of the public expect the president to nominate a liberal to replace Stevens on the Supreme Court. Meanwhile, 21 percent said the president will name a moderate, and 16 percent said he would name a conservative.
Many experts say Obama is likely to name a relatively left-leaning justice because he is fairly liberal himself and wants a justice who shares his basic political and judicial philosophy. Stevens, as the senior associate justice, is the leader of the four liberal members of the nine-member court, so his replacement is unlikely to significantly change the ideological balance on the court.
Many progressive groups have urged Obama to name an outspoken, forceful liberal to the court, to help curtail what they see as the conservative dominance on that bench. Other Democrats have urged a more moderate choice who would be more acceptable to a bipartisan group of senators and who would avoid a protracted political fight over the nominee.
On Tuesday, Obama took time to send a birthday letter to the retiring judge.
"Our system of justice and our nation are stronger and fairer because of your sterling contributions. On behalf of the country, I thank you for your distinguished service," Obama wrote.
CNN's Charles Riley, Paul Steinhauser and Bill Mears contributed to this report.