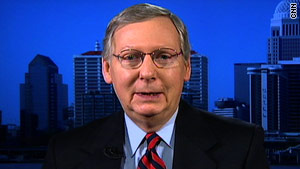 Senate Minority Leader Mitch McConnell says Senate Republicans oppose the current finance reform bill.
STORY HIGHLIGHTS
Republicans want current bill renegotiated before a vote

Bill would set up new regulatory oversight of financial industry practices

Senate Republicans say all 41 GOP senators oppose the bill

Democrats say they will move forward with the legislation
Washington (CNN) -- Congress appeared headed for a major partisan showdown over financial regulation reform, with Senate Republicans reiterating their opposition Sunday to a bill that Democrats say will prevent another Wall Street meltdown like the one that precipitated the U.S. recession.
While some officials hinted that behind-the-scenes talks could yield a deal, the rhetoric signaled deep divisions between Republicans and Democrats intended to score political points as the campaign season approaches for mid-term congressional elections in November.
The House has passed its version of a finance reform bill, and now Democrats seek to bring a Senate version up for chamber debate this week. The Senate bill, approved by Democrats on the Senate Banking Committee, would set up new regulatory oversight of financial industry practices.
Sen. Mitch McConnell of Kentucky, the chamber's top-ranking Republican, told CNN's "State of the Union" that the Democratic bill would continue the Obama administration's intervention in formerly private industries. He called for renegotiating the measure instead of bringing it to the Senate floor.
"I think we need to get back to the table and get it fixed," McConnell said. "We want to make sure that we don't set up a system whereby we empower the government to continue doing what they've been doing."

Video: McConnell: 'get back to the table'

Video: Warner: 'I want to hear specifics'

Video: Obama's financial crisis fix
Other Republicans expressed similar reservations Sunday, with the newest member of the chamber, Massachusetts Sen. Scott Brown, telling the CBS program "Face the Nation" he would join a filibuster of the bill as it is written now. Sen. John McCain, R-Arizona, also said he opposed the bill, but added on "FOX News Sunday" he thought a deal was possible.
President Obama and Democratic leaders reject the Republican characterization of the bill, saying the measure actually will prevent future taxpayer bailouts of failing banks. On Saturday, Obama said in his weekly Internet and radio address that McConnell was spreading misinformation.
McConnell "made the cynical and deceptive assertion that reform would somehow enable future bailouts -- when he knows that it would do just the opposite," Obama said.
On Sunday, Treasury Secretary Tim Geithner told the NBC program "Meet the Press" that he was confident a "strong package of financial reforms" will win congressional approval. However, Geithner noted the two sides remain apart on some issues, including how to regulate complex trading products called derivatives -- a form of trade in which investors seek to protect themselves by offsetting their risk or speculating on the future value of assets.
Geithner called for "rules with teeth" to protect against another financial crisis.
Sen. Mark Warner of Virginia, who also appeared on "State of the Union," said the Senate bill includes an "early warning" system intended to spot signs of another crisis, as well as a $50 billion liquidation fund created with money from banks and other finance industry holdings to pay for the costs of closing down failed entities.
Warner said the liquidation fund would mean Wall Street firms "have to write their own funeral plan" and put down money in advance to ensure an "orderly process" to bankruptcy in the event of another crisis.
McConnell, however, said Republicans believe the fund would "perpetuate government intervention" in industries similar to the bailouts or takeover of some aspects of the banking, automobile and other industries.
"Regardless of ... how the money is produced, it is a bailout fund that sort of guarantees in perpetuity that we'll be intervening once again to bailout these big firms," he said.
In a strategy similar to GOP opposition to health care reform legislation passed earlier this year, McConnell called for restarting bipartisan talks instead of debating the bill from the Senate Banking Committee.
Obama administration officials have signaled they want Democratic Sen. Christopher Dodd, the Banking Committee chairman, to remove the $50 billion bank liquidation fund from the bill. McConnell cited the apparent shift as a sign that Republicans were correct in asserting that Americans don't want the fund.
However, Democratic officials suggested that removing the liquidation fund would really be an attempt to call the Republicans' bluff by seeing if they would still oppose the reform bill without it. That would play into White House's efforts to portray the GOP as defenders of the status quo on Wall Street, the officials said.
Senate Republicans say all 41 GOP members will vote against allowing debate on the current bill to begin, enough to mount an effective filibuster.
"We simply cannot ask the American taxpayer to continue to subsidize this 'too big to fail' policy," said a letter dated Friday from Senate Republicans to Senate Majority Leader Harry Reid, D-Nevada. "We must ensure that Wall Street no longer believes or relies on Main Street to bail them out. Inaction is not an option. However, it is imperative that what we do does not worsen the current economic climate or codify the circumstances that led to the last financial crisis."
Democrats say they will still attempt to move forward. Reid's spokesman, Jim Manley, called the GOP resistance "a thinly veiled effort by Republicans to stall as they try to come up with a strategy to defeat the bill."
"This bill has been written specifically to end any notion of any kind of a bailout by the American taxpayer again," Dodd said Thursday. "Our bill stops bailouts by imposing ... tough new requirements on Wall Street firms. Being too big and too interconnected will cost these firms dearly. And should that not be enough, our legislation, regulators can use the new powers in our legislation to break these firms up before they can take down the economy of our country."
Meanwhile, Senate Democratic leaders and administration officials were trying to persuade several Republicans, including Sens. Bob Corker, R-Tennessee, and Judd Gregg, R-New Hampshire, to break ranks and vote with them.
Warner said Corker and others have been involved in talks on the bill for months, which he said showed there were bipartisan contributions in drafting the measure.
Obama rejects a compromise that would weaken the intent of the bill, saying last week he would veto legislation "that does not bring the derivatives market under control in some sort of regulatory framework that assures that we don't have the same kind of crisis that we have seen in the past."
CNN's Martina Stewart contributed to this story.