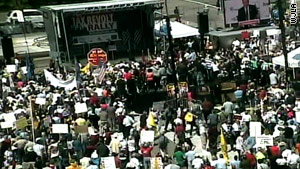 Tea Party activists hold an anti-tax rally Thursday morning at Freedom Plaza in Washington.
STORY HIGHLIGHTS
Activists focus on candidates who can win, consultant says
Among Tea Party "heroes" are candidates who lag far behind front-runners
Among "targets" are Sens. Reid, Boxer, Specter, Lincoln, Rep. Barney Frank
Conservative group insists it's not affiliated with any other party
Washington (CNN) -- Leaders of the Tea Party Express marked Tax Day on Thursday by celebrating their efforts over the last year and unveiling a list of "heroes" and "targets" ahead of the upcoming midterm elections.
In a lengthy news conference that partially amounted to a pat on the back for their efforts at affecting a handful of key races in the last several months, the group said it is supporting only candidates it feels have a viable shot at winning next November.
"In politics, you always have to be careful to promise what to do," said Sal Russo, a GOP consultant who is aiding the Tea Party in its efforts. "We try to keep our focus on the doable. We have a lot of wonderful candidates that simply can't win. So our focus is on the candidates that can win so we can really focus on taking America back."
But among the list of supported candidates is Sharron Angle, a former Republican member of the Nevada Assembly who is an anti-tax champion vying to take on Senate Majority Leader Harry Reid. A recent poll indicates Angle lags far behind the two other Republicans seeking the party's Senate nomination: college basketball star Danny Tarkanian and former state GOP Chairman Sue Lowden. The Mason-Dixon survey for the Las Vegas Review-Journal showed Angle at 5 percent, while Lowden registered 45 percent and Tarkanian polled at 27 percent.

Video: Tea Party Express announces new tour

Video: Can GOP embrace Tea Party movement?

Video: Sarah Palin: 'Oh no you don't'
Angle, who has aggressively touted her connection to the Tea Party, addressed the gathering Thursday, calling the movement "a tsunami of conservatism across this country."
The group is also supporting California State Assemblyman Chuck DeVore, who is vying with former Hewlett-Packard CEO Carly Fiorina and former Rep. Tom Campbell to take on longtime Democratic Sen. Barbara Boxer. DeVore also lags his opponents by nearly 20 points, according to a recent Los Angeles Times USC poll.
Former Florida House Speaker Marco Rubio, who is facing off against Gov. Charlie Crist for the GOP nomination and has often tip-toed around his connection to the movement, also won a rousing endorsement from the group Thursday. So did Pat Toomey, the former head of the Club for Growth who will take on Sen. Arlen Specter in Pennsylvania, should Specter win his own primary. Specter, a longtime Republican, switched his affiliation to the Democratic Party last year in part to avoid a primary challenge from Toomey.
Rand Paul, the son of Texas Rep. Ron Paul, who is running for Senate in Kentucky, and Todd Tiahrt, a congressman running for Senate in Kansas, also won Tea Party Express endorsements Thursday.
On the House side, the group is also backing one Democrat: Walt Minnick of Idaho, who is part of the "Blue Dog" coalition of centrist Democrats. He has long railed against pork-barrel spending and voted against the recent health care bill.
The heroes list also includes several members of Congress with bona fide conservative credentials, most of whom do not appear to face difficult re-election bids: Reps. Marsha Blackburn of Tennessee, Joe Wilson of South Carolina, Michele Bachmann of Minnesota, Mike Pence of Indiana, Tom Price of Georgia and Tom McClintock of California.
In addition to Sens. Reid, Boxer and Specter, the group said it will aggressively target Sen. Blanche Lincoln of Arkansas, the struggling Democrat who faces a difficult primary challenge and a tough general election battle should she make it that far.
On the House side, Tea Party activists said they are taking aim at Democratic Reps. Betsey Markey of Colorado, Alan Grayson of Florida, Baron Hill of Indiana, Barney Frank of Massachusetts, Dina Titus of Nevada, John Spratt of South Carolina, Tom Perriello of Virginia, Gerry Connolly of Virginia and Alan Mollohan of West Virginia.
The Washington event Thursday ends the Tea Party Express' three-week bus tour that began in Searchlight, Nevada, which is Reid's hometown. The tour hit several key districts throughout the Midwest and Northeast, and culminated in an event in Boston, Massachusetts, on Wednesday that featured former Alaska Gov. Sarah Palin.
While the vast majority of the group's endorsements went to Republicans, group leader Mark Williams said the movement is not partisan.
"Please don't tell me I'm a Republican tool," he said.