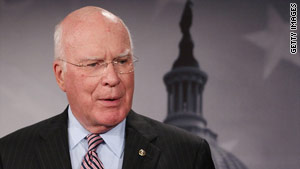 Senate Judiciary Committee Chairman Patrick Leahy, D-Vermont, is urging an up or down vote on judicial nominees.
STORY HIGHLIGHTS
Sen. Patrick Leahy, D-Vermont, is chairman of the Senate Judiciary Committee
Leahy, fellow Democrat call on Senate to push forward with up-or-down vote
As senators, Leahy, Obama, Clinton, Biden have backed judicial filibusters
15 months into their terms, Bush confirmations outpaced Obama confirmations 42 to 18
Washington (CNN) -- The chairman of the Senate Judiciary Committee lashed out at Senate Republicans on Tuesday for holding up confirmation votes on President Obama's judicial nominees.
"The overall pattern set by Republicans on the other side of the aisle is one of reflexive partisanship, not principled argument," Patrick Leahy, D-Vermont, told reporters. "Increasingly, Senate Republicans are avoiding answering aye or nay on these nominations. They prefer saying 'just maybe.' "
He pointed to the Republicans' use of filibustering, a parliamentarian tactic in which 60 votes are needed to end debate and allow an up-or-down vote.
Don Stewart, a spokesman for Senate Minority Leader Mitch McConnell, said that Leahy has in the past supported the use of the filibuster.
Leahy, along with 24 other senators -- including then-Sens. Joe Biden, Hillary Clinton and Barack Obama along with the Senate Democratic leadership -- voted 'nay' on a vote to end a filibuster of Samuel Alito's 2006 confirmation to the Supreme Court.
Senate Majority Leader Harry Reid said at a news conference it appears Democrats will have to force a vote on some of the nominations, leading to late-night sessions.
"It will mean some speeches showing the American people how unusual this is in the history of our country, to have a party saying no to everything," he added.
New York Democratic Sen. Chuck Schumer, a member of the Judiciary Committee, vowed Democrats are going to rev up their efforts to get the nominees through, "because it's just unpardonable, unexplainable."

Video: Replacing Justice Stevens
Leahy added the obstruction and delay in considering 22 judicial nominees before the Senate is unprecedented.
"Twenty-two nominations, 22 highly qualified nominees are languishing on the Senate floor because we haven't been able to reach time agreements with the Senate Republicans," he added. "Many of these were voted out of committee unanimously [with] every Republican, every Democrat supporting the nominee."
Leahy also highlighted that during President George W. Bush's first term, Senate Democrats pushed through his judicial nominees rather expeditiously, adding that his party treated Bush "an awful lot more fairly."
By April 13, 2002 -- 15 months after Bush took office -- 42 district and circuit court judges nominated by Bush were confirmed. As of April 13, 2010, only 18 district and circuit court judges have been approved by the Senate, according to the Federal Judicial Center.
Sen. Orrin Hatch, a Republican on the Judiciary Committee, told Congressional Quarterly that Democrats in the past have thrown up roadblocks "in all kinds of ways."
"It's hypocritical for them to come in and act like they've been fair on judges," the Utah senator said.
Schumer said that while the focus is on the upcoming Supreme Court confirmation hearings, a "well-functioning judiciary depends on the lower courts as well."
"The lower courts should be stocked with able jurists ... too many of President Obama's judicial nominees have been victims of partisan gridlock here in the Senate, only for the reason of partisan gridlock," he said. "There is no justification for holding these judges up, except gridlock."
And that gridlock is taking a toll on some nominees.
Dawn Johnsen, a controversial nominee to an influential Justice Department position, withdrew her nomination Friday amid fierce Republican opposition.
Johnsen, an outspoken champion of abortion rights and a harsh critic of the Bush administration policies on detention of terrorism suspects, was nominated by Obama last year to lead the Office of Legal Counsel. The office provides legal policy guidance for the Justice Department and the executive branch.
After Johnsen's nomination had expired because it hadn't passed the Senate yet, Obama renominated her in January. The Senate Judiciary Committee approved her nomination in March.
Legal memos on interrogation of prisoners, which critics say advocated torture, were written by those in charge of the OLC during the Bush administration.
"Restoring OLC to its best nonpartisan traditions was my primary objective for my anticipated service in this administration," Johnsen said in a statement released by the White House. "Unfortunately, my nomination has met with lengthy delays and political opposition," she said.
In a statement, the White House said that Obama believes "it is time for the Senate to move beyond politics and allow the Office of Legal Counsel to serve the role it was intended to -- to provide impartial legal advice and constitutional analysis to the executive branch."

CNN Justice Producer Terry Frieden contributed to this report.