Romney nips Paul in Southern GOP straw poll
STORY HIGHLIGHTS
Conference-goers predicted Mitt Romney and Ron Paul would take the top two spots
The ballot lacked several big names, including governors Haley Barbour, Rick Perry
A group, "Evangelicals for Mitt," was there, as were many college-aged Paul supporters
New Orleans, Louisiana (CNN) -- Former Massachusetts Gov. Mitt Romney defeated Texas Rep. Ron Paul by a single vote in the Southern Republican Leadership Conference's 2012 straw poll on Saturday.
Romney did not appear at the New Orleans conference, but received 439 votes -- or 24 percent -- of the 1,806 ballots cast by delegates at the conference, held in New Orleans. Paul earned 438 votes.
Former Alaska Gov. Sarah Palin and former House Speaker Newt Gingrich tied for third place with 18 percent of the vote.
Former Arkansas Gov. Mike Huckabee earned 4 percent, followed by Minnesota Gov. Tim Pawlenty and Indiana Rep. Mike Pence, both with 3 percent. Former Pennsylvania Sen. Rick Santorum finished with 2 percent, while former New Mexico Gov. Gary Johnson came in last with 1 percent.
Conference-goers had predicted that Romney and Paul would compete for the straw poll's top two spots, as their supporters worked hard to get like-minded delegates to the voting room.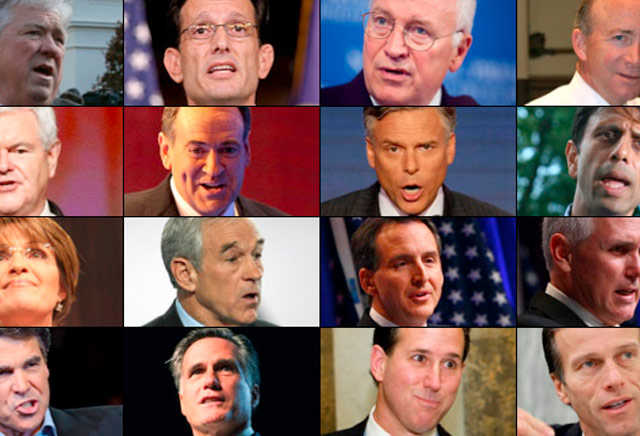 2012 GOP contenders

Video: Gov. Barbour talks 2010 prospects
A group called "Evangelicals for Mitt" was a visible presence at the conference, handing out copies of Romney's new book and pink piggy banks emblazoned with the slogan, "Elect a president who won't break the bank."
Paul's loyal supporters, many of them college-aged, showed up in droves on Saturday to cast ballots before attending the congressman's speech in the afternoon.
Like most straw polls, Saturday's results should not be considered a reliable predictor of future success. Former Tennessee Sen. Bill Frist won the last SRLC contest in 2006 but never ran for president. The straw poll was accurate in 1998, however, when George W. Bush took the top spot two years before winning the White House.
The ballot also lacked several big names. Mississippi Gov. Haley Barbour, South Dakota Sen. John Thune, Indiana Gov. Mitch Daniels, Texas Gov. Rick Perry -- all of whom have been mentioned as possible 2012 candidates -- were not listed.
At least two, Barbour and Perry, asked to have their names kept off the ballot.