STORY HIGHLIGHTS
NEW: Source: Three contenders among finalists for seat that went to Sonia Sotomayo

Jeffrey Toobin: President Obama may want "some occupational diversity" on court

Justice John Paul Stevens announces retirement

Obama's nomination of Sotomayor led to first Hispanic justice on high court

(CNN) -- President Obama on Friday received his second opportunity to shape the U.S. Supreme Court when Justice John Paul Stevens announced his retirement.
The president named Justice Sonia Sotomayor to the court last year.
In replacing Stevens, Obama likely will nominate a candidate that would maintain the court's ideological balance of five conservative to four liberal-leaning judges.
Government sources said three candidates top an informal list at this early stage. They are Judge Diane Wood of the Illinois-based 7th U.S. Circuit Court of Appeals, Solicitor General Elena Kagan and Judge Merrick Garland of the U.S. Court of Appeals for the D.C. Circuit.
Homeland Security Secretary Janet Napolitano also met privately with Obama last May before Sotomayor's selection and remains in the mix, sources said.
Other possible contenders could be Cass Sunstein, 55, an old law school associate of Obama's and head of a key White House agency, and Massachusetts Gov. Deval Patrick, 53, a longtime friend of the president's. Some insiders reportedly favor Patrick, but he's seeking re-election this fall to governorship.
The White House has quietly but actively prepared for weeks in anticipation of a vacancy, government sources said.
Jeffrey Toobin, CNN's legal analyst, noted Friday that all the justices on the Supreme Court once worked as federal appeals court justices.

Video: Obama hints at next justice

Video: Analyst: Moderate Democrat likely

Video: Stevens to retire from high court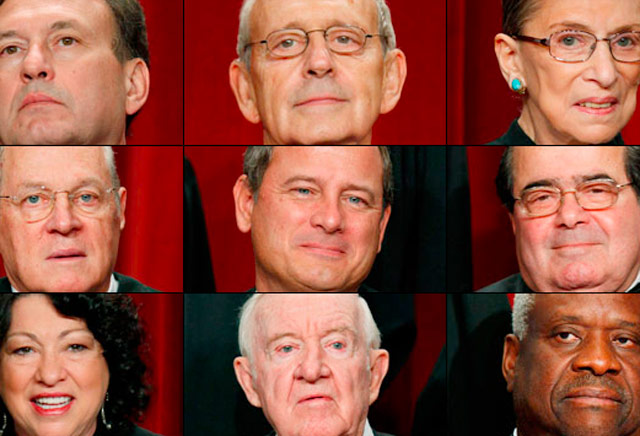 Supreme Court justices
"There are no law professors. There are no people who were in business," he said. "This is unusual in Supreme Court history. There used to be former senators, former administration officials, people who are used to negotiating and not just people who are used to deciding."
That factor could favor Kagan, the solicitor general, Toobin said. It also could favor Napolitano, though the government's response to a Christmas Day attempt to blow up an airliner as it landed in Detroit, Michigan, may work against her, Toobin said.
"I do think President Obama has said that he thinks it's time to get out of the rut of appointing only federal appeals court judges," he said.
"Sonia Sotomayor, his first choice, was an appeals court judge, but I think he will want to feel that it is time to have some occupational diversity on the court as well as religious, gender and racial diversity. "
Obama's nomination of Sotomayor led to the Supreme Court's first Hispanic justice. White House officials have privately expressed hope another high-profile nomination would build political momentum in an election year, but some aren't sure that is possible.
"There isn't an immediate candidate who could give them just as much [in] the second go-around," said Thomas Goldstein, a prominent Washington lawyer and founder of Scotusblog online. "There isn't a candidate who has Justice Sotomayor's personal history and also her ethnic background.
"But I think that the model for the administration is probably the same -- get someone in there who doesn't generate a lot of political heat against you and is a relatively easy person to confirm."
Sen. Jon Kyl, R-Arizona, a member of the Senate Judiciary Committee, recently refused to rule out a GOP filibuster of an Obama nominee to the Supreme Court.
"I think the president will nominate a qualified person. I hope, however, he does not nominate an overly ideological person," said Kyl told Fox News.
"That will be the test. And if he doesn't nominate someone who is overly ideological, you may see Republicans vote against the nominee, but you won't see them engage in a filibuster."
Republicans control 41 seats in the Senate, enough to stall the confirmation process, and they are considered likely to win a few more seats in midterm elections in November.
Sen. Arlen Specter, D-Pennsylvania -- a longtime member of the Senate Judiciary Committee, which considers Supreme Court nominees -- said recently that he would lobby Obama to choose a successor for Stevens who supports limiting executive power built up during George W. Bush's presidency.
"I think we need someone who will step into Justice Stevens' shoes, who will be very tough on the issues of executive power," Specter said on "Fox News Sunday."
"I think we need the kind of balance that Justice Stevens has provided to offset the majority on the court, which is in favor of executive power."
Many advocacy groups already have weighed in on possible replacements.
"The president should start putting together a list of names of individuals who can begin to change the conversation on the court and assert a leadership role," said Nan Aron, president of the left-leaning Alliance for Justice.
Aron cited Wood, the appeals court judge based in Illinois, as someone with a long record of taking strong stands on key issues.
On the right, many observers seem confident that in an election year filled with legislative challenges, Obama could have a hard time choosing a high court nominee with a clear liberal portfolio.
"The burden of proof is clearly on the White House with any future Supreme Court nominations," said Gary Marx, executive director of the Virginia-based Judicial Crisis Network. "It was assumed on the last go-around that it would be more of a rubber stamp" with Sotomayor winning easy confirmation, "but we're in an entirely new world politically.
"Obama, I think, wants to take a more aggressive posture and continue to appeal to his liberal base with the next court nominee, but the Democratic Senate may decide it's not in their best interest to hitch their wagon to the president."
One legal source involved in vetting Sotomayor cautioned against Obama picking a "liberal [Antonin] Scalia," saying, "it could derail the president's entire agenda, by picking a fight over ideology. Very much in line with his philosophy of picking qualified, thoughtful judges, the president was extremely successful naming Judge Sotomayor last year. I'd expect him to follow that same path if we get something this year."
One sign of encouragement for Democrats was the president's criticism of high court conservatives in his State of the Union address.
Obama criticized the majority's ruling that gives corporations greater power to spend their money in federal elections, causing Justice Samuel Alito, sitting in the audience, to shake his head and mouth words interpreted as "not true."
The three leading contenders to replace Stevens were among nine finalists last year for the seat that went to Sotomayor, said sources with knowledge of the process.
Many administration insiders believe Wood, a Texas native, would be a strong intellectual force on the high court, where the newly emboldened conservative justices have achieved recent victories on campaign finance reform and gun rights.
Kagan has no judicial experience but has impressed the White House with her skill arguing important cases before the Supreme Court as the government's top appellate attorney.
Garland, a Chicago, Illinois native, is considered more moderate than other leading candidates, and his confirmation could be considered a relative breeze.
CNN Supreme Court producer Bill Mears contributed to this report.