Supreme Court justices by president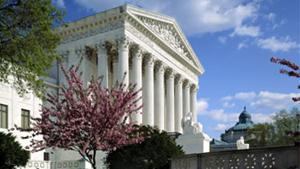 A Supreme Court justice is appointed for life, meaning the High Court's turnover is not great. Take a look at Supreme Court justices nominated by presidents since 1975.
Gerald Ford (1974-1977)
- John Paul Stevens (1975)
Jimmy Carter (1977-1981)
Carter did not appoint anyone
Ronald Reagan (1981-1989)
- Sandra Day O'Connor (1981)
- Antonin Scalia (1986),
- Anthony M. Kennedy (1987)
George H.W. Bush (1989-1993)
- David Souter (1990)
- Clarence Thomas (1991)
Bill Clinton (1993-2001)
- Ruth Bader Ginsburg (1993)
- Stephen G. Breyer (1994)
George W. Bush (2001-2009)
- John Roberts (2005)
- Samuel Alito (2005)
Barack Obama (2009-present)
- Sonia Sotomayor (2009)

Part of complete coverage on

Supreme Court Justice John Paul Stevens said he will retire this year, giving President Obama another opportunity to shape the nation's highest court

John Paul Stevens has served as a central liberal voice on the high court, at times leading negotiations to sway opinions on critical cases

Learn more about the nine people who sit on the highest court in the U.S.

With Stevens' retirement, President Obama gets his second opportunity to shape the U.S. Supreme Court after naming Sonia Sotomayor to the court last year


Most popular stories right now