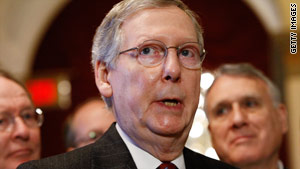 Senate Minority Leader Mitch McConnell says several questions on the nuclear arms treaty need to be answered.
STORY HIGHLIGHTS
A major nuclear arms control treaty was signed Thursday
The treaty must be ratified in the Senate with a 2/3 vote
Senate Majority Leader Reid expects to have the votes for it to pass
Some Republican senators are likely to raise concerns during debate
Washington (CNN) -- President Obama and Russian President Dmitry Medvedev signed a major nuclear arms treaty Thursday, but critics in the Senate will have their say before anything is put in place.
Among them is Senate Minority Leader Mitch McConnell, R-Kentucky, who said in a statement Thursday that the Obama administration "will need to meet three requirements if it expects favorable consideration of the START follow-on treaty."
"The Senate will assess whether or not the agreement is verifiable, whether it reduces our Nation's ability to defend itself and our allies from the threat of nuclear armed missiles, and whether or not this administration is committed to preserving our own nuclear triad," McConnell said in a statement.
The new Strategic Arms Reduction Treaty -- known as START-- builds on a previous agreement that expired in December. The agreement reduces the number of nuclear weapons held by the United States and Russia by about one-third, among other provisions.
Read more about the START treaty
A Senate GOP leadership aide told CNN that as long as the administration can satisfactorily answer questions about verification, missile defense and the modernization of the existing U.S. stockpile, Republicans will likely support the new treaty.
Senate Majority Leader Harry Reid, D-Nevada, said Thursday that he is confident there will be enough votes for the treaty to pass.
Under the U.S. Constitution, a treaty must pass a two-thirds vote threshold. That means at least eight Republican senators must sign on to the ratification in addition to all 59 Democrats and independents in the Senate.

Video: Obama, Medvedev sign START pact

Video: New nuclear arms control deal signed
"Strategic arms control treaties similar to this one have historically passed the Senate with strong bipartisan support, and I am confident that this agreement will receive the 67 votes from both sides of the aisle needed for passage," Reid said in a press release. "There is no need to play politics with something as important as this is to our national security."
White House press secretary Robert Gibbs said he hopes Congress will ratify the treaty with a large bipartisan majority.
The GOP aide also said Republicans are surprised they have not gotten a classified briefing on this issue yet because their concerns would likely be addressed by such a briefing. Administration officials said they would brief members of the Senate on the particulars of the treaty on Thursday.
The president's recent Nuclear Posture Review, which would end the development of new weapons and restrict the conditions for using existing weapons, has caused concern among some conservatives. They fear Obama will weaken the country's nuclear deterrent against a possible attack.
"We believe that preventing nuclear terrorism and nuclear proliferation should begin by directly confronting the two leading proliferators and supporters of terrorism, Iran and North Korea," according to a joint statement issued Tuesday by Arizona Republican Sens. Jon Kyl and John McCain. "The Obama administration's policies, thus far, have failed to do that and this failure has sent exactly the wrong message to other would-be proliferators and supporters of terrorism."
Obama, though, has a key Senate Republican ally in Richard Lugar, a ranking member of the Senate Armed Services Committee.
"I commend the U.S. and Russian delegations for months of dedicated effort," Lugar said in a March 25 press release. "I look forward to the President's submission of the new treaty, its protocols, annexes and all associated documents to the Senate for advice and consent to ratification."
Lugar said he would work with the committee chairman, Sen. John Kerry, D-Massachusetts, "to begin scheduling hearings and briefings for the Foreign Relations Committee so that we can work quickly to achieve ratification of the new treaty."
Kerry's message: "Let's get it done."
"I know there has been a partisan breakdown in recent years, but we can renew the Senate's bipartisan tradition on arms control and approve ratification of this new treaty in 2010," he said in a March 26 release. "As soon as the President sends the agreement to the Senate, we will appeal to all our colleagues to set aside preconceptions and partisanship and consider the treaty on its merits."
Reducing nuclear stockpiles has been a top concern for several presidents -- including Ronald Reagan, who faced tense, Cold War relations with the Soviet Union during his presidency. On several occasions, Reagan expressed his support for reducing the threat posed by nuclear arms.
"Since the dawn of the atomic age, we've sought to reduce the risk of war by maintaining a strong deterrent and by seeking genuine arms control," Reagan said in an address to the nation on March 23, 1983.
But he noted that nations who think about "attacking the United States, or our allies, or our vital interests, concludes that the risks to him outweigh any potential gains. Once he understands that, he won't attack. We maintain the peace through our strength; weakness only invites aggression."
Obama and Secretary of State Hillary Clinton have indicated that the nuclear option is on the table if there is a threat from countries like North Korea and Iran, who have so far signaled they are unwilling to negotiate.
In an interview with John Avlon, a DailyBeast columnist and CNN contributor, George Shultz -- Reagan's secretary of state -- said Obama's nuclear priority would have received support from Reagan.
"President Obama has picked up on the notion that we can seek a world free of nuclear weapons, and that was very strongly felt by President Reagan," he told Avlon after returning from a meeting with the president on Tuesday. "Since the START Treaty that was proposed by President Reagan expired last December, it's important to get it replaced with a treaty that has verification permissions in it and continuous investigations."
CNN Congressional Producer Ted Barrett contributed to this report.