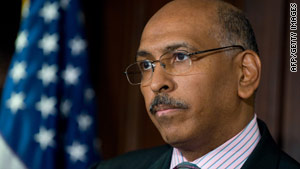 RNC Chairman Michael Steele says he's still the right person to lead the GOP into the November midterm elections.
STORY HIGHLIGHTS
Ken McKay, chief of staff for Republican National Committee Chairman Michael Steele, resigns
Steele insists he is the right person to lead the GOP into November midterm elections
Critics say Steele lacks leadership to oversee GOP's national political organization
GOP political strategist worries that Steele is no longer listening to sound political advice
Washington (CNN) -- Embattled Republican National Committee Chairman Michael Steele has sought to reassure party activists that the GOP will be prepared for November's elections after his chief of staff's resignation.
Mike Leavitt, the RNC's deputy chief of staff for external communications, will replace Ken McKay, whose departure as chief of staff was announced Monday. A few hours after that move, another key Steele political ally said his firm was cutting ties with the RNC.
Steele e-mailed all 168 RNC members Monday evening to tell them of McKay's departure and accepted responsibility for some embarrassing headlines that have come out of the party lately. He guaranteed party activists and state party leaders that he is the right person to lead the GOP into the November midterm elections.
"Just as everyday Americans have entrusted the RNC with their money and their hopes for a better country, so also, you have entrusted me with the stewardship of this organization to make those hopes a reality," Steele wrote in an e-mail that CNN obtained.
"I take this grave responsibility seriously. Leadership requires that any distractions from our most serious mission be addressed immediately and decisively," he wrote.

Video: RNC's Michael Steele in the hot seat

Video: Barbour: Steele's got plenty of sense

Video: Advice from ex-Virginia governor
"Leadership requires that I can safely assure you, our donors, and the American people that our mission is what drives every dollar we spend, every phone call we make, every e-mail we send and every event we organize. Recent events have called that assurance into question and the buck stops with me. That is why I have made this change in my management team and why I am confident about going forward to November with renewed focus and energy."
But Curt Anderson, who helped engineer Steele's victory as RNC chairman in 2009, said in an e-mail that his political strategy firm, OnMessage Inc., was stepping aside after McKay's resignation.
"Ken McKay's departure is a huge loss for the Republican Party. Ken steered the party through very successful elections last fall that have given us tremendous momentum," Anderson wrote. "He's a great talent. Given our firm's commitments to campaigns all over the country, we have concluded it is best for us to step away from our advisory role at the RNC. We have high personal regard for the chairman and always have; we wish him well."
McKay came to the RNC after working for Rhode Island Gov. Don Carcieri.
Critics have charged that Steele lacks the leadership to oversee the GOP's national political organization. He has been criticized for his use of private jets and limousines as Republicans head into the midterm elections with less money than Democrats. The House and Senate campaign committees rely on the national parties to help fund efforts in the midterm election years.
Last week, Steele also came under fire from social conservatives after reports surfaced that the RNC had picked up a nearly $2,000 tab at a bondage-themed West Hollywood nightclub for a group of young donors. A few days later, Democrats distributed an RNC fundraising solicitation that had a misprinted number sending callers to a phone sex line.
Steele also had to distance himself from an internal party document that described high-level Republican donors as "ego-driven" and suggested enticing them with "tchochkes" while urging "visceral" appeals to small donors.
In a separate statement Monday, the RNC chairman touted Leavitt's political credentials, including his work on Steele's 2006 Senate bid in Maryland as well as his ties to Virginia Gov. Bob McDonnell. The RNC distributed a statement from McDonnell -- whom many view as a rising GOP star -- about the new chief of staff.
"Mike Leavitt worked closely with me and my campaign in Virginia, where he led an extremely successful victory operation," McDonnell said. "Mike will bring great energy, commitment, and experience to the job of chief of staff at the RNC. I applaud Chairman Steele for his choice."
Former RNC Chairman Ed Gillespie said he did not know McKay, but he spoke highly of Leavitt in an e-mail to CNN.
"Mike is a very smart political operative and effective manager of people and resources," Gillespie said in the e-mail. "He knows the chairman well and how best to maximize his strengths. He also has very good relations with the other committees and Republican strategists. Chairman Steele's decision to put Mike Leavitt in charge of the building will be reassuring to a lot of Republicans."
But a GOP political strategist with knowledge of the situation said he is concerned that Steele is no longer listening to sound political advice.
"This is a real danger for him," said the high-level strategist, who spoke freely only on the condition of anonymity. "You can make a lot of mistakes as a party chairman, but one thing you can't do is alienate your fundraisers. Michael Steele has apparently done that."
The strategist also said, "At the same time the Republican Party is supposed to be transforming itself, people are looking at us, saying, 'What do you guys have to offer?' And all they are seeing is this mess."
Steele was elected as RNC chairman in a hotly contested race in January 2009 after six rounds of voting.
Under his tenure, the GOP won the governor's races in New Jersey and Virginia in 2009, and Republican Scott Brown, then a Massachusetts state senator, did what many people thought was unimaginable in January by winning the late Edward Kennedy's seat to the U.S. Senate.
But Steele has had problems, such as a high-profile dust-up last year with Rush Limbaugh in which he described the conservative talk-radio host's rhetoric as "incendiary" and "ugly" in an interview with CNN. Steele also emphasized in the same interview that he, not Limbaugh, was the "de facto leader of the Republican Party."
Limbaugh fired back on his radio show and accused Steele of supporting President Obama and House Speaker Nancy Pelosi, D-California. He said Steele appeared to be "obsessed with seeing to it President Obama succeeds."
"I frankly am stunned that the chairman of the Republican National Committee endorses such an agenda," Limbaugh said. "I have to conclude that he does, because he attacks me for wanting it to fail."
Earlier Monday, before the announcement of McKay's departure, Steele defended himself from critics, saying he has a "slimmer margin for error" because he is African-American.
"Barack Obama has a slimmer margin," Steele said on ABC's "Good Morning America." "We all -- a lot of folks do. I mean, it's a different role for me to play and others to play. And that's just the reality of it. It's more of because you're not somebody they know.
"I am not a Washington insider, even though I grew up in D.C. My view of politics is much more grass-roots-oriented. It's not old-boy-network-oriented."