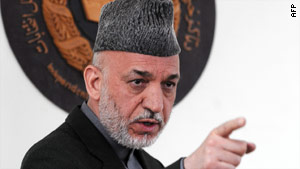 Afghan President Hamid Karzai "expressed surprise that his comments had caused a stir," a source says.
STORY HIGHLIGHTS
Karzai had blamed Afghanistan election fraud on foreigners
U.N.-backed panel invalidated nearly a third of Karzai's votes because of fraud
In weekend trip to Afghanistan, President Obama focused on ways to root out corruption
State Department says it is satisfied with Karzai after phone call
Washington (CNN) -- U.S. Secretary of State Hillary Clinton spoke with Afghan President Hamid Karzai on Friday about remarks he had made blaming election fraud in his country on the international community.
State Department spokesman P.J. Crowley said Karzai called Clinton after meeting with U.S. Ambassador to Afghanistan Karl Eikenberry. Karzai and Clinton talked for 25 minutes, according to State Department officials.
Two of the officials, who were not authorized to speak on the record but who had knowledge of the phone call, said the tone was "very constructive" and that the United States found it useful for Karzai to reach out to Clinton.
The United States was seeking clarification about Karzai's comments on last year's election, which kept him in office.
Afghanistan Crossroads: Karzai blames foreigners for election fraud
"No doubt, there was huge fraud, there was vast fraud," Karzai said Thursday in a speech before the Independent Election Commission. "The fraud is not by the Afghans. This fraud has been done by the foreigners."
His comments came just days after a meeting with President Obama, a visit seen as an attempt by Washington to work out political difficulties as the United States and coalition forces prepare for a June military offensive designed to wrest control of the southern city of Kandahar from the Taliban.
With Obama at his side, Karzai had thanked the United States, pointing out that American taxpayers have helped rebuild his country. But his accusations Thursday revealed the prickly nature of his relationship with his most powerful ally.
However, State Department officials said they were satisfied after Clinton's conversation with the president.
"We are happy with the call," one of the State Department officials said. "We reached a good understanding. We pledged to move on and focus on the work ahead."
The official added that Karzai "expressed surprise that his comments had caused a stir" in U.S. circles.
A U.N.-backed panel found fraud in August's Afghan presidential election and invalidated nearly a third of Karzai's votes. Karzai was eventually declared the winner after his closest challenger withdrew from a runoff.
The elections were seen as a key test for Afghanistan's struggling democracy, and the allegations of fraud stoked tensions between Karzai and his international allies, especially the United States.
On his visit to Afghanistan last weekend, Obama was clear with Karzai on the "necessary steps" needed to improve governance and root out corruption in order to deal with the huge challenges the country faces, White House spokesman Robert Gibbs told reporters Friday.
Gibbs also made a point to stress the important work American and NATO soldiers are doing to establish security and allow the Afghan government to take hold in places like Marjah in Helmand province.
"Those security gains are only solidified if there is competent governance in those areas once the Taliban is pushed out."
Gibbs said Karzai's planned visit to Washington in May is still scheduled.
CNN's Jamie Crawford contributed to this report.