Top Republican under fire over topless bar tab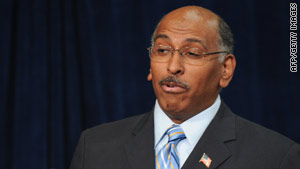 Republican National Committee Chairman Michael Steele has faced heavy internal criticism from the GOP.
STORY HIGHLIGHTS
Republican Party bankrolled tab at a Hollywood bar with topless dancers
Story has angered party supporters, heaped pressure on chief organizer Michael Steele
Steele criticized by some Republicans for failing to rally opposition to Obama
Also faces criticism over controversial spending of Republican funds
America's straight-laced Republican Party was stunned to learn this week that it bankrolled a donor's tab at a Hollywood bar featuring topless dancers mimicking exotic sex.
The night out is now the latest chapter in the troubled tenure of the Republicans' chief organizer, Michael Steele.
Fresh from its defeat in the fight against President Barack Obama's newly adopted healthcare overhaul, the party is now enduring a self-inflicted embarrassment, undermining its reputation for defending "family values."
"As a leader, you set the tone for your organization," said former Republican senator Rick Santorum. "If somebody who worked for my organization did something like this, they would be out of a job."
Steele's job is not to serve as party leader in the conventional sense, but officially as chairman of the Republican National Committee. He was the first African-American ever chosen for the role, just weeks after Obama, a Democrat, took office.
Steele's main responsibilities include raising money and overseeing party communications.

Video: RNC's $2,000 club tab
Right now, that could mean rallying the sizeable and still-fierce opposition to the health reform and bringing-in contributions to fight it in upcoming Congressional elections.
Instead, he's stayed out of sight while the media remind Republicans that Steele has overseen a burst of controversial spending and publicly strayed from their conservative policies on issues ranging from abortion to homosexuality.
The party reportedly had more than $22 million when he took over and has raised another $96 million since. It's now said to have less than $10 million on hand.
He even disappointed members of Congress by publicly downplaying their prospects in the November legislative elections.
"He has been confronted numerous times by Senate leaders and House leaders over the past year" one House of Representatives aide told CNN earlier this year.
This should be a promising time to manage the Republican Party.
There is enormous public anger at the president and Democrat lawmakers. Protestors are organizing nationwide to press for lower taxes and less government -- traditional Republican policies.
Republican crowd-pleasers like former governor Sarah Palin are touring the country, drawing big and appreciate crowds.
Steele has never been that kind of crowd pleaser. Right now, he isn't even pleasing his own party.