Justices find against mutual fund industry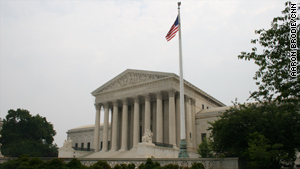 The Supreme Court affirmed decades-old rules on violations of "fiduciary duty."
STORY HIGHLIGHTS
Justices say law allows suit against investment firm to continue
Case concerns when individual investors can claim fees are excessive
Company accused of setting fees that bore "no reasonable relationship" to services
Firm says fee structure in line with other companies'
Washington (CNN) -- The mutual fund industry lost a major appeal at the Supreme Court on Tuesday over when individual investors can claim that their fees are excessive compared with those of institutional investors.
In a unanimous ruling, the justices said a 70-year-old federal law designed to settle disputes over fee schedules allows a lawsuit against a Chicago investment firm to continue. The case has yet to go to trial pending the high court decision, which essentially affirms 3-decade-old ground rules to prove when a "fiduciary duty" was clearly violated.
The issue has particular resonance in the current shaky U.S. economy, where many Americans relying on mutual funds, a popular investment option, have seen the strength of their assets take large hits. The estimated $10.6 trillion industry attracts 93 million investors.
The fee structures used by many companies have led to a series of recent lawsuits.
The issue involved what role federal courts should play in determining whether fund trustees were misled in approving compensation for investment advisers charging allegedly excessive fees to clients. The Investment Company Act of 1940 is designed to curb any such abuse.
A federal appeals court in Chicago last year adopted a tough new standard that required shareholders to prove that an adviser misled fund directors.
In writing for the 9-0 court, Justice Samuel Alito cautioned against other courts relying too heavily on comparing fees charged to mutual funds by the advisers.
However, "where a board's process was deficient or the adviser withheld important information, the court must take a more rigorous look at the outcome," wrote Alito. "But an adviser's compliance or non-compliance with its disclosure obligations is a factor that must be considered in calibrating the degree of deference that is due a board's decision to approve an adviser's fees."
The case at hand involved a lawsuit filed by three individual investors against Harris Associates, an Illinois fiduciary that manages the Oakmark series of mutual funds. Harris Associates had named the Oakmark board of trustees, which in turn set the fees and hired the company to mange the various funds. Led by investor Jerry Jones, the company was accused of setting fees that bore "no reasonable relationship to the services rendered."
The investors' lawyer told the high court that the investment firm was charging Oakmark investors more than it was charging independent funds.
Mutual funds are owned by their shareholders, with assets going to such things as 401(k) retirement plans and "529" college education plans. Fees go to pay salaries and infrastructure costs like rent, to attract business and to profits for the advisers themselves.
The Securities and Exchange Commission's figures show that the average stock mutual fund charges about 1.5 percent in fees, and investment firms can often churn out a double-digit profit margin, depending on the success of the investments.
The fund's board of directors chooses the adviser and is responsible for ensuring that the fee structure is "fair," but the high court noted the board rarely gets rid of the management company.
The investment firm denied any wrongdoing and said its fee structure was in line with what other companies were charging for similar services.
The case is Jones v. Harris Associates (08-992).