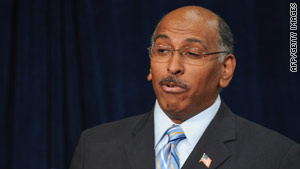 Republican National Committee Chairman Michael Steele has faced heavy internal criticism from the GOP.
STORY HIGHLIGHTS
FEC reports show RNC approved Republican consultant's tab at risque club
RNC has fired a staffer and says the consultant will return the money
Party faithful and conservatives are highly critical of the latest news
Steele has faced criticism from within his party for earlier incidents
(CNN) -- Republican National Committee Chairman Michael Steele is being criticized again after the committee bankrolled a Republican donor's tab at a risque Hollywood nightclub with other party members.
The news comes as Republicans seek donations for an expected brutal and expensive battle to win back the House and the Senate during the midterm elections in November.
"For those donors who truly believe in conservative values, this latest news about Steele has to be very disturbing," Douglas MacKinnon, a former press secretary to then-Senate Majority Leader Bob Dole, told the Huffington Post.com's Sam Stein. "Michael Steele needs to resign and let the RNC vote in a man or woman who understands that his or her needs do not come before the needs of the nation or the party."
Federal Election Commission records show Eric Brown, a Republican donor, was reimbursed almost $2,000 by the RNC for a night that included a visit to Voyeur, a Los Angeles club where topless dancers can be seen mimicking sex and bondage acts. The RNC said Brown will give back the money for that night at the nightclub.
Read more on the nightclub expense controversy
None of it bodes well for Steele, who's been under fire from a wide range of Republicans since taking the top party post.

Video: RNC's $2,000 club tab

Video: More problems for the RNC?
Conservatives have criticized the former lieutenant governor of Maryland after he blasted radio talk show host Rush Limbaugh and later apologized. Some of the party faithful are also critical for his spending. And some fear he's not positioning the GOP well enough to hammer vulnerable Democrats in upcoming elections.
"RNC Chairman Michael Steele has become a recurring nightmare for his party," said Taylor West, a Democratic communications consultant for New Partners Inc. "As the unforced errors, prima donna moments and wild message detours have mounted, Steele has been at best a distraction and at worst a true detriment to the committee's most important roles: driving a consistent Republican narrative and raising money to support the party's 2010 candidates."
Dana Milbank, a columnist for The Washington Post, wrote Tuesday that "for a political organization relying on a base of religious conservatives and family-values types, the Voyeur line item would seem to risk getting Republicans branded 'the party of no-no.' "
Milbank added, "Tying up the Senate is one thing, but doing party business where women tie one another up is quite different."
Penny Nance, CEO of Conservative Women for America, said in a statement Tuesday that this "should be a wake-up call for the RNC."
"If the RNC wants to represent conservatives and the Republican Party, then they have to act like conservatives -- in a moral, fiscal and ethical manner," she said. "When RNC officials seem to think it wise to spend a grandmother's monthly donation on wooing the younger generation by taking them to a bondage-themed sex club instead of helping to elect a conservative, a real problem exists."
Steele has been panned by Republicans in recent months for his comments on the party's electoral chances this fall.
In January, tempers flared during a routine conference call when GOP House and Senate leadership aides confronted RNC staffers over recent comments by Steele.
At issue was Steele's prediction during his nationwide book tour that the Republican Party would not take back the House in November. The comments infuriated GOP strategists on Capitol Hill on a conference call.
According to a senior House aide on the call, a Senate staffer said the chairman was trampling on the GOP's message in a week that saw several high-profile Democratic retirements. The Senate aide told RNC staffers to do a better job controlling their chairman.
"He is digging himself deeper," the Senate aide said about Steele, according to the House source. "He's got to stop and put an end to this thing."
House Minority Whip Eric Cantor, R-Virginia, also took aim at Steele's comments.
"I disagree with Chairman Steele on that point because I believe that the American people, at this point, want to see a check-and-balance on the one-party rule in Washington that has not produced the kind of hope and change that was promised a year ago," he told CNN's Wolf Blitzer.
Later in March, Steele and the RNC faced fierce scrutiny after a document containing images targeting President Obama and other leading Democrats was leaked to a media outlet.
The PowerPoint presentation described high-level Republican donors as "ego-driven" and claimed they could be enticed with "tchotchkes." The document included a slide -- called "The Evil Empire" -- with cartoonish images depicting Obama as the Joker, House Speaker Nancy Pelosi as Cruella de Vil and Senate Majority Leader Harry Reid as Scooby Doo.
Steele described the document as a presentation that a staffer put together for "a small group of about nine or 10 folks and thought that they would intersperse the presentation with humorous shots."
Asked whether Steele should step down, Sen. Orrin Hatch, R-Utah, told NBC's "Meet the Press" that "I don't think Michael Steele knew about that. If he did, I would be very concerned. I like Michael Steele."

CNN's Tom Foreman contributed to this report.