Man accused of making threats against Cantor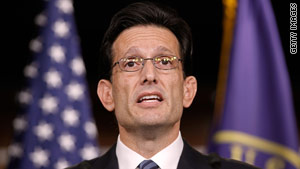 House Minority Whip Eric Cantor of Virginia is the second-ranking Republican in the House of Representatives.
STORY HIGHLIGHTS
NEW: Suspect called GOP lawmaker "liar," "pig" in video, FBI affidavit says

Pennsylvania man has been charged with threatening to kill House Minority Whip Eric Cantor

Norman Leboon accused of making threatening YouTube video, Justice Department says

No indication that Leboon was part of political group, Justice Department official says

Washington (CNN) -- A 33-year-old Pennsylvania man has been arrested and charged with threatening to kill House Minority Whip Eric Cantor of Virginia, the No. 2 Republican in the U.S. House of Representatives, the Justice Department said Monday.
Norman Leboon of Philadelphia was charged in a two-count complaint with threatening to kill Cantor and his family. Leboon made the threat in a YouTube Internet video sent to Google this month, according to a Justice Department statement.
Neither Cantor nor his family were harmed as a result of the threat, the department said.
"The Department of Justice takes threats against government officials seriously, especially threats to kill or injure others," U.S. Attorney Michael Levy said. "Whether the reason for the threat is personal or political, threats are not protected by the First Amendment and are crimes."
If convicted, Leboon would face a sentence of up to 15 years in prison and a $500,000 fine, according to the Justice Department.
Leboon called Cantor a "liar" and a "pig" in the video, according to an affidavit filed by an FBI agent.
"You and your children are Lucifer's abominations," Leboon said, according to the affidavit. "You receive my bullets in your office. Remember they will be placed in your heads."
The video has been removed from the YouTube site.
A Justice Department official said there is no indication Leboon is part of a political group or made his threat against Cantor to advance a specific political cause.
The official called Leboon a lone, possibly disturbed individual and noted he claimed he had produced more than 2,000 videos in which he made threats.
The congressman was notified over the weekend about the threat, Cantor spokesman Brad Dayspring said. He is "deeply grateful for, and would like to dearly thank, all local and federal law enforcement involved."
Cantor was at the center of a dispute last week between Democrats and Republicans over what many observers argue was overly heated partisan rhetoric at the end of the health care reform debate.
Democrats blamed Republicans for helping to incite angry conservatives, while Republicans accused Democrats of hyping threats for political gain.
Cantor told reporters Thursday that a bullet had been shot through a window at a campaign office in Richmond, Virginia.
Richmond police concluded Friday the incident was the result of "random gunfire."
Cantor also said last week that he had received threatening messages.