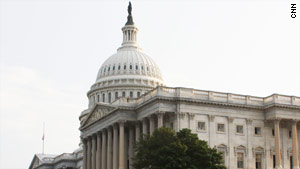 Democrats are hitting the road to sell health care reform to weary Americans.
STORY HIGHLIGHTS
New CNN poll shows that independent voters appear to favor GOP
GOP leaders say they will use health care reform bill against Democrats this year
Expert: Extreme elements in GOP could derail relationship with independents
Washington (CNN) -- Going into the midterm elections, Democrats argue that their health care reform bill will insure millions more Americans, help small businesses and reduce the deficit. Republicans argue the opposite: It will kill jobs, choke the economy and lead to a government takeover of health care.
As lawmakers balance playing to their base with courting undecided voters, the message that wins out among independent voters could decide each party's fate in November.
Polls indicate that independents are increasingly worried about single-party control of Congress, as well as the current state of the economy. Because of that, independents are more likely to support Republicans come November.
In a CNN/Opinion Research Corp. poll released Tuesday, independent voters appear to be favoring the GOP. Among registered voters who call themselves independents, 43 percent plan to vote Republican, while 32 percent plan to vote for a Democrat.
The poll, conducted March 19-21, has a margin of error of plus or minus 3 percentage points.
But Republicans could "burn the bridge" to independents if they increasingly go negative in debating health care reform and the economy, said an expert on independent voters.
"For Republicans, the bridge to independents lies in fiscal responsibility, fiscal conservatism," said John P. Avlon, a senior political columnist for the Daily Beast and author of "Wingnuts: How the Lunatic Fringe is Hijacking America."

Video: How will vote shape politics?

Video: Tea Party's bad apples?

Video: Where the GOP goes from here
Avlon, also a CNN contributor, added: "What burns that bridge down is predominance of the extremes, the appearance that extremes will be empowered if the Republicans take Congress."
Republicans have been deemed "obstructionists" by Democrats and other critics and are seen as having strong ties to the Tea Party movement, outspoken opponents of health care reform and what they deem big-government spending.
Opponents have also linked the GOP to some protesters who use hate-filled speech and racially insensitive posters at health care rallies.
Black Democratic lawmakers -- including civil rights leader Rep. John Lewis of Georgia -- said demonstrators against the reform bill yelled racist epithets at them Saturday. Rep. Emanuel Cleaver of Missouri said a protester spit at him. Protesters also yelled anti-gay comments at Rep. Barney Frank of Massachusetts, an openly gay Democrat.
Leaders of both parties condemned the protesters' actions.
Republicans, Avlon noted, must separate themselves from fringe groups in order to appeal to the crucial independent voters as the 2010 midterm elections approach.
Senate Minority Leader Mitch McConnell of Kentucky said on "John King, USA" that "repeal and replace will be the slogan for the fall," referring to the health care law.
"And we're going to remind the American people of that in the future, and hopefully we'll be able to repeal the most egregious parts of this and replace them with things we could have done on a bipartisan basis much earlier this year."
But David Frum, a former speechwriter for President George W. Bush, said Republicans have played the wrong hand in the health care reform game.
"We gambled on a political approach to health care. ... The top priority became defeating the president so that we can pick up seats in November," said Frum, a CNN.com contributor. "Now, if that had worked, maybe it would have been justifiable. It didn't work."
As for Republicans repealing the law if they take back Congress? Don't count on it, he said.
"When people say this may pay off for the Republicans, I have two answers. The first is no, and the second is so what," Frum said. "Even supposing it does, even supposing that Republicans take a House of Congress, how often do majorities flip back and forth? This bill is forever. It's like Medicare back in 1965. How many times has Congress changed hands since then, but Medicare is still here?"
As for an outreach campaign to independents, Avlon said it means both parties moving away from the traditional electoral approach of appealing to the base.
"The true question is, what party has the courage and the clarity to reach out to independents at the expense of constantly playing to their base?" he said. "When parties become consumed by playing to their base ... that's what alienates independent voters."
Democrats, including President Obama, are hitting the road to sell their health care reform bill to weary Americans. Obama will give a speech Thursday in Iowa City, Iowa, according to White House press secretary Robert Gibbs.
Avlon said that in communicating the bill's contents, Democrats need to realize that independents are still skeptical and "want to be convinced" about the more fiscally conservative parts of the plan.
Expect Democrats to keep hammering these figures on the campaign trail: According to a preliminary estimate by the Congressional Budget Office, the overall reform legislation would cost $940 billion over the course of a decade. Offsetting provisions would reduce deficits by $143 billion in the first 10 years and by more than $1 trillion in the following decade.
Independents "are willing to listen to the data and willing to listen to the facts," Avlon added. "[But] they are not in the bag for either party."
Paul Begala, a Democratic strategist and CNN contributor, said members of his party are hoping they can replicate their recent success in getting the bill passed.
"They'll be able to show there are good things in this health care bill and pivot to jobs and take on Wall Street."
Democrats could also get a boost in support from independents if the economy improves and Americans feel immediate tax and monetary changes from the health care bill. Those changes include:
• The adoption tax credit and exclusion for adoption assistance will increase by $1,000. The bill makes the credit refundable and extends it through 2011.
Timeline: When health care reform will affect you
• A 10 percent tax will be imposed on amounts paid for indoor tanning services on or after July 1.
• Businesses with fewer than 50 employees will get tax credits covering 35 percent of their health care premiums, increasing to 50 percent by 2014 .
Actor, author and activist Hill Harper, an Obama supporter, said that once Americans see the immediate changes, perceptions of Democrats are likely to change.
"Now that we actually have a bill in place, we have a law signed people can start to notice a result ... all these little things that folks will start to notice, their fears will start to go down."