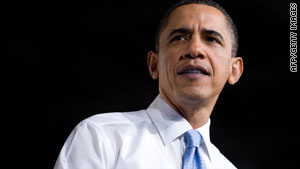 Sunday's vote on the House health care bill is seen as a critical test for President Obama.
STORY HIGHLIGHTS
Obama: Time for reform is "right now"

President will meet or call members of Congress after speech

Aides say White House believes it picked up momentum Thursday

Fairfax, Virginia (CNN) -- President Obama made a final, urgent public plea for health care reform Friday, slamming private insurers and accusing his plan's opponents of spreading lies and distortions.
The president's populist push on his signature issue came two days before a planned climactic vote in Congress. The House of Representatives is set to vote Sunday on a sweeping $875 billion reform plan that cleared the Senate in December, as well as another $65 billion of compromise changes to the measure.
"In just a few days, a century-long struggle with culminate in a historic vote," Obama declared at a campaign-style event at Virginia's George Mason University. "If you believe that it's right, you've got to help us finish this fight. ... The time for reform is right now."
If the Senate bill passes the House, Obama will sign it into law. If the package of changes is passed, it will be taken up by the Senate.
Obama warned that if Congress rejects his plan, "the insurance industry will continue to run amok."
"The only question left is this: Are we going to let the special interests win again, or are we going to make this vote a victory for the American people?" he asked.
The president, who delayed an overseas trip to help make a final reform push, was expected to meet with and call wavering House members after his speech. He is also expected to address the entire House Democratic caucus on Saturday, according to four Democratic officials familiar with Obama's plans. The pitch to lawmakers will be made on Capitol Hill, White House aides said.
House Speaker Nancy Pelosi, D-California, is struggling to round up 216 votes from her 253-member caucus to pass the plan. No Republicans are expected to back it.
Multiple Democratic leadership sources told CNN that Democrats have more than 200 "yes" votes, although it was not clear Friday night how close Democrats were to securing the 216 votes they need.
Twenty-nine House Democrats have indicated to CNN they will join Republicans in opposing the Senate plan. That leaves opponents of reform nine votes shy of defeating the measure.
The president has had 64 meetings and calls pushing for a final health care vote, White House press secretary Robert Gibbs said Friday.
Florida Rep. Suzanne Kosmas, a Democrat who'd been opposed to the bill, announced Friday that she will support it.
Indiana Rep. Brad Ellsworth, a Democrat who's running for the U.S. Senate seat held by the retiring Evan Bayh and who had been undecided on health care, also announced his support Friday.
"Like most Americans I was frustrated by this process throughout," Ellsworth said in a statement, "[but] in my core I know it's the right decision for Hoosiers."
The National Republican Senatorial Committee quickly attacked Ellsworth's decision, saying he "chose Nancy Pelosi and President Barack Obama's interests over the best interests of Indiana voters."

Video: Obama: 'I need your help'

Video: Boehner: 'Let's kill the bill'

Video: Ron Paul opposes health bill
Other Democrats appeared to be resisting pressure from their party's leadership. One undecided member, Texas Rep. Henry Cuellar, said he had refused to answer a telephone call from the White House. Cuellar said he was refusing to do so before deciding how to vote.
"At the end of the day, when we take a vote, [Obama's]not going to be out there supporting me and running my elections," Cuellar said. "It's going to be up to me to run my election. And it's up to me to decide on my own that this is in the best interests of my district."
Administration officials claim, however, that the reform plan has been picking up momentum in recent days. They said they had a "really good day" Thursday, when the nonpartisan Congressional Budget Office estimated that the compromise plan would cost $940 billion over 10 years while reducing the deficit by $138 billion -- $20 billion more than the bill passed by the Senate.
The budget office numbers reassured some fiscally conservative Democrats, according to congressional leaders.
One previously undecided Democrat, Ohio Rep. John Boccieri, said he decided to vote for the plan after being "very encouraged" by the budget office report.
"A lot of people are telling me this decision could cost me my job. ... [but] I'm standing for what I believe in," he said.
The plan also received key endorsements Thursday from the AFL-CIO and the Federation of American Hospitals. The American Medical Association officially backed the plan Friday.
iReport: Share your views on health care reform
If enacted, the measure would constitute the biggest expansion of federal health care guarantees since the enactment of Medicare and Medicaid over four decades ago. It would extend insurance coverage to an additional 32 million Americans, according to a preliminary analysis from the budget office.
Republicans contend that the plan amounts to a government takeover of the private insurance system that will do little to slow spiraling medical costs. They argue that it would lead to higher premiums and taxes for middle-class families while resulting in deep Medicare cuts.
Among other things, the plan would expand Medicare prescription drug coverage, increase federal subsidies to help people buy insurance and ban denials of coverage for pre-existing conditions.
It seeks to bridge the gap between previous House and Senate bills partly by watering down and delaying the implementation of a tax on high-end insurance plans.
As with earlier House and Senate plans, it includes significant reductions in Medicare spending, in part through changes in payments made under the Medicare Advantage program.
It also eliminates a deeply unpopular provision in the Senate bill that provides a special exemption for the state of Nebraska from paying increased Medicaid expenses.
The decisions to reduce the tax on high-end insurance plans and eliminate the Nebraska exemption -- the "Cornhusker Kickback" -- are two of many concessions being made made to House liberals unhappy with the prospect of voting for the less expansive Senate bill.
Pelosi has tried to further sweeten the deal for some more progressive members of the Democratic caucus by adding a large student loan reform measure to the compromise plan.
The measure, which is a priority for Obama, would end the practice of having private banks offer student loans and would expand direct lending from the government.
The speaker may also try to help unhappy House Democrats by allowing them to avoid a direct vote on the Senate bill. She is strongly considering pushing for a vote on a rule that would simply "deem" the Senate bill to be passed. The House then would proceed to a separate vote on the changes incorporated in the $940 billion version of the plan.
GOP leaders failed Thursday to force a vote on a resolution requiring the Senate health care bill to be brought to an up-or-down vote.
Republicans also are fuming over Democrats' decision to use a legislative maneuver called reconciliation, which will allow the compromise measures -- if passed by the House -- to clear the Senate with a simple majority of 51 votes.
Senate Democrats lost their filibuster-proof 60-seat supermajority in January with the election of GOP Sen. Scott Brown of Massachusetts.
Republicans contend that reconciliation, which is limited to provisions pertaining to the budget, was never meant to facilitate passage of a sweeping reform measure such as the health care bill. Democrats point out that reconciliation was used to pass several major bills in recent years, including George W. Bush's 2001 and 2003 tax cuts.
House Democrats have expressed concern that the compromise measures will not be approved by the more conservative Senate. Pelosi said Friday, however, that "when our members go to vote, they will have all the assurances they need" that the Senate will approve the compromise plan.
Senate Majority Leader Harry Reid, D-Nevada, will be at the White House on Saturday when Obama meets with the House Democrats, two Democratic officials said. He will help reassure nervous House members that the Senate intends to finish the job next week, they said.
CNN's Jill Dougherty, Ed Henry, Evan Glass and Alan Silverleib contributed to this report.