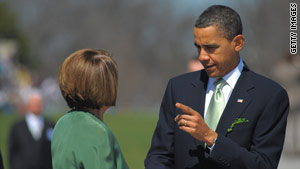 House Speaker Nancy Pelosi might have to rely on "soft votes" to get health care reform for the president.
STORY HIGHLIGHTS
Democrats are hoping to pass health care reform bill this week
President Obama told Congress that doing nothing is not an option
But Obama faces several hurdles that could derail passage
President Clinton faced similar health care reform setback in his first term
Washington (CNN) -- President Obama has repeatedly said that failure to pass a health care reform bill is simply not an option.
But Democratic leaders are facing an uphill battle in convincing some of their own members to push the legislation forward -- and hoping history doesn't repeat itself.
There's a lot at stake for Obama's future, political observers say, including the ability to get other key pieces of his legislative agenda passed and signed into law: banking regulation, climate change, economic measures and immigration.
Republicans have marched nearly lockstep against Obama's policy proposals, especially on financial matters, and indicate that they will continue to do so.
The bill's failure could also spell trouble for Democrats facing tough election battles this year. Whether or not the bill is passed, Republicans have threatened to use it against Democratic opponents, noting its cost and effect on the deficit.
As for the costs, the nonpartisan Congressional Budget Office estimates that the Democrats' revised health care bill will cost $940 billion over the next 10 years, a House Democratic source said Thursday. The bill cuts the deficit by $130 billion during that period, according to the source.
The president has stepped up his efforts to sway worried Americans. He put his name on a health care reform proposal last month and then went on a campaign-like barnstorm across the country to warn Americans what will happen if reform isn't passed.
"We need health insurance reform right now," the president said at a rally outside Cleveland, Ohio, on Tuesday. "This debate is about far more than politics. ... It comes down to what kind of country we want to be."
Obama said the status quo on health care is "simply unsustainable," adding that Americans "cannot have a system that works better for the insurance companies than it does for the American people."
Editorials in some of the nation's top newspapers have also railed against keeping the status quo.

Video: Freshman Dems feel pressure

Video: GOP senator: 'Bill is bad'

Video: Van Hollen: 'Contain costs'
"Any change as big as this is bound to cause anxiety. Republicans have happily fanned those fears with talk of 'dangerous experiments' on the 'best health care system in the world,' " read a New York Times editorial on March 7. "The fact is that the health care system is broken for far too many Americans. And the country cannot afford the status quo."
But Kathleen Parker, a conservative columnist for the Washington Post, recently asked, what is the rush?
Slowing down "wouldn't be the worst thing to happen to health-care reform," she wrote in a March 17 column. "There's no dishonor in admitting that one was in too big a hurry. But rushing to do the wrong thing is, in a word, idiotic."
But that's not the way one Democrat, who previously opposed passing the reform bill, views it.
The possibility of the bill being killed concerns Rep. Dennis Kucinich, a liberal Democrat who said Wednesday that he will now vote for it.
He warned that "if we stay riveted on this health care debate and don't get out of it at all, we've actually created a kind of a prison here of our own making."
House leaders, especially Speaker Nancy Pelosi, are trying to corral 216 Democrats to vote in favor of the Senate's measure. Although many Democrats have said they will vote no, CNN Senior Political Analyst Gloria Borger said Pelosi could rely on "soft votes."
"Nancy Pelosi has some kind of soft votes ... Democrats who really want to vote against the bill, but they don't want to be the vote that kills the bill," Borger said. "And so they've said to her, 'we'll help you out if you need us, but hopefully you won't need us.' So she's keeping those in her back pocket."
But if she doesn't muster enough, health care reform could face the same fate as the Clinton administration's reform efforts in 1993.
At that time, the administration -- including first lady Hillary Clinton, who chaired the president's task force -- pushed a plan that would provide universal health care.
Bill Clinton had made health care reform one of his 1992 presidential campaign promises. Like Clinton, Obama spent much of his first year in office pushing health care reform, hoping to make it an early legislative victory.
During the Clinton administration, conservatives, Republicans and health industry officials ramped up their opposition to the plan, often called "Hillarycare." Their efforts helped defeat the bill.
Republicans also used the health care plan in their 1994 midterm election efforts. Democratic divisions and high voter turnout that year, observers have noted, led to Republicans taking control of Congress.
Today, Republicans cite opinion polls indicating that a majority of Americans have turned against the administration's health care reform plan, though specific elements remain popular.
Republican leaders have notably complained about the costs of the Democrats' plan. Some, like House Minority Leader John Boehner, have called for Congress to scrap the bill entirely and start from scratch.
Others like former House Majority Leader Dick Armey -- who now heads Freedom Works, which played a large role in Tea Party rallies -- are behind a "kill the bill" effort.
He said Obama's plan is a win-win for insurance companies and not a mechanism with which to control rising prices.