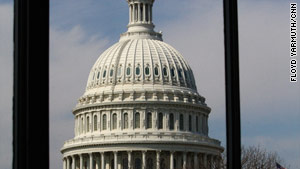 Republicans are introducing a resolution to force an up-or-down vote on the Senate bill.
STORY HIGHLIGHTS
House Democratic leaders looking to get the 216 votes to pass Senate bill
Rep. Dennis Kucinich said Wednesday he will now vote for the bill
Republicans remain in opposition to the bill and say they will keep up their fight against it
Washington (CNN) -- The House is expected to vote this week on the health care bill passed by the Senate in December.
The Senate bill is unpopular among some House Democrats because it doesn't include a public health care coverage option favored by liberals, while some moderate House Democrats object to what they say are provisions that would allow more federal funding for abortions.
Here's the latest on where the debate stands:
Key vote switch: Health care reform advocates inched closer to victory Wednesday morning as Rep. Dennis Kucinich, a high-profile liberal Democrat, switched his position and announced his intention to vote for the plan.
At the White House: A senior administration official said of Kucinich, "Obviously, we welcome the announcement and we want everyone to support the bill."
Kucinich had accompanied President Obama on Air Force One for a day trip to his district just outside Cleveland, Ohio. During the flight, White House aides said Obama made the case for health care reform. Kucinich has only one vote, but the switch is progress for the president, who has launched a full-court press to win over undecided Democrats.

Video: Kucinich votes 'yes'

Video: Health care battle
House Democratic leadership: They're trying to see if they have the 216 votes needed to get the bill passed. No Republicans have said they will vote for the bill. According to an ongoing CNN analysis, 26 of 253 House Democrats, including nine who supported the House plan in November, have said they would oppose the Senate plan, and nine say they would vote no but might reconsider if their concerns are addressed.
Of the remaining Democrats, 34 are undecided and 31 have declined to respond or state a position after numerous inquiries from CNN.
See how Democrats plan to vote
An end run: Democrats have floated the idea of voting on a resolution that would simply "deem" the bill passed to allow unhappy House members to avoid a direct vote on the Senate bill. The House then would proceed to a separate vote on the more popular changes to the Senate bill.
House Republicans: The minority party is introducing a resolution to force an up-or-down vote on the Senate bill and would call for at least an hour of debate before the vote.
House Minority Leader John Boehner called the "deem" plan "the ultimate in Washington power grabs, a legislative ploy that lets Democrats defy the will of the American people while attempting to eliminate any trace of actually doing so."
Senate Minority Leader Mitch McConnell said, "Historians will remember this as a new low in this debate, the week that America was introduced to the 'scheme and deem' approach to legislating."
Despite Republicans' criticism, both parties have used the the "deem and pass" approach when they controlled Congress.
Democrats will make the final decision later this week, but it appears that they will stick to their plan and not agree to Republican demands.
What's next: The Democratic leadership awaits the Congressional Budget Office's "score," or cost estimate of the changes in the bill that the House would vote on. House Speaker Nancy Pelosi told reporters she wouldn't make a firm decision on strategy until receiving a final cost estimate of the legislation.
Timetable: Democrats have promised a 72-hour period for the bill to be scrutinized before a vote. However, House Majority Leader Steny Hoyer said last week that Democrats might push for a vote before before 72 hours elapse. "We will certainly give as much notice as possible, but I'm not going to say that 72 hours is going to be the litmus test," he said.
Hoyer said Wednesday that a vote could come this weekend.
What happens then? If the House passes the Senate bill, it would immediately follow up with another vote on a package of changes designed in part to make the overall legislation more acceptable to House Democrats.
The Senate would vote to approve those changes by a simple majority vote, and the original bill would go directly to Obama for him to sign into law.
See which parts of the health care plan would kick in quickly
CNN's Evan Glass, John Helton, Ed Hornick, Kristi Keck, Dan Lothian, Charles Riley, Alan Silverlieb, Jeff Simon, Deirdre Walsh and Robert Yoon contributed to this report.