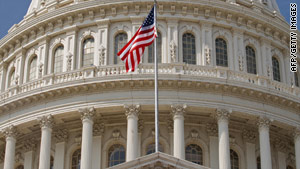 House Democratic leaders are hoping to get 216 votes in favor of the Senate's health care reform bill.
STORY HIGHLIGHTS
5 more House Dems say they'll vote against Senate health care plan
Proponents of health care plan need 216 votes to pass Senate measure
Democrats currently hold 253 House seats
No Republicans are expected to vote alongside their counterparts
Washington (CNN) -- Five more House Democrats said Tuesday that they will vote against Senate health care legislation, which puts opponents of reform just 11 votes shy of the 216 needed to prevent President Obama from scoring a major victory on his top domestic priority.
An ongoing CNN analysis shows that opposition in the House to the Senate health care plan has reached 205 members.
A total of 27 House Democrats, including nine who supported the House plan in November, have indicated that they would join a unified Republican caucus in opposing the Senate plan, which passed in that chamber December 24 with the minimum required 60 votes.
Nonetheless, House Democratic Caucus Chairman John Larson of Connecticut said Monday after a meeting with rank-and-file Democrats that "the votes are there" to pass the health care bill.
Among at least 27 Democrats who will vote against the bill is Rep. Mike McIntyre of North Carolina, who confirmed his opposition Monday.
"Health care reform is needed, but the bill before us is too expensive, does not adequately address rising medical costs and skyrocketing insurance premiums, and tries to do too much too soon," McIntyre said in a written statement. "We simply cannot afford to create a new federal bureaucracy that costs nearly $1 trillion when our national debt is $12 trillion and there is no plan in place to address it. I will not vote for it."
Proponents of the health care plan need 216 votes to pass the Senate measure. No Republicans have indicated that they will vote for the bill, which means Democratic leaders must rely solely on votes from their own members. Democrats hold 253 House seats.

Video: Tea Partiers: 'Kill the bill'

Video: Crunch time for health care
Of the 39 Democrats who voted against the House plan in November, 17 have indicated that they will vote against the Senate plan as written, 11 remain uncommitted, and nine did not return repeated calls for comment.
One member, Parker Griffith of Alabama, became a Republican in December. An additional member, Rep. Eric Massa of New York, resigned his seat last week.
Two top Republican vote-counters, Senate Minority Whip Jon Kyl and House Minority Whip Eric Cantor, released a memo last week saying that a relatively small number of Democrats hold a tremendous amount of sway on the issue.
"We believe House passage of the Senate's health care bill will ultimately be decided by the 37 remaining House Democrats who voted NO to a government takeover last November, and the ... 21 House Democrats who originally voted YES, but may now be on the fence," they wrote.
CNN contacted a number of House Democrats who voted in favor of the November House bill and who also represent conservative or competitive districts. Of those, eight -- Reps. Michael Arcuri of New York, Marion Berry of Arkansas, Tim Bishop of New York, Gabrielle Giffords of Arizona, Daniel Lipinski of Illinois, Jerry Costello of Illinois, Nick Rahall II of West Virginia and Bart Stupak of Michigan -- said they would vote against the Senate bill as written but would consider supporting it with significant changes. Rep. Luis Gutierrez of Illinois, who also supported the House plan, said he would vote against the Senate bill outright.
Stupak leads a coalition of conservative Democrats who may play a key role in the health care vote calculus. These lawmakers favor modifying the Senate health care bill to include an amendment from Stupak that will further restrict ways abortions can be funded. During the House health care overhaul debate, 64 Democrats voted in favor of the Stupak amendment.
The Michigan congressman had been negotiating with House Democratic leaders to address the abortion issue, but House Majority Leader Steny Hoyer said last week that those negotiations had ended.
House Energy and Commerce Chairman Henry Waxman, who recently discussed his concerns over the abortion issue with Stupak, said Monday night: "If they brought the bill down, they're not stopping any abortions. They are stopping millions of people from getting health insurance."
Waxman's committee was one of several to review the House plan last year.
House Democratic leaders also may try to help their members by allowing them to avoid a direct vote on the Senate bill. House Speaker Nancy Pelosi may call for a vote on a rule that would simply "deem" the Senate bill passed. The House then would proceed to a separate vote on the more popular changes to the Senate bill.
Modifying the Senate bill would require use of a parliamentary procedure known as reconciliation, which allows a measure to pass the Senate with a simple majority vote of 51, rather than the 60 votes needed to block a filibuster. However, Senate rules allow the passing of a reconciliation bill only after the underlying bill has been signed into law.
Several House members who oppose the bill as written are skeptical that the Senate will address their concerns in a reconciliation package once the measure has been signed into law.
"From the beginning, Congressman Arcuri has been opposed to the Senate bill," a spokesman said in a statement. "If there are so-called guaranteed fixes from the Senate through the reconciliation process, Congressman Arcuri would carefully review these changes by the Senate and would need some way to ensure that their guarantees would absolutely be included in a final bill. As with any piece of legislation, he would review all proposed changes before casting his vote."
Pelosi and House Majority Whip James Clyburn have said in recent days that they will have enough votes when the measure comes up. But Clyburn said Sunday on NBC's "Meet the Press" that they still lacked the votes to secure a victory.
"No, we don't have them as of this morning, but we've been working this thing all weekend," he said.
Massive advertising campaigns both for and against reform may be responsible for the high volume of phone calls flooding Democratic House offices.
"The House phone system is overloaded due to an unprecedented amount of calls attributed to the significant interest in the health care bill," a House Administration Committee spokesman said Tuesday. CNN received a busy signal at least once at nearly every House office it called this week.
CNN's Dana Bash, Lisa Desjardins, Evan Glass, Alan Silverleib, Deirdre Walsh and Robert Yoon contributed to this report.