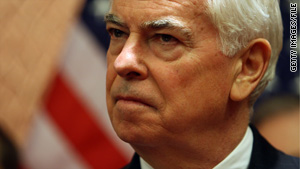 "The time is shrinking to get this done," Sen. Chris Dodd says of Wall Street reform.
STORY HIGHLIGHTS
Some Democrats fear too much has been given up to woo GOP
One senator says Congress must fix entire financial framework
Banking Committee chairman says he will unveil bill Monday
He has been trying to craft bipartisan bill since last year
(CNN) -- In the U.S. Senate, the progressives are restless. A handful of them are making it known that Democratic leaders shouldn't take their votes for granted when it comes to Wall Street reform.
"I won't vote for a bill if the banks have control of it," said Sen. Sherrod Brown, D-Ohio.
Brown sits on the Banking, Housing and Urban Affairs Committee and is among a group worried that Democrats have given away too much to woo Republican support for the bill.
"Republicans are doing the bidding of their benefactors, the banks," he said.
"We're in a wait and see mode," said fellow Banking Democrat Jeff Merkley of Oregon.
This week, Merkley and four other senators introduced a bill that would change the rules of the game on Wall Street far more dramatically than the proposal committee Chairman Chris Dodd was said to be negotiating.
"We watched investment houses blow up. Now there's even greater risk in the system," Merkley said, insisting that Congress needs to fix the entire "framework" that allowed big banks to make risky bets putting other people's money at stake.
The warnings come as Dodd announced that negotiations with Republicans are taking too long and that he will unveil his own Wall Street reform bill Monday.
Though Dodd's proposal has no Republican support, the Connecticut Democrat said he will incorporate many Republican ideas in the hopes he will win bipartisan support.
Two other senators who have expressed deep reservations: Bernie Sanders, I-Vermont, and Ted Kaufman, D-Delaware. In remarks on the Senate floor, Kaufman warned that he won't get behind "compromise measures that give only the illusion of change and a false sense of accomplishment."
Sanders said he would vote against a Wall Street reform bill unless it includes an independent consumer regulator and tough new restrictions on banks.
"The American people are disgusted with the behavior of Wall Street, and they don't want us to go back to a time when Wall Street had no accountability and no regulation," Sanders said.
For months, Dodd has been focused not on his left flank but on wooing members to his right.
Since late last year, he's been negotiating with Republicans and trying to craft a bipartisan bill. But some frustrated Democrats have grumbled that Dodd is repeating the mistake Sen. Max Baucus, D-Montana, made when he lost weeks negotiating health care reform, courting Republican votes in vain.
On Thursday, Dodd abruptly announced that he's cutting short negotiations in favor of moving forward with the bill. "The time is shrinking to get this done," he said.
His negotiating partner, Sen. Bob Corker, R-Tennessee, sounded surprised and miffed by the shortened timetable.
Corker blamed Dodd's sudden impatience on the brewing fight over health care reform, reconciliation and the "tensions" its stirring up in the Senate. Some Democrats, including Chuck Schumer of New York and Tim Johnson of South Dakota, said they are still hopeful they can get a bipartisan bill in time.
But the progressives would be happy going it alone -- and challenging the other party to vote "no" on Wall Street reform in an election year.
"He can't get a good bill with Republican support because the banks have Republicans on a short leash," Brown said.
As for those negotiating, Brown added: "I don't question the motives on either side."
Still another Democratic senator, who asked not to be named, said the influence of banks isn't limited to senators in just one party.
"These banking institutions are so powerful, they're all afraid of taking them on," the senator said.