Obama set to unveil details of trade agenda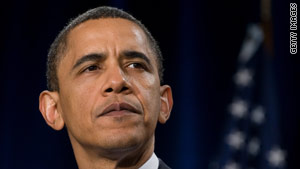 President Obama wants to double U.S. exports by 2015.
STORY HIGHLIGHTS
Obama wants to double exports in the next five years to support millions of U.S. jobs

Obama also plans to re-establish the president's export council

U.S. Trade Representative Ron Kirk admits new trade deals may be tough sell during recession

Washington (CNN) -- President Obama will announce Thursday new details of his free trade agenda that is intended to grow the economy, a White House official said.
In his State of the Union address in January, Obama set a goal of doubling exports over the next five years to support two million American jobs. The National Export Initiative, he said, would be a government-wide, presidential-level export promotion strategy aimed at championing U.S. workers and businesses by providing the necessary tools to keep the nation competitive and help create new jobs.
Obama is expected Thursday to lay out specific goals of the initiative, the official said. They include:
-- Improving access to financing for businesses that want to increase exports.
-- Enforcing existing trade deals and leveling the playing field for American businesses and workers.
-- Promoting and advocating for U.S. businesses and products overseas.
Obama is also committed to opening new markets, protecting intellectual property by employing new technology, and encouraging public-private partnerships to help American businesses grow their exports and create more jobs.
Obama will also sign an executive order that will create an export promotion cabinet comprised of representatives of the federal agencies, including the departments of State, Commerce, Agriculture and Treasury, whose work affects exports, the official said.
He plans to re-establish the president's export council, a private sector advisory committee on international trade. He plans to name Jim McNerney, president and CEO of The Boeing Company, and Ursula Burns, CEO of Xerox Corporation, to lead the council, the official said.
U.S. Trade Representative Ron Kirk promoted Obama's initiative in a speech at the National Press Club earlier in the week.
"In the last quarter of 2009, some economists believe that exports alone accounted for more than half of all U.S. economic growth," Kirk said, according to the Press Club's Web site.
But he said that new trade agreements would be a tough sell among Americans stung by the recession. The president will also have to overcome opposition from labor unions and some Democrats in Congress.
Kirk said the initiative will require restoring "belief in the wisdom and the value of our trade policy."