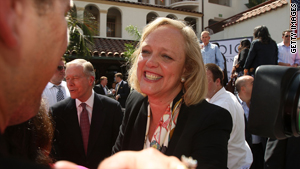 Republican gubernatorial candidate Meg Whitman is the target of a new user-controlled Web site.
STORY HIGHLIGHTS
Wikimeg.com launches as Web site encouraging users to post about Meg Whitman
A group of Democratic strategists is behind the site
Wikimeg more likely to be viewed as a partisan attack, expert says
Whitman campaign says Web page is a "gossip site"
(CNN) -- Democrats opposed to Meg Whitman's gubernatorial campaign are hoping to get an assist from the public in their latest bid to push voters away from the Republican candidate.
Level The Playing Field 2010, a group run by California Democratic strategists who support Democratic candidate Jerry Brown, this week launched Wikimeg.com, an open-content Web site similar to Wikipedia.
The site encourages users to "help us fully vet Meg Whitman's job application" by posting what they know about the former eBay CEO.
"The tool we've created here -- we see as a real laboratory of free speech," said Sean Clegg, campaign manager of Level the Playing Field. "What we're asking Californians to do is to help match Meg's $200-million campaign with their own information and brainpower and research horsepower."
Wikimeg is marketed as a "bold new experiment in democracy" -- but it's one that may or may not be accurate. Users are asked to post "factual information," but like Wikipedia, the world is its editor.
The site discloses that "the structure of the project allows anyone with an Internet connection to alter its content," so its creators can't guarantee that what is posted is accurate. Users are asked to cite their sources or identify themselves if they are contributing first-hand information.
Asked about the new Web page, Whitman's campaign deferred to its intern, Marcheta Marshall, who said, "Looks like these guys are pretty worried about Meg.
"Just like Wikipedia, I'm sure my professors won't even allow me to use it as a source for my term papers. So why does Jerry Brown's silly front group think it's good enough for voters? I know reporters won't be fooled into promoting made-up information on a gossip site."
Marshall's e-mail signature described her as the "Director, responses to silly media stunts by underfunded Team Brown front groups."
Darrell West, the vice president and director of governance studies at the Brookings Institution, said society is moving toward greater user control of Web sites, but he predicted Wikimeg would be a "gimmick that becomes the object of partisan wrangling."
"I think people will view this as a partisan attack and not a source of unbiased information and that will limit its ability to have much of an impact on the campaign," said West.
Open-content sites that are successful, like Wikipedia, are ones that are trusted as fair and unbiased, he added.
"The people who will post to this site are going to be people who feel intensely both in favor and in opposition to her so it will fuel the most extreme viewpoints," West said.
Wikimeg is monitored for editorial content, but Clegg said the hope is that as the project moves forward, "the online community that's been created by it will begin to essentially govern itself."
The site launched Monday with several categories available for posting under: eBay Stories, Meg History, Meg Sightings, Meg's campaign and Videos.
Two categories added by users -- Meg's Criminal History and Wikibrown -- were removed by Tuesday afternoon.
A handful of visitors were posting on the site, far fewer than the number of people viewing its message board.
But Clegg is optimistic that it will take off with voters. "Rome wasn't built in a day," he said.
"I think this is going to be a trend," he said. "I see this as a logical progression in the Democratic opportunities that the technology innovations of the last two decades have created."
FOLLOW THIS TOPIC