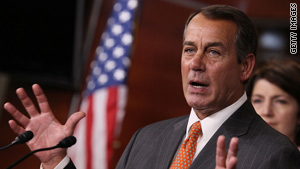 Rep. John Boehner says the House GOP will meet Thursday to discuss banning all earmarks.
STORY HIGHLIGHTS
New rules would apply to spending bills for next year
Military contractors would have to apply for funding directly to Defense Department
House committee says changes would have saved $1.7 billion this year
Panel says greater oversight of nonprofit earmarks also planned
Washington (CNN) -- House Democrats said Wednesday that they will ban earmarks directed to for-profit companies.
The move, announced by the Appropriations Committee and its Defense subcommittee, would apply to government spending bills Congress is considering for next year. But the committee said in a written statement that the new rules are also "intended to become a long-term proposition."
Out the door will be earmarks directed to private firms, many of them military contractors who frequently obtain multimillion-dollar no-bid contracts through the process. Instead, those companies will be allowed to apply directly for funding to the Defense Department, which will decide what projects it wants to fund.
Defense earmarks include research proposals, systems upgrades and equipment production.
The Appropriations Committee said the earmark restrictions would have prohibited 1,000 earmarks this year, amounting to $1.7 billion.
In addition, the Appropriations Committee said it plans greater oversight of earmarks going to nonprofits, directing executive agencies to audit 5 percent of all of those earmarks to make sure they are, in fact, being used as intended.

Video: Democrats ban some earmarks
"Earmarks" refer to federal funding designated for particular projects, with taxpayer money allocated by members of Congress to home-state and home-district projects, often with an eye toward re-election.
But such earmarks bring money into a congressman's district, feeding jobs, road and other projects sought by constituents.
House Democrats added rules last year requiring members to post their requests on their own Web sites, but the committee will create a "one-stop" link so the public can view all requests for federal dollars.
According to Taxpayers for Common Sense, a watchdog group that tracks earmark spending, there were 9,500 earmarks this year worth $15.9 billion.
The announcement on earmarks comes as Democrats are contending with stories about ethics violations and opinion polls showing that the public is fed up with excessive Washington spending. In recent years, members of both parties have come under fire for accepting millions in campaign contributions from lobbyists pushing for earmarks for their for-profit clients.
In an effort not to be outdone by the Democrats, House Minority Leader John Boehner of Ohio said the House GOP will meet Thursday to talk about banning all earmarks.
"Clearly, our members have some strong feelings on this, but I think it's time for our conference to sit down and have a real adult conversation about whether we're really willing to do what's necessary to come all the way back," Boehner said.
Boehner, who does not request earmarks and made such reforms a cornerstone of his campaign for the leadership, said the GOP proposal would go further than the Democrats' plan.
"There's no way to be half-pregnant on this issue," he said.
Reforming the spending process on Capitol Hill is historically a contentious issue for both Democrats and Republicans. Efforts by Boehner to get his GOP colleagues to refrain from requesting pet projects for their districts have failed. And votes on the House floor to stop the practice of setting aside money for individual members' districts have fallen short, with members of both parties arguing that it's part of their responsibility to bring home federal money for local needs.
Appropriations Chairman David Obey, D-Wisconsin, has defended the prerogative of Congress to allocate such spending, saying on the House floor as recently as February 2009, "the fact is without the earmarking process, the White House and its anonymous bureaucrats would make every single spending decision in government."
House GOP Conference Chairman Mike Pence, who in recent years pledged not to request any spending, said it's time to respond to calls from the public to cut back on spending.
"The American people are sick and tired of business as usual in Washington, D.C., and earmarks have become emblematic of everything that's wrong with government spending," he said.
Pence would not say whether the GOP conference would take a vote on the issue Thursday, but the deadline for members requesting earmarks is later this month.
The Democrats' plan has been applauded by an unlikely ally in the Senate.
House Speaker "Nancy Pelosi and I don't agree on many things, but if she's willing to take a stand for taxpayers, I'll work with her to put an end to the earmark favor factory," said Sen. Jim DeMint, R-South Carolina. DeMint also pledged to force the Senate to vote on a similar policy this week.
But Sen. Dan Inouye, D-Hawaii, who chairs the Senate spending panel, immediately slammed the House Democrats' earmark plan.
"I don't believe this policy or ceding authority to the Executive Branch on any spending decision is in the best interests of the Congress or the American people. In my view, it does not make sense to discriminate against for-profit organizations. I am not sure why we should treat for-profit earmarks any differently than non-profit earmarks," Inouye said in a written statement.