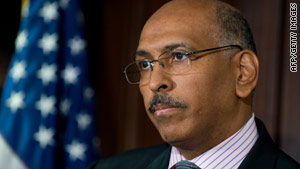 Republican National Committee chief Michael Steele condemns the document but won't discuss any disciplinary action.
STORY HIGHLIGHTS
GOP presentation has images of President Obama as the Joker, Nancy Pelosi as Cruella de Vil

Republican National Committee fundraising documents with images leaked to Politico.com

GOP congressional leaders criticize presentation, say they don't run RNC

Democratic National Committee plans to run ads on controversy

Washington (CNN) -- Top Republicans have harsh words for a leaked Republican National Committee document containing images skewering President Obama and other leading Democrats.
"There is no excuse for that type of stuff," Sen. Orrin Hatch, R-Utah, told NBC's "Meet the Press" on Sunday, adding that he is ashamed of it.
Senate Minority Leader Mitch McConnell, on ABC's "This Week," was asked whether such messaging is helpful. "I can't imagine why anybody would have thought that was helpful," McConnell said.
The PowerPoint presentation described high-level Republican donors as "ego-driven" and claimed they could be enticed with "tchotchkes." The document included a slide -- called "The Evil Empire" -- with cartoonish images depicting Obama as the Joker, House Speaker Nancy Pelosi as Cruella de Vil and Senate Majority Leader Harry Reid as Scooby Doo.
Since the presentation was leaked to Politico.com, Republicans have been working to distance themselves from it.
Last week, Republican National Committee Chairman Michael Steele described the document as a presentation that "a staffer" put together for "a small group of about nine or 10 folks and thought that they would intersperse the presentation with humorous shots."
Meanwhile, the Democratic National Committee is expected to come out with an ad this week highlighting the controversy and the images that many consider offensive. The commercial asks, "Today's Republican Party: Is fear all they have left?"
The DNC said the ad should start running on cable television in Washington and a few other markets beginning Monday or Tuesday.
Steele condemned the document but would not say if disciplinary action would be taken against the official who created it.
McConnell, when asked Sunday whether someone should be held accountable, told ABC, "I don't run the RNC. That's up to them. But I don't like it, and I don't know anybody who does."
Hatch told NBC, "I don't want to condemn somebody, but the fact of the matter is I'm ashamed of that."
Asked whether Steele should lose his post, Hatch said, "I don't think Michael Steele knew about that. If he did, I would be very concerned. I like Michael Steele."
He added, "He made mistakes like everybody does, but he's a good face for our party. I think he's articulate, he's smart, he has a lot on the ball. He's going to get criticized no matter what he does, but he was one of the first to come out and say that was irresponsible."
In an interview last week with Fox News, Steele didn't say who was responsible for the document but said he asked Rob Bickhart, the RNC's finance director, "to get to the bottom of it."
Reports suggest Bickhart made the fundraising presentation to GOP donors last month in Boca Grande, Florida.
"Those are images that were pulled off the Internet. They've been out in the public domain for a while, and you know, a staffer was putting together a presentation for a small group of about nine or 10 folks and thought that they would intersperse the presentation with humorous shots," Steele said.
RNC communications director Doug Heyes said last week there were no plans for either Bickhart or RNC finance chairman Peter Terpeluk to step down as a result of the controversy.
CNN's Peter Hamby, Mark Preston and Paul Steinhauser contributed to this report.