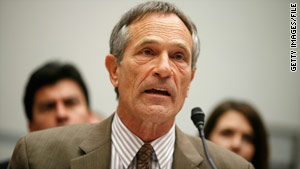 Alan Bersin, tapped to head Customs and Border Protection, has no confirmation hearing date yet before a Senate panel.
STORY HIGHLIGHTS
Transportation Security Administration and Customs and Border Protection chiefs vacant

President Obama's TSA nominee withdrew in January after strong GOP opposition

No confirmation hearing set yet for Customs and Border Protection nominee

Ex-commissioners cite concern over delays, question wisdom of Senate having OK over posts

Washington (CNN) -- The war on terror is being fought without some key generals.
The Obama administration, more than a year after taking power, and Congress have not filled some key positions in the Department of Homeland Security -- notably the top jobs at the Transportation Security Administration and Customs and Border Protection.
Together, the two posts manage about half of all DHS employees. But for differing reasons, the posts are unfilled or occupied by placeholders.
In the case of the TSA, Erroll Southers -- whom President Obama nominated in September -- withdrew from consideration in January after a contentious confirmation battle with Senate Republicans. The White House has yet to name a new nominee, all but ensuring the post won't be on board for months.
In the case of Customs and Border Protection, Obama nominated insider Alan Bersin in September. But the Senate Finance Committee -- neck-deep in health care legislation -- has yet to schedule a confirmation hearing, again ensuring that a new boss won't be seated and up to speed until at least midsummer, critics said.
Last month, three former customs commissioners wrote to the Senate committee urging it to act on Bersin.
"We are concerned about further delays in filling this critical national security position and the resulting uncertainty that it creates," the letter reads. "CBP is too important in too many areas to be without a commissioner for so long, and the timeline concerns us."
The letter was signed by W. Ralph Basham, Robert Bonner and Raymond Kelly -- three men who headed Customs and Border Protection and its predecessor agency from 1998 to 2009.
The former commissioners noted that Bersin already is assistant secretary of DHS for international affairs, and the Senate confirmed him previously as a U.S. attorney.
A Senate Finance Committee aide, who asked not to be named because staffers are not allowed to discuss nominations under review, declined to say when a confirmation hearing would be held but said "conducting an expeditious and thorough review of nominees is simply critical."
Basham called that "sort of a weak response."
"If you've got a problem with him, then they ought to voice that [and] get on with naming someone else," he told CNN.
Basham and others said they are not criticizing the respective acting chiefs of Customs and Border Protection and the TSA, David Aguilar and Gale Rossides. Both have performed admirably, they said.
But Basham said people serving in temporary capacities don't have the "tools" necessary to make changes and sometimes put off big decisions, believing they should be left to incoming administrators.
Department watchers also said the vacancies at the top are having a "domino effect," resulting in a string of people, stretching deep into the department, serving in temporary posts.
The most obvious example may be at Customs and Border Protection, they said.
After the departure of the Bush administration's commissioner and retirement of the deputy commissioner, the top position is vacant because federal law prohibits a person from jumping two rungs up the ladder to be acting commissioner.
Consequently, Aguilar, the Border Patrol chief, is acting deputy commissioner of Customs and Border Protection.
Aguilar's Border Patrol position has gone on a temporary basis to Michael Fisher, formerly the San Diego, California, sector chief. Rick Barlow, the deputy chief patrol agent in San Diego, is filling Fisher's position, while Richard Salinetti has Barlow's.
Officials inside and outside DHS said the top vacancy has hamstrung certain decisions. For instance, the department can't permanently assign border sector chiefs because that requires the commissioner's approval.
Basham said the situation raises questions about the wisdom of making the Customs and Border Protection and TSA chiefs subject to Senate approval. He said he would support making the posts career positions with five- or 10-year terms.
"Making these changes every four years is very disruptive," he said.
And Congress should reconsider giving the Senate Finance Committee responsibility for confirming Customs and Border Protection commissioners, he said. "This [agency] is a different organization than when the Finance Committee had responsibility to see revenues were coming in," he said.
It is not the first time the issue of vacancies at DHS has come to the fore. In 2007, the House Committee on Homeland Security criticized the Bush-led DHS for a "startling" number of vacancies, saying 138 (or 24 percent) of the department's 575 executive-level posts were vacant.
"Because of the Department of Homeland Security's unique mission, this void directly impairs our homeland security and readiness," the report said.
Department spokesmen at the time said a sudden expansion in senior management positions had skewed the numbers and that security was not jeopardized.