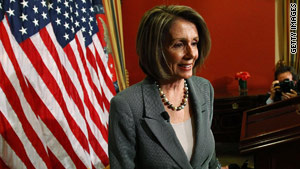 House Speaker Nancy Pelosi discusses health care reform at her weekly press conference on Thursday.
STORY HIGHLIGHTS
President Obama discussed his health care plan on Wednesday
Sources say the plan is for the House to pass the Senate's bill
But there are big differences between the two bills that need to be worked out
If reconciliation is used, Republicans say they will use it against their opponents
Washington (CNN) -- President Obama has made it clear that it's time for a simple up and down vote on his health care plan, noting that Americans are "waiting for us to act."
But getting to the vote might not be so simple.
Republicans continue to voice their opposition to the reform bill. Some, such as House Minority Leader John Boehner, have called for scrapping the bills entirely and starting over.
Two Democratic aides said the goal is for the House to vote on the Senate health care bill and a vote on reconciliation instructions before Obama leaves on March 18 for his trip to Australia and Indonesia.
But House Democrats don't like aspects of the Senate's version -- especially the absence of a government-run public health care option -- so they will unlikely just pass it without making some changes. That would mean a possible separate package would be introduced.

Video: Is the filibuster busted?

Video: The next step for health care

Video: Health care do or die
Democrats are planning to push those changes through without Republican votes using a process known as reconciliation -- a parliamentary procedure that allows a measure to pass on a simple majority vote of 51, rather than the 60 needed to break a filibuster.
The rules of reconciliation, though, limit the scope of what Democrats can do. Namely, it was designed to pass budgetary items, such as the Bush tax cuts and spending bills.
Reconciliation "cannot be used to pass comprehensive health care reform," Sen. Kent Conrad, the Democratic chairman of the Senate Budget Committee, said on CBS's "Face the Nation" on Sunday. He added that it's unlikely to work because reconciliation "was never designed for that kind of significant legislation."
Democrats have said the first step, and key to success, is getting a package of changes just right in order to muster enough House votes.
At her weekly press conference, House Speaker Nancy Pelosi said 80 percent of the House Democrats' concerns regarding the Senate bill have been eliminated.
But she said every vote is a "heavy lift around here. You assume nothing."
Pelosi could face problems with several House Democrats who are opposed to the abortion language in the Senate bill. They argue it's not strict enough in making sure taxpayer dollars are not spent on abortion procedures.
Rep. Bart Stupak, D-Michigan, insists that he and at least 12 other House Democrats who voted for the House bill won't vote for the Senate bill because of the issue.
Asked about Stupak's concerns, Pelosi said, "This is not about abortion -- this is a bill about providing quality, affordable health care for all Americans."
Pelosi said there are no provisions for federally funded abortion in the legislation.
"That is the law of the land [and] it is not changed in this bill," she said. "There is no change in the access to abortion. No more or no less. It is abortion neutral in terms of access or diminution of access."
Another obstacle House Democrats are grappling with involves trust. They fear Democrats in the Senate will not follow through and pass the compromise.
"We're working on having that faith verified," said House Majority Leader Steny Hoyer.
Another big hurdle: Are the Democrats themselves in enough agreement -- especially in the House -- to find the votes?
"My sense is there aren't enough votes in the House to pass the Senate-passed bill," said Craig Volden, a professor of political science at The Ohio State University. "It's not clear what bill would pass the House that would also get 50 votes in the Senate, even if they went with reconciliation."
Another issue for Democrats to contend with? The upcoming midterm elections.
Democrats are already nervous about getting re-elected. They fear a backlash from voters weary about the health care reform bill.
Democrats' "base calculation is probably political," said David King, a public policy lecturer at Harvard's Kennedy School of Government. "The Scott Brown election [in Massachusetts] has -- in the minds of many members -- changed their re-election calculations."
Republicans are stoking that by warning the health care bill will bring them down.
"I want to assure our Democratic friends that if they are somehow able to pass this bill in the House, it will be the issue in every race in America," Senate Minority Leader Mitch McConnell said.
Sen. Lamar Alexander, R-Tennessee, said on ABC's "This Week" on Sunday that if the health care bill passes through reconciliation, then "for the rest of the year ... we're going to be involved in a campaign to repeal it."
CNN's Ed Hornick and Deirdre Walsh contributed to this story.