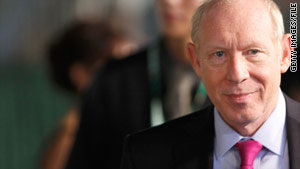 Former Houston Mayor Bill White isn't flamboyant, but he has a shot at winning the Texas governor's race.
STORY HIGHLIGHTS
Party thinks former Houston Mayor Bill White has statewide appeal
White is low-key, practical, extremely popular in nation's 4th-largest city
Fiscal conservative is seen as business-friendly Democrat
Nevertheless, political scientist says White can't overcome Texas' GOP leanings
Dallas, Texas (CNN) -- Bill White, the former Houston mayor, isn't just Rick Perry's Democratic opponent in the Texas governor's race.
He's Perry's polar opposite.
Bald, diminutive and soft-spoken, White offers a stark contrast to the swaggering, movie-star-handsome governor. If Rick Perry is a modern-day conservative cowboy, White is a practical-minded accountant, eager to chat about education funding, balancing budgets and the Public Utility Commission of Texas.
"Maybe I'm not the most glamorous of all the candidates, but my words are my own and they are the words that I am hearing from the people of Texas," White declared during a campaign stop Monday in Dallas.
Donning cowboy boots and occasionally glancing down at his notes, White took a jab at the current governor, calling him "blow-dried" and "scripted." Perry, he said, "changes like a chameleon from time to time depending on whether it's a primary or a general election."
Despite his somewhat underwhelming stage presence, Democrats believe White is the best candidate they have fielded in Texas since former Gov. Ann Richards in the 1990s.
"Bill White is different from any other Democrat who has run in that state," said Nathan Daschle, the executive director of the Democratic Governors Association, which recently steered half a million dollars to White's campaign. It's the largest sum ever donated to a Texas candidate by the DGA.
"He is smart," Daschle said. "He is authentic. He is a very good fund-raiser. He is going to have statewide appeal, and he draws a nice contrast with Perry. He is the outsider."

Video: Gov. Perry wins GOP nomination

Video: Sen. Hutchison falls short
White's resume is compelling. A Spanish-speaking graduate of Harvard University and the University of Texas Law School, he served as deputy energy secretary in the Clinton administration for two years. White left Washington in 1995 to help launch Frontera Resources, an international oil and gas developer with operations in the Caspian Sea region.
He managed Wedge Group, a Houston-based holding company with energy and real estate investments, from 1997 to 2004. He dabbled in politics as well: He was chairman of the Texas Democratic Party from 1995 to 1998.
But it was three terms as mayor of Houston, the nation's fourth-largest city, that gave White the springboard to launch his gubernatorial bid. He fought crime, reformed the city's pension system, cut property taxes, untangled congested roadways and led a charge to make the city greener. Houston residents sent him back to City Hall twice -- each time with more than 85 percent of the vote.
His defining moment may have come during his first term in 2005, when thousands of New Orleans residents fled to Houston after Hurricane Katrina ravaged much of the Gulf Coast. White tapped into his private sector relationships to bring much-needed supplies to Houston and developed programs to help evacuees find jobs and permanent housing.
His list of achievements is long, but White is still a Democrat. And even though he's raised a substantial amount of money -- he has more than $5 million in the bank -- Democrats have not won a statewide race in Texas since 1994.
White is barnstorming the state to introduce himself to voters beyond Houston and painting himself as an independent-minded candidate fighting against special interests and cronyism in Austin, which he says is represented by Perry. The word "Democrat" is nowhere to be found in his official biography on his campaign Web site.
"It's not about a party," White told CNN. "I am a fiscal conservative. I have built businesses. I have cut tax rates as mayor. So that's who I am. I am not trying to pretend to be something. I have had good, strong support from the political mainstream."
White has flown under the radar this year as Texas Republicans focused on the heated primary fight between Perry, Sen. Kay Bailey Hutchison and GOP activist Debra Medina. Perry, the longest-serving governor in the history of the state, won the Republican nomination on Tuesday and is seeking his third full term in office.
Perry's team, preoccupied with the primary, has mostly avoided tussling with White. But the Republican Governors Association immediately took aim at the Democrat after he secured his party's nomination on Tuesday, accusing him of "staunch support for President Obama's leftist agenda."
Texas Republicans have also signaled that they will target White on the issue of guns. As mayor, White was a member of Mayors Against Illegal Guns, a group founded by New York Mayor Michael Bloomberg and Boston Mayor Thomas Menino to combat the trafficking of illegal firearms.
White said he joined the group because "there are too many stolen guns, and they sell them to gangs." But he said he sees no need for additional gun laws.
"I think we need to enforce the laws that are on the books," White said. "I support Second Amendment rights."
Cal Jillson, a political scientist at Southern Methodist University, agreed with Democrats who say White gives the party its best shot in years at taking back the governor's mansion. He noted that demographic trends in the state, particularly the growing Hispanic population, have Democrats feeling giddy about their chances.
"Bill White is formidable in that he is in that Lloyd Bentsen mold of a business-friendly Democrat," Jillson said, referring to the long-time Texas senator who later served as President Clinton's treasury secretary. But Jillson was quick to dampen Democratic hopes for the Lone Star State.
"White is going to lose because Texas is still a Republican state," he said. "This is not a good year for Democrats. In a different year he might have an outside chance, but I think he probably loses by five to 10 points."