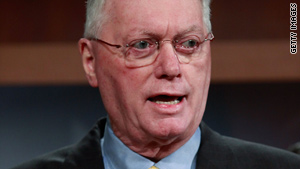 Sen. Jim Bunning says that if the benefits are so important, senators could find a way to fund them.
STORY HIGHLIGHTS
Sen. Jim Bunning blocked extension of unemployment benefits last week
The Kentucky Republican said Congress must find a way to pay for measure
One GOP senator says Republicans are furious with Bunning
Washington (CNN) -- The Senate voted Tuesday to pass a $10 billion measure to extend benefits for unemployed workers and fund road projects after Sen. Jim Bunning agreed to end his filibuster.
The 78-19 vote on the 30-day extension known as H.R. 4691 came minutes after the Kentucky Republican made a final plea on the floor of the Senate for his colleagues not to borrow the money.
"We can't do everything we'd like to do," Bunning said. "We don't have the money."
President Obama praised the effort after signing the bill late Tuesday.
"The bill passed tonight by the Senate will extend access to health care benefits for workers who have lost their jobs, help small businesses get loans so they can grow and hire, and extend unemployment insurance benefits for millions of Americans who are looking for work," Obama said. "I'm grateful to the members of the Senate on both sides of the aisle who worked to end this roadblock to relief for America's working families," the statement said.
The original short-term extension of unemployment benefits needed unanimous consent to pass because Democrats have labeled it an emergency spending measure. Bunning rejected the motion for unanimous consent.
Unemployed iReporter 'furious' with Bunning, Kyl

Video: A view of Bunning from Kentucky

Video: Faces of unemployment

Video: Bunning block good for Dems?

Video: Senators debate Bunning block

Video: Protesting Bunning's block
The 78-year-old former professional baseball player had proposed an amendment to pay for the measure by closing a tax loophole used by the paper industry, but the amendment was stricken Tuesday night when a motion to waive a budget point of order against it failed on a vote of 43-53. That meant the Bunning amendment did not get a direct up-or-down vote.
Afterward, Bunning issued a statement deriding the move as "a procedural gimmick." Bunning, who is retiring at the end of this year, said he didn't oppose extending the programs -- he just didn't want to add to the deficit. Democrats argued that, because it is an emergency measure, the bill should not be subject to new rules requiring that legislation not expand the deficit -- the pay-go rules.
As a result of the Senate's delayed action, many jobless people were not able to apply for federal unemployment benefits or the COBRA health insurance subsidy as of Monday.
Bunning's action created a political firestorm. On Tuesday morning, he pushed on the Senate floor for a measure that would have paid the $10 billion tab out of the Democrats' previously passed $862 billion stimulus bill. He also dared Senate Majority Leader Harry Reid to hold a vote to cut off debate on the measure.
The Nevada Democrat rejected Bunning's motions.
"You have made your point ... [but] the majority of the Senate disagrees with you," Reid told Bunning. The need to extend unemployment benefits is "an emergency. ... Our economy is suffering. [There are] long lines of people out of work."
Reid called Bunning's legislative maneuvering "terribly inappropriate."
iReporter: Shame on you, Sen. Bunning
Maine GOP Sen. Susan Collins sided with the Democratic leader, saying Bunning's views "do not represent the majority of the Republican caucus."
House Minority Leader John Boehner, however, defended Bunning.
"He's got a legitimate argument that he's making," said the Ohio Republican. "The Democrats just passed this legislation" requiring bills not to increase the deficit and not even "a week after the president signed [it] into law they want to exempt the first bill that comes across the Senate floor."
Federal unemployment benefits kick in after the basic state-funded 26 weeks of coverage expire. During the downturn, Congress has approved up to an additional 73 weeks, which it funds.
These federal benefit weeks are divided into tiers, and the jobless must apply each time they move into a new tier.
Had the Senate not acted, the jobless would have stopped getting checks once they ran out of their state benefits or current tier of federal benefits.
That could have been devastating to many of the more than 1 million people who would have been affected this month and nearly 5 million by June, according to the National Unemployment Law Project.
Several other programs were also affected by the legislative spat, including federal flood insurance, satellite TV licensing, and small business loans.
The bill also provides a short-term extension of the Highway Trust Fund, which pays for transportation projects nationwide.
CNN's Ed Henry, Gloria Borger, Kristi Keck, Alan Silverleib, Deirdre Walsh and Ted Barrett contributed.