Cheney had mild heart attack, office says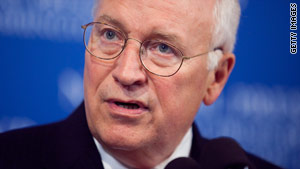 Former Vice President Dick Cheney, 69, had lunch Tuesday with family members at a Washington hospital, sources say.
STORY HIGHLIGHTS
NEW: Dick Cheney undergoes stress test and heart catheterization, his office says
NEW: Cheney expected to be discharged from hospital in a day or two, office says
Former vice president has had five heart attacks
Washington (CNN) -- Former Vice President Dick Cheney suffered a mild heart attack Monday when he complained of chest pains and was hospitalized, his office said Tuesday.
"Lab testing revealed evidence of a mild heart attack," the statement said. "He underwent a stress test and a heart catheterization. He is feeling good and is expected to be discharged in the next day or two."
During the catheterization, which took place at George Washington University Hospital, doctors examined blood flow to the heart and tested how well the heart was pumping.
In the procedure, a doctor inserts a catheter, a thin plastic tube, into an artery or vein in the arm or leg and threads it into the chambers of the heart or into the coronary arteries. The test can measure blood pressure within the heart and how much oxygen the blood contains.
Two sources said Tuesday that Cheney, 69, was in his hospital room, where he had lunch with family members. He also was working with them editing a chapter of a book he is writing.
He was described as being in good spirits.
Cheney made and received calls much of the afternoon, a source said. Among those who called to wish him well were former President George W. Bush, Vice President Joe Biden, former top aides and friends, the source said.

Video: A look at Cheney's medical history

Video: Cheney hospitalized
Monday's heart attack was Cheney's fifth. The first occurred in 1978, when he was 37. He suffered his second in 1984 and his third in 1988 before undergoing quadruple bypass surgery to unblock his arteries. His fourth heart attack occurred in November 2000, after he became vice president. At that time, doctors inserted a stent to open an artery.
Doctors in 2001 implanted a device to track and control his heart rhythm. In 2008, he underwent a procedure to restore his heart to a normal rhythm after doctors found he was experiencing a recurrence of atrial fibrillation, an abnormal heart rhythm that affects the heart's two upper chambers.
Special coverage: Matters of the Heart
Cheney served under former President George W. Bush from 2001-2009. He has been a critic of President Obama's administration since leaving the vice president's office in January 2009.
Cheney has accused the Obama administration of failing to treat the fight against terrorists as war. As proof, he has cited the decisions to give 9/11-mastermind suspect Khalid Sheikh Mohammed a civilian trial; to give the failed Christmas Day airline bomber the privileges of the U.S. criminal justice system and to shut the U.S. military prison at Guantanamo Bay, Cuba.
Cheney also served in various positions in the administrations of Presidents Richard Nixon, Gerald Ford and George H.W. Bush.
CNN's John King contributed to this report.