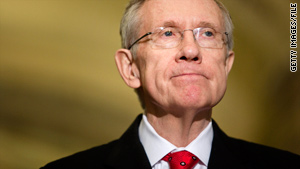 Senate Majority Leader Harry Reid says reconciliation has been used 21 times since 1981.
STORY HIGHLIGHTS
Reconciliation would allow Dems to pass bill with 51 votes and not the 60 required to beat filibuster
Sen. Harry Reid says approach has been used before, says Republicans should "stop crying"
Sen. Mitch McConnell says Dems are using reconciliation to jam bill through a "reluctant Congress"
House Democrats indicate they are also preparing to use reconciliation to pass health care
Washington (CNN) -- As a major White House meeting on health care reform approaches this week Senate Majority Leader Harry Reid acknowledged Tuesday that he may use a controversial parliamentary shortcut to bypass GOP opposition and pass a bill.
The fast-track approach, known as reconciliation, would allow Democrats to pass the bill with just 51 votes, not the 60 usually required to overcome a filibuster.
Senate Minority Leader Mitch McConnell of Kentucky said Democrats are being "arrogant" because the American people don't want a giant health care overhaul, but Democrats still plan to "use any parliamentary device to jam it through a reluctant Congress."
"It's hard for us to quite understand why, with reconciliation being planned, we're having a meeting which is allegedly designed to engender some bipartisan agreement," said the No. 2 Senate Republican, Jon Kyl of Arizona.
Reid bluntly warned Republicans to "stop crying" about the shortcut because Republicans have used the same procedure many times in the past, he said.
"They should stop crying about reconciliation as if it's never been done before. It's done almost every Congress, and they're the ones that used it more than anyone else," he said.
Reid noted that reconciliation has been used 21 times since 1981.
CNN Political Ticker: White House has 'loser mentality'
Before their weekly policy lunch in the Capitol on Tuesday, several Democrats said they support using reconciliation.
"I don't look at it as jamming it through. I don't look at it that way at all," said Sen. Jon Tester of Montana, a moderate. He said it was a matter of "simple majority."
"What we want is an up or down vote on things," said Sen. Debbie Stabenow, D-Michigan, who is more liberal. "Filibusters aren't about an up or down vote on things. Reconciliation is just one of the processes of getting things done that involves a majority vote."
Sen. Evan Bayh, D-Indiana, and Sen. Joe Lieberman, I-Connecticut -- famous for their desire to work across the aisle -- also appeared to support the idea.
"Obviously, if the minority is just frustrating progress, that argues for taking steps to get the public's business done," Bayh said.
House Democrats also indicated that they are preparing to use reconciliation to pass health care.
California Rep. Lynn Woolsey, D-California, said Tuesday that "reconciliation will be our platform. It has to be reconciliation."
But Woolsey said elements of the bill that cannot be voted on under the budgetary procedure would be set aside and voted on later in a separate bill.
Moderate Virginia Democratic Rep. Gerry Connolly pushed back on the notion that using the procedure circumvents the legislative process, as House Republicans have charged.
"If it's done, it will be done in broad daylight and I think it's fairly clear what might be in it now," Connolly said.
Connolly, who served as a congressional aide to the Senate Foreign Relations Committee in the 1980s, pointed out that Republicans have used reconciliation to pass several major policy initiatives.
"More often than not Republicans have used reconciliation to try to affect their agenda, so what's good for the goose ought to be good for the gander," he said.
Not all Democrats are expected to support reconciliation. conservative Democrat Blanche Lincoln of Arkansas has already said she will not.
Ahead of the White House-led meeting Thursday -- a last-chance effort to build bipartisan consensus for the legislation -- the deep division between the two parties was clear as Reid and McConnell spoke about their visions of health care reform.
"You will not see from us a 2,700-page comprehensive rewrite of one-sixth of the economy," said McConnell, who argued for smaller, targeted reforms that would lower costs.
Reid countered: "We need major health care reform. That's what the people of America want. They want health care reform, not some Band-Aid."