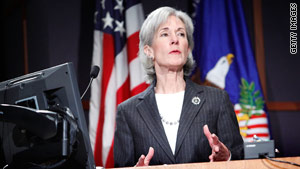 Secretary of Health and Human Services Kathleen Sebelius speaks about health care reform in late January.
STORY HIGHLIGHTS
Government releases report on insurance companies; health care rates
Report: Health insurance premiums have skyrocketed in recent years
Increases are likely to continue, underscoring the need for reform, report finds
Obama will soon meet with congressional leaders from both parties on health care reform
Washington (CNN) -- Health insurance premiums have skyrocketed in recent years and a new government report says the increases are likely to continue, underscoring the need for reform.
In releasing the report Thursday, Health and Human Services Secretary Kathleen Sebelius pointed to the recent announcement by Anthem Blue Cross of California that it plans to raise individual insurance premiums up to 39 percent -- a move that could affect nearly 800,000 customers -- as an example of excess.
In a speech Thursday, President Barack Obama referred to California's pending rate hikes. "It's not just happening there," he said. "It's happening in Kansas, it's happening in Missouri, it's happening in Maine. You name it, across the country, it's happening."
According to the report, titled "Insurance Companies Prosper, Families Suffer: Our Broken Health Insurance System," Anthem is not the only company raising rates.
"Over the last year," Sebelius said, "America's largest insurance companies have requested premium increases of 56 percent in Michigan, 24 percent in Connecticut, 23 percent in Maine, 20 percent in Oregon, and 16 percent in Rhode Island, to name just a few states.
"Premium increases have left thousands of families that are already struggling during the economic downturn with an unpleasant choice between fewer benefits, higher premiums, or having no insurance at all. Hard-working families deserve better."
While Obama didn't explicitly mention the report on Thursday, he invoked the specter of rising premiums to argue that Congress should continue pursuing health insurance reform.
"The reform before Congress ... would help prevent such hikes from happening," Obama said, speaking in Denver, Colorado, at a rally for U.S. Sen. Michael Bennet. "And if we walk away from it, we know that premiums and out-of-pocket expenses will keep rising in this decade, just as they did in the last decade."
"That's why we're not going to walk away from it," he said later.
Both Maine and Connecticut rejected the premium increases requested in those states. Sebelius said some states have the authority to take a hard line against rate increases and some do not. In California, insurance companies do not need prior approval. They can put a rate increase in place and then file it with the state insurance commissioner.

Video: Jobs and health care confusion
Sebelius contacted Anthem Blue Cross of California, asking them to publicly justify raising rates. As a result, Anthem is delaying the rate hike for two months so that the Department of Insurance can review the request, but the company says it is in "full compliance with all requirements in the law."
"Our decision to agree to postpone the rate adjustment does not change the underlying issue. All health plans are in the same situation in trying to deal with the steadily increasing medical costs in the delivery system, which are not sustainable," said Brian A. Sassi, president and chief executive officer of the Consumer Business Unit of WellPoint, Anthem's parent company. "We need to refocus the health care reform debate toward steps that will improve quality and control the underlying medical costs, which is driving the high cost of coverage."
But Sebelius said WellPoint recorded more than $2.7 billion in profits last quarter -- one week before the announced rate increase.
In fact, she said, the five largest health insurance companies -- WellPoint, Cigna, Aetna, UnitedHealth group and Humana -- took in combined profits of more than $12 billion in 2009, up 56 percent from 2008. She called those profits "wildly excessive."
American's Health Insurance Plans, a national association of insurance providers, says premiums are rising because of soaring medical costs and because young, healthy Americans are dropping coverage.
"Increases in the cost of coverage in the individual market shines a spotlight on the urgent need to reduce the growth of underlying medical costs and bring everyone into the system," said Karen Ignagni, the association's president and CEO. "If reform doesn't address these pieces, it will not solve the serious problems that individuals, families and employers face."
Next week, President Obama will sit down with congressional leaders from both parties in an effort to hammer out differences and move health care reform forward.
Sebelius said the president intends to combine the best ideas of both the House and Senate bills into one proposal that will be posted on the Web prior to the February 25 meeting.