Army turns 'floodlight' on suicide problem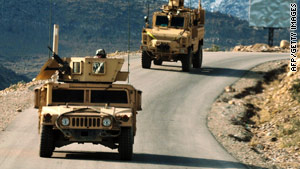 U.S. soldiers are on patrol this week near Tubak, Afghanistan.
STORY HIGHLIGHTS
Army suicide data shows that January saw 27 confirmed or potential suicides

Twelve of these cases were among active-duty soldiers, Army says

Twenty-six cases remain under investigation, Army says

More than 160 soldiers killed themselves in 2009

Washington (CNN) -- The number of suicides among U.S. soldiers jumped in January following the Army's worst year on record, according to new statistics.
Officials offered no explanation for why the rate of suicides continues to be high despite efforts to prevent them.
The Army suicide data shows that January saw 27 confirmed or potential suicides following 17 in December.
One of the January deaths has been confirmed as a suicide, while the other 26 cases remain under investigation, the Army said.
Of the 27 cases, 12 were among active-duty soldiers, while 15 were among the National Guard and Reserve components of the service. The one confirmed suicide was in the active-duty branch.
The numbers were for the Army worldwide and weren't broken down by location, which would have indicated if any occurred in Iraq or Afghanistan.
More than 160 soldiers killed themselves in 2009, and that number is expected to go higher as investigators look at deaths from December to determine if the remaining unconfirmed cases were suicides, accidents or the result of foul play.
"In the new year, we won't just maintain our current focus on suicide prevention, we're going to sharpen that focus," said Col. Christopher Philbrick, director of the Army Suicide Prevention Task Force, in a news release Wednesday.
"We've made significant changes in our health promotion, risk reduction and suicide prevention programs, policies and initiatives. But over the last year, you could describe our Army effort as shining a floodlight on the problem of suicide."
For all of 2008, 140 active-duty soldiers killed themselves, while 57 Guard and Reserve soldiers committed suicide, totaling 197, according to Army statistics.
After the Army surpassed its record number of suicides in November, Gen. Peter Chiarelli, the Army's vice chief of staff, said, "This is horrible, and I do not want to downplay the significance of these numbers in any way."
But the Army is still trying to tackle why soldiers are killing themselves.
"We still haven't found any statistically significant causal linkage that would allow us to effectively predict human behavior," Chiarelli said. "The reality is there is no simple answer -- each suicide case is as unique as the individuals themselves."
He also said there are troubling new statistics showing an increase in suicide rates among young soldiers who have never deployed, another factor that's puzzling Army researchers.