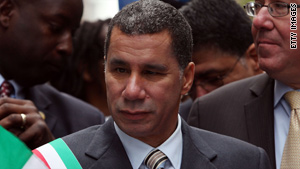 New York Gov. David Paterson defends one of his top aides after a New York Times article raised allegations.
STORY HIGHLIGHTS
New York Times runs article examining one of Gov. David Paterson's top aides
Paper reports David Johnson's drug offenses as youth and domestic violence accusations
Paterson: The Times chose to "splash his youthful offenses across" its pages
Media speculation on the Times report swirled last week putting Paterson on the defensive
(CNN) -- New York Gov. David Paterson lashed out Wednesday at a published report alleging a top aide's history of drug arrests and alleged domestic violence.
"The more recent allegations reported on by The [New York] Times would be extremely troubling if true -- but the conclusions reached by the Times report are not supported by the facts," the Democratic governor said in a statement.
The New York Times article -- published Wednesday with the headline "Paterson Aide's Quick Rise Draws Scrutiny" -- examined the background of David Johnson, who started as an intern for Paterson when the governor was in the state Legislature and who is now a top aide.
The article by Danny Hakim and William K. Rashbaum said: "In recent months ... Mr. Johnson's ascent has been striking: he is now one of the most senior people in the governor's administration, paid $132,000. He is described as Mr. Paterson's closest confidant, a man with a designated room for his overnight stays in the Executive Mansion, and a broadening role in areas like campaign strategy, government initiatives and the management of the governor's staff."
The Times report found Johnson was "twice arrested on felony drug charges as a teenager, including a charge of selling cocaine to an undercover officer in Harlem."

Video: Paterson rips the press
Paterson defended Johnson, saying the paper chose to "splash his youthful offenses across the pages of its newspaper -- even though the courts of our state have ordered them to be sealed. ... I profoundly believe in this principle of redemption and giving young people a second chance."
There are also allegations that Johnson engaged in domestic violence -- though none of the accusations resulted in an arrest.
"Mr. Johnson, 37, has also on three occasions been involved in altercations with women, two of which led to calls to the police," the article said. "As recently as October, the police responded to a complaint of harassment at a Bronx address of a woman involved with him. It is unclear if the altercation was verbal or physical or both, but the case is listed as closed."
Paterson said there is no independent evidence given by the story that would "substantiate any claims of violence by David Johnson against a woman, a fact underscored by the absence of a single judicial finding that any such incident ever took place."
"I would caution others from making a similar rush to judgment," Paterson said.
Howard Kurtz, a media observer for The Washington Post and host of CNN's "Reliable Sources," said on his Twitter account Wednesday that the Times report on the aide "caps a shameful period of media outlets trumpeting rumors about the gov."
Kurtz added the "media rumor-mongering" by other outlets was based on "whispers about what the Times MIGHT report on Paterson -- a flimsy excuse for publishing garbage."
Last week, speculation arose in media outlets about a so-called bombshell story The New York Times was to report. But after the report failed to appear, gossip and conjecture flourished.
Paterson quickly responded in an interview Thursday with CNN's Larry King, saying, "None [of the rumors] of this is true. It's a flat-out lie."
Asked whether the onslaught of rumors means "somebody [is] after you," Paterson was blunt. "Clearly somebody is. ... I won't kid you," he said. "I think I have thought about who might be after me."
He declined to mention any names but encouraged journalists to turn the focus on others: "Maybe those in the media might investigate why the sources are saying what they're saying."
Paterson also chastised the Times for its handling of the media attention.
"The human decency, if not journalists' ethics, I think would compel an organization when they see a person being slandered for over two weeks now ... to clear the air and at least say that the charges that are being made are not in the perimeters of our investigation."