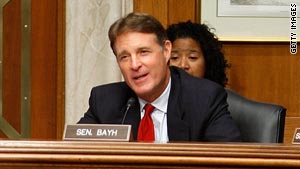 "We've got a lot of good people in Congress, but they're trapped in a dysfunctional system," Sen. Evan Bayh says.
STORY HIGHLIGHTS
Senator says his party has "a real shot of winning" contest for his seat, and he'll help
Political analysts say retirement gives Republicans a good shot at taking over Democratic seat
Indiana senator says he thinks he can better help Americans outside Congress
He says American voters need to vote out partisans, ideologues
Washington (CNN) -- Democratic Sen. Evan Bayh says his decision to retire at the end of the year rather than run for re-election has not left his party in a bind.
"The party hasn't been left in the lurch. We have a real shot of winning this election and having a good senator follow me in the United States Senate. And I'm going to help that individual very vigorously," Bayh said Tuesday on CNN's "American Morning."
The two-term senator's unexpected announcement Monday gives national Republicans one of their best opportunities to take over a Democratic seat, according to independent analyses from two leading nonpartisan political handicappers.
The Cook Political Report revised its rating for the Indiana contest to "Leans Republican" shortly after news of Bayh's decision broke. The race had previously been rated "Leans Democratic." The Rothenberg Political Report modified its rating from a "narrow advantage" for Democrats to "toss-up," meaning the race could go either way.
But Bayh says he's confident that Democrats will be competitive in the contest.
"I do think we have a strong chance of being successful this fall. We've got several congressmen who are considering this race, some other substantial figures who are considering this race. The Republican Party has a five-way primary. ... I mean, they're going to be very divided before this is over. We have a chance to focus on the fall campaign. I think our candidate will start off with a monetary advantage. Indiana's a challenging state. But if we nominate the right person, I think we've got a real shot," Bayh told "American Morning" anchors John Roberts and Kiran Chetry.

Video: Bayh fed up with Congress

Video: Senator's frustration = no run
Cook and Rothenberg had Bayh as a lock for re-election until the announcement this month that former Republican Sen. Dan Coats, who once held Bayh's seat, was considering a challenge. According to Cook and Rothenberg, a Bayh-Coats matchup would have been competitive, with a slight advantage for Bayh as the incumbent.
Bayh said Tuesday that he believes he can better help Americans outside a "dysfunctional" Congress rather than in it. "We've got a lot of good people in Congress, but they're trapped in a dysfunctional system," he said on "American Morning."
"We need some real reform here ... the public's business is just not getting done, and at a time of desperate need for our country," he said. "We've got to vote out the ideologues who are unwilling to accept half a loaf rather than none, and we've got to vote out the partisans who care more about their political fortunes than the country."
The senator said Monday that while he loves public service, he does "not love Congress" and that the body "is not operating as it should." He cited the Senate's recent failure to pass a jobs bill and legislation that would have created a deficit reduction commission as evidence of what he characterized as a broken political system.
"It may be shocking that someone in public office would actually decide to voluntarily step down," he said Tuesday, "but I reached a conclusion that if I could help to create jobs by growing a business, or help educate our children in a university or college, or help a philanthropy or charity, I would be getting more done to help people in their daily lives than Congress is currently doing."
Congress, he said, is "just not working real well right now."
Bayh, a former two-term governor, was first elected to the Senate in 1998, taking 62 percent of the vote. He won re-election with 64 percent six years later. In his two terms in the Senate, Bayh cut a centrist path and worked across party lines, which at times frustrated liberal Democrats.
"He hates the Senate, hates the left bloggers," a friend and longtime adviser to Bayh told CNN. "They are getting their wish, pure Democrats in the minority."
While Bayh had been considering retirement for a "good part of last year," he made his final decision not to seek re-election Friday, said another source, who spoke on the condition of anonymity.
"We do need independents and moderates ultimately to lead us to the practical solutions the American public seeks," Bayh said Tuesday. "... Under the current rules, it's very difficult to achieve that."
Congress needs reform, he said, and voters can do that through the ballot box. "If people are just pursuing narrow tactical political advantage, vote them out. If people are being rigidly ideologic and unwilling to accept reasonable compromise, vote them out."
Asked if those he characterizes as partisans are more likely to be re-elected, Bayh told CNN, "Yes, and that's part of the problem. Ultimately, the American people ourselves need to decide we care more about practical solutions and progress than we do about brain-dead ideology and political wrangling."
"I haven't left my party," he said. "On the contrary, I'm going to do what I believe I can to help the American people create jobs, educate our kids, working in the charitable sector -- those kind of things. That's more than what Congress is getting done right now."
A White House source confirmed Bayh discussed his retirement with President Obama well before announcing the decision. A Democratic Party source, however, told CNN that Bayh's announcement took national Democrats by surprise. The source added that Democratic Reps. Baron Hill and Brad Ellsworth, and Evansville Mayor Jonathan Weinzapfel, all may consider making bids for the Democratic Senate nomination.
The deadline for a candidate to submit the required number of signatures to have his or her name placed on the Indiana primary ballot is noon Tuesday. But if no candidate meets that goal -- and no Democrat is expected to do so -- then the Indiana Democratic Party will be able to choose its nominee.
Bayh was considered a possible running mate for Obama in 2008. Bayh's father, Birch, served three terms in Senate.
CNN's Mark Preston, Gloria Borger, John King, Jessica Yellin, Alan Silverleib, Candy Crowley and Deirdre Walsh contributed to this report.