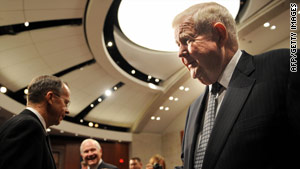 The late Rep. John Murtha had represented Pennsylvania's 12th Congressional District since 1974.
STORY HIGHLIGHTS
Pennsylvania Gov. Ed Rendell to announce a date for special election
Late Rep. John Murtha rarely had serious challenges in his re-election contests
Winner will have to defend congressional seat in November's midterm elections
Cook Political Report calls race tossup; Rothenberg analyst says it's favored Democratic
Washington (CNN) -- The mountains and valleys of southwestern Pennsylvania seem a world away from Washington, but they may soon be the scene of a fierce campaign battle between Democrats and Republicans.
Monday's death of Democratic Rep. John Murtha triggers a special election for his office, and conventional wisdom says the GOP has a good chance to pick up a House seat.
While Murtha rarely had any serious challenges in his 18 re-election contests, his party doesn't dominate what's considered a socially conservative district, which stretches from Cambria County in west-central Pennsylvania down to the southwestern corner of the state.
In the 2004 presidential election, Sen. John Kerry won Pennsylvania's 12th Congressional District by 2 percentage points. But Sen. John McCain narrowly edged out Barack Obama in that district in the 2008 presidential contest, even though Obama carried the state by 10 percent. The 12th was the only congressional district Kerry won in 2004 that McCain carried four years later.
The district, which includes parts of Pennsylvania's coal and steel country, "has seen hard economic times, even before the current recession," said Timothy McNulty, a political reporter for the Pittsburgh Post-Gazette.
Pennsylvania Gov. Ed Rendell said he'll soon announce a date for the special election. One option is to schedule the contest for May 18, the same day the state holds its primary for the gubernatorial and U.S. Senate races. That would save lots of money for a state that's struggling to balance its budget.

Video: Final farewell to Rep. Murtha

Video: Rep. John Murtha dies
But holding the special election on the same day as the primary could also benefit the Democratic candidate in the 12th District contest since a large turnout of Democrats is expected as the party holds competitive statewide races for Senate and governor.
Republicans don't have high-profile races in either statewide contest, and their turnout could be lower.
But the Post-Gazette reports that Rendell said it may not be possible to wait until May 18 to fill the seat.
"There are many important issues Congress may have to decide before that," Rendell said in a telephone conference call, according to the newspaper.
Former Lt. Gov. Mark Singel and state Sen. John Wozniak are among the Democrats mentioned as possible candidates. Republican William Russell, a former Army officer who grabbed 42 percent of the vote against Murtha in 2008, is considered a possible contender on the Republican side, as is businessman Tim Burns. Others from both parties may jump into the contest. McNulty terms it "a wide open race."
Pennsylvania Democrats said the state party committee's executive board will choose a candidate after a recommendation from party panel members from the district. Republican candidates will make their case at a meeting of party representatives from the counties that make up the district. Those representatives then will vote to decide the GOP nominee.
Following Murtha's death, two nonpartisan analysts characterized the once formerly safe seat for Democrats as in play. The Cook Political Report now lists the seat as a tossup, and the Rothenberg Political Report changed its description from solidly to favored Democrat.
"We don't know the candidates yet, but this is an opportunity for the Republicans based on the competitive nature of the district," said Nathan Gonzales, political editor of the Rothenberg Political Report. "Now that the seat is vacant, this is a very competitive race."
Whoever wins the special election then will have to defend the seat in November's midterm elections.
Republicans are feeling good after winning last month's special Senate election in Massachusetts and November's gubernatorial contests in New Jersey and Virginia. But while the national political climate may benefit the GOP, Democrats have won the past five competitive special elections for House seats.
Republicans also will be gunning for another Democratic seat being contested in an upcoming special election. Rep. Neil Abercrombie, D-Hawaii, is expected to step down this month to concentrate on his bid for governor, and Republicans have said they believe they have a shot at taking a district in which Democrats traditionally dominate.
The importance of both races will be magnified since they come a few months before the crucial midterm elections when all 435 seats in the House and 36 in the Senate will be up for grabs.
In the House, the GOP needs to pick up 40 seats to win back the majority. The special elections in Hawaii and Pennsylvania could force the party to decide its priorities.
"I think we are at the stage in the cycle where Republicans have to decide to save their money for the fall or spend money now for another symbolic victory," Gonzales added. "Republicans don't need one more seat right now. They need 40 come November. They need to balance their priorities and save some money for the fall."