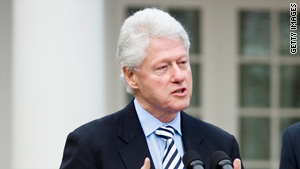 Former President Bill Clinton has led a busy life since leaving office.
STORY HIGHLIGHTS
Former President Bill Clinton undergoes heart procedure following chest pains
Spokesman says he's in good spirits and looking forward to working on Haiti relief efforts
James Carville, one of Clinton's friends, said he was exhausted after Haiti trip
Another friend says Clinton works long days and stays up late
(CNN) -- Former President Bill Clinton's heart troubles come as he was embarking on a busy schedule, recently working on relief efforts for earthquake-ravaged Haiti.
On Thursday, Clinton was hospitalized at the Columbia Campus of New York-Presbyterian Hospital after experiencing chest pain, according to Douglas Band, counselor to the former president. Two stents were placed in one of his coronary arteries.
David Gergen, CNN senior political analyst, said that Clinton was "exhausted" and had a cold after coming back from his recent trip to Haiti.
Gergen said that his fast-paced, globetrotting schedule reminded him of former President Theodore Roosevelt.
"They soaked up information ... and had a real energy for life," he said.
A close Clinton friend told CNN that despite changing some habits after a successful quadruple bypass surgery in 2004, he still works long days and stays up late.
"He has gone from a frenetic pace to what most people would consider a frenetic pace. He's living a life not that different from his 30s," the friend said. "While he eats a lot better than he used to, he certainly indulges every once in a while consistent with past behavior."

Video: Clinton: 'I feel great'

Video: Clinton's state of health

Video: Bill Clinton in hospital

Video: Clinton's medical history
James Carville, a CNN contributor and former Clinton administration official, said that Clinton was very enthusiastic and "charged up" about the recent Super Bowl.
Carville noted that Clinton goes on little sleep -- and refuses to slow down.
"I don't think he wants to slow down," he added.
Clinton hasn't left the public eye since he left the White House, maintaining an active schedule devoted to global philanthropic interests and speeches.
His latest role as the U.N. special envoy for Haiti has taken him twice to the earthquake-ravaged island nation and he is leading efforts to raise money for the hard-hit area.
"We will likely see him return to Haiti and other places in the world," CNN Senior Medical Correspondent Dr. Sanjay Gupta said.
Clinton, 63, jumped back onto the world stage last year with an unannounced trip to North Korea on a mission to negotiate the release of two imprisoned American journalists. Clinton arrived to a warm welcome in Pyongyang, North Korea.
Clinton's high profile has led critics to accuse him of upstaging his wife, Secretary of State Hillary Clinton, especially when he was making headlines while campaigning for her unsuccessful 2008 presidential bid.
Before his wife's presidential campaign, Clinton focused most of his efforts on the William J. Clinton Foundation. The foundation's projects include the Clinton Global Initiative, which seeks to combat poverty and climate change and promote health and education programs worldwide as well as separate initiatives directed at childhood obesity, global warming, HIV/AIDS and malaria, inner-city entrepreneurship and economic growth in Latin America.
It also funded the construction of the Clinton Presidential Library in Little Rock, Arkansas. The foundation boasts more than 800 staff and volunteers around the world.
In his post-presidency, Clinton also has shared the stage with former President George H.W. Bush on numerous occasions. The two teamed up to establish the Bush-Clinton Katrina Fund and Bush-Clinton Tsunami Fund.
They toured the tsunami-ravaged areas following the 2004 disaster, and they teamed up again the following year to lead relief efforts in the aftermath of Hurricane Katrina.
Clinton also has taken time to author a couple of best-selling books. His 2004 memoir, "My Life," sold more than 400,000 copies the first day it was available.
CNN's Jessica Yellin and Kristi Keck contributed to this report.