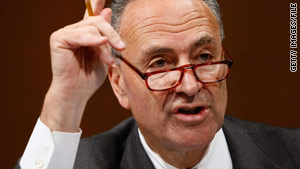 Sen. Chuck Schumer, D-New York, calls the recent Supreme Court ruling on campaign finance "corrosive."
STORY HIGHLIGHTS
Democratic legislation seeks to limit impact of Supreme Court's campaign finance ruling

Court overturned ban on companies and unions using funds to run election ads

Bill would ban foreign firms receiving U.S. contracts or bailouts from spending in races

Washington (CNN) -- Top congressional Democrats unveiled legislation Thursday that would ban foreign-controlled companies receiving either government contracts or federal bailout funds from spending money on U.S. elections.
The legislation, slated to be introduced officially later this month, also would require the head of any corporation running a political ad to appear in the commercial to say that he or she "approves this message" -- just as candidates themselves do today.
The measure is designed to mitigate the impact of last month's controversial U.S. Supreme Court campaign finance ruling, which overturned a long-standing ban on corporations and unions using their treasury funds to run presidential and congressional election ads.
The 5-4 decision -- a victory for the high court's conservative majority -- also rejected a prohibition on companies and unions running campaign ads 30 days before a primary election or 60 days before a general election.
Most GOP leaders have praised the ruling as an affirmation of First Amendment free speech rights. Democrats, however, have slammed the decision as a win for traditionally Republican-leaning corporate interests.
President Obama has said the ruling gave "a green light to a new stampede of special-interest money in our politics" and called for legislation curbing its impact.
On Thursday, one of the bill's sponsors, Sen. Chuck Schumer of New York, called the ruling a "corrosive" and "infuriating decision."
The court "inexplicably opened up the floodgates to much greater special-interest influence than we have ever seen before," the senator said.
Among other things, the legislation that Schumer and Rep. Chris Van Hollen of Maryland unveiled would require:
• The names of the top five contributors to any organization created for political purposes that purchases advertising to be listed at the end of the ad;
• The top funder of any political advertisement to record a separate "stand by your ad" disclaimer;
• Certain business and unions to establish "political activities" accounts -- monitored by the Federal Election Commission -- for the purpose of receiving and spending political funds;
• Any political expenditure made by a company to be disclosed within 24 hours on the company's Web site;
• Any political expenditure made by a company to be disclosed to shareholders on a regular basis;
• A ban on corporations and unions coordinating election ads with federal campaigns if those ads promote or oppose a specific candidate.
Foreign companies would be defined in the bill as those with a foreign ownership of 20 percent or more, or those in which a majority of the board of directors is composed of non-U.S. citizens.
In addition, a company would be defined as foreign if its U.S. operations, or its decision-making regarding political activities, is directed by a foreign entity, including a foreign government.
Critics have accused Democrats of unfairly using the Supreme Court's ruling to take political advantage of a rising protectionist and populist sentiment.
During his State of the Union address, Obama warned that the decision would allow American elections to be effectively "bankrolled" by "foreign entities."
Justice Samuel Alito, part of the high court's conservative majority, could be seen at the time uttering the words "not true" in response.
The court's ruling did not specifically address the question of whether restrictions on political spending by foreign-based companies would be lifted.
"We agree that foreign influence should play no role in our political system," said Nancy McLernon, head of the Organization for International Investment, an organization representing U.S. subsidiaries of companies headquartered abroad.
But "going after the issue with a knee-jerk response, by redefining the U.S. operations of a company based abroad as a foreign company makes no sense in today's global world."
McLernon argued it is unfair for Democratic leaders to be "lumping in [Venezuelan President] Hugo Chavez and Siemens, which has 69,000 American employees." Siemens is headquartered in Germany.
"A more nuanced approach is needed," she said. "The world's too complicated now."
CNN's Matt Smith contributed to this report.