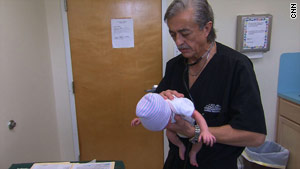 Dr. Jaview Ramirez arrived in McAllen 30 years ago and helped create the county's first neonatal program.
STORY HIGHLIGHTS
Most in U.S. health system paid for each service, regardless of the results of service
Creates "perverse incentive" for more medical services to create more profit, expert says
Expert: Excessive services drive up costs and do not improve patient outcomes
Docs must care for patients first, and then worry about profit, says doc in McAllen, Texas
McAllen, Texas (CNN) -- Even as the health care debate turns to blood sport in Washington, some analysts say the debate is ignoring one of the leading causes of rising costs: the way health care providers are paid.
"They are rewarded for more services, not better services. They are rewarded for more care, not better care," said Dr. Elliott Fisher, a lead researcher for the Dartmouth University Atlas of Health. "Most of the U.S. health system is paid simply for each service, regardless of the results of that service."
The result is what Fisher calls a "perverse incentive" to order more medical services. That may bring a doctor or hospital a healthier bottom line, but it does not provide any better health for patients while driving up costs.
In McAllen, health care spending is growing faster than anywhere else in the country. When the researchers at the Dartmouth Atlas used Medicare's most recent numbers to compare health care usage across the country, they found that McAllen spends almost twice as much per beneficiary as the national average. Many providers use more of everything -- more tests, more hospital stays, more procedures.
SIU Blog: Texas, Pelosi and the doctor bills
McAllen is a small city on the Mexican border in one of the nation's poorest counties, but the population is not exceptionally sick, according to Dartmouth data. Nor does all that medicine make them healthier at the end of the day.
"There's a whole array of services that are delivered in McAllen that patients in other communities are not receiving," Fisher said. "And we have no evidence that provision of those additional services yields any particular benefit to those patients."
In 1992, Medicare spending in McAllen was under the national average. But, since then, the business of medicine here has exploded, and Dr. Javier Ramirez has seen the change firsthand.
Ramirez arrived in McAllen 30 years ago and helped to create this county's first neonatal program. He believes many doctors here have lost their way.
"You have to care for patients first, and then worry about whether you're going to make money. You cannot put money before patients," he said.
Ramirez said many in McAllen's medical community are doing the opposite -- an assertion that put him on a collision course with one of the area's newest, biggest hospitals, Doctors Hospital at Renaissance. Ramirez is now suing the hospital, accusing it of damaging his business and reputation. Though he is one of its doctor-owners, he says he once was barred from practicing there after complaining about the way the hospital does business.
"For a long time, there was a general staff meeting, there was kind of a law: You have to refer [patients] to doctors that are part of the partnership. This is your hospital, make it grow," he said.
And that wasn't all, Ramirez said. He said hospital staffers were ordering tests and procedures he felt were unnecessary for his tiny patients.
"If you have a baby and it's born with a little elevated temperature or a nurse hears a heart murmur, it immediately gets all these tests done," Ramirez said. "It gets no assessment from the physician because they have standing orders. So all of a sudden you're increasing the trauma to the patient because you're doing tests on them -- some of them [tests] are baseless, some of them are not. Also you increase the costs."
It also increases the amount of money the hospital makes, since higher-cost tests, procedures and facilities are reimbursed at higher rates by insurers.
"The way we pay now, some services are rewarded more than others," Fisher said. "And so, hospitals tend to emphasize those kinds of services where they can be sure they'll make a profit."
Because of privacy laws, it is hard to determine if all of those babies Dr. Ramirez talks about actually needed the tests or not. In court documents, the Doctors Hospital at Renaissance denies all of Ramirez's allegations.
The hospital will not speak on the record about the Ramirez case. But the hospital's chief financial officer, Susan Turley, insists that it is patient care, not profit-making procedures, that is the secret of the hospital's success.
"You keep your employees happy, they want to work here and the finances follow. And that's exactly what we do here," she said. The hospital doesn't bill any more than any other hospital in the region, Turley said.
Doctor's Hospital at Renaissance has brought cutting edge technology and world-class services to South Texas, including robotic surgery, state-of-the-art radiology, 45 medical specialties and 17 facilities, she said. What's hard to imagine is that they've been able to finance all of this growth and expansion when, according to Turley, 75 percent of their patients are on Medicare or Medicaid.
Turley says the hospital thrives on reinvestment and efficiencies. But, according to Fisher, hospitals in areas that have the highest health care costs are also thriving from the nation's health care system -- a pattern he says ultimately can have catastrophic results.
"Health care will not be affordable for the middle class in another 10 years if costs keep growing as they are now," Fisher said.
"It doesn't need to be that way."
"We can have much better care at much lower costs," he said, but reaching that goal will require a new way of thinking.
"We are not rewarding what we really want," he said. "We're rewarding people for doing stuff that's paid well. What we want to do is pay them well to do the right thing."
CNN's Courtney Yager contributed to this report.