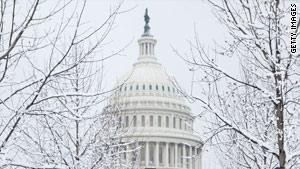 The Obama administration and Democratic leadership are pushing to pass a jobs bill.
STORY HIGHLIGHTS
Senate majority leader looking to pass a jobs bill before Presidents Day
Experts say Republicans and Democrats could craft a bipartisan bill
GOP strategist said Republicans so far are not convinced
President Obama needs to play hardball with Republicans, Democratic strategist says
Washington (CNN) -- As Senate Democrats look to pass a jobs bill before Presidents Day, experts say the debate is an opportunity to see if calls for bipartisanship will be answered.
With high unemployment -- now at 9.7 percent -- and polls showing Americans desperate for economic relief, the White House and the Democratic leadership are looking for ways to quell fears and get legislation passed as the midterm elections near.
Bipartisanship could be the answer.
"There is certainly the opportunity for this to be a bipartisan bill. It should be a bipartisan bill because jobs are the thing that are on the mind of every single American right now," said Sean Gibbons, director of communications and a congressional analyst at Third Way -- a Washington think tank described as focusing on the middle class and moderate politics.
Gibbons said a jobs bill being currently crafted in the Senate is the perfect vehicle for bringing the two parties together, using common ground to help Americans.
"I think what the White House needs to do is dangle some goodies in front of Republicans that will make it very difficult for them to vote against," said Democratic strategist Julian Epstein. "On a jobs program, I think you need to put certain types of tax cuts in there; I think they should be thinking about capital gains."
Norman Ornstein, a political observer at the American Enterprise Institute, said that out of all legislation before Congress, a jobs bill is likely to bring Republicans and Democrats together.

Video: Obama looks to boost jobs

Video: GOP's budget concerns

Video: Obama rallies Democrats
"It's more likely to happen on jobs than almost any other issue," he said. "Not because Republicans are eager to give Obama and the Democrats the victory; not because they have a fundamental agreement with a lot of things they want to do; because politically, to say you're going to oppose even a government program on jobs is a harder thing to do than say you're going to oppose a government takeover of the health care system."
The Democrats' agenda includes: renewing existing highway legislation for a year, which is expected to result in 1 million jobs, Senate Majority Leader Harry Reid said. Also, enacting small business and job creation tax credits -- and extending Build America Bonds, a stimulus measure that helps states and municipalities fund capital construction projects.
Reid said he is aiming for a bipartisan compromise on the bill, but is not ruling out a partisan approach if Republicans fail to cooperate.
However, that could be a tough go. The balance of power changed in the Senate when Democrats lost their 60-seat, filibuster-proof majority with Republican Scott Brown's victory in the Massachusetts special Senate election.
Senate Democrats have seemingly moved away from introducing a comprehensive bill similar to the $154 billion legislation passed narrowly by the House in December. They are more likely push through smaller measures in stages, observers note.
But some Republicans aren't biting.
"The Democrats haven't provided a positive solution just yet; they're not even sure what's in their own jobs bill," said Republican strategist Ron Bonjean. "So Republicans can't necessarily get behind it unless they know what's in it and with an understanding that it will really create jobs."
Bonjean said a bipartisan bill is possible -- but it can't be a bill that just spends frivolously.
Other Republicans point to problems Democrats have faced in turning the battered economy around.
Rep. Jeb Hensarling, R-Texas, said in the Republican weekly address Saturday that Democrats last year promised more jobs and said unemployment would remain below 8 percent with their stimulus legislation.
"Americans are still asking, 'Where are the jobs? Where are the jobs?' But all they are getting from Washington is more spending, more taxes, more debt and more bailouts."
Despite the criticism coming from Republicans, it's time for Obama to drop being the "Kumbaya" president and instead play hardball, said Epstein.
"And hardball means putting in provisions that will be very difficult for the Republicans to vote against."
Hardball means putting in provisions that will be very difficult for the Republicans to vote against.
--Democratic strategist Julian Epstein
Obama should use any Republican opposition to the jobs bill against them as the midterm elections approach, said Epstein.
But Gibbons warned that playing horse-race politics with jobs may not have an effect on voters come November.
"I think what most voters are going to do when they go to the polling booths in November is they are going to make an assessment on is Washington working for them?" he said. "It doesn't matter if you're a Democrat or Republican. At the end of the day there's a tremendous amount of frustration at Congress in general."
He said that if Republicans do obstruct a jobs bill from going forward -- one that is well crafted and is supported by members of each party -- then it's going to be "awfully hard for voters, particularly in swing districts, to say 'I want to cast my vote with the guys who seem not to play nicely and not put forward any ideas of their own.' "
It should be Democrats who are worried -- not Republicans, said Bonjean.
"I think Democrats will be on defense the rest of the year. Because if jobs aren't improved ... they have a lot to answer for. They're the majority party," he said. "I think the American people will say at the end of the day: 'Did the Democratic majority create jobs or not?' And if they haven't, they are going to vote against them in November."