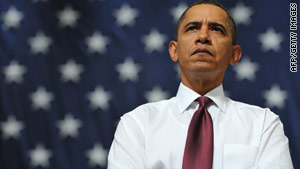 Heallth care is one of President Obama's top domestic priorities.
STORY HIGHLIGHTS
Obama to meet with bipartisan congressional leaders Tuesday
Meeting now a prelude to February 25 health care talks
Obama, Dems trying to proceed on health care after losing their 60-seat supermajority
Obama says he'll ask Republican leaders "to put their ideas on the table"
Washington (CNN) -- President Obama's bipartisan meeting on health care reform planned for February 25 will be broadcast live, a senior administration official said Monday.
Coverage details were not complete, but the official said the White House expected "the whole thing to be live."
The half-day meeting is an attempt by the Obama administration to rescue health care legislation, a top domestic priority for the president. Televising it also would help fulfill a campaign promise by Obama that health care negotiations would be broadcast live.
On Tuesday, Obama will meet with Democratic and Republican leaders in the House and Senate for bipartisan talks that the president promised in his State of the Union address last month. Tuesday's meeting now will help prepare for the February 25 health care talks.
Republican leaders in Congress said they would welcome an opportunity to take part in drafting health care legislation, but they repeated their past calls for Obama and Democratic leaders to throw out separate health care bills already passed by the House and Senate in order to start over in a bipartisan effort.
Sen. Jon Kyl of Arizona, the chamber's second-ranking Republican, said in a statement Monday that Obama's call for bipartisan health talks care was welcome "if the point is to listen to Republican ideas and really consider them."
"According to recent news reports, however, White House officials have made it clear 'that Obama does not intend to restart the health care legislative process from scratch' and 'that he's adamant about passing comprehensive reform similar to the bills passed by the House and Senate,' " Kyl's statement said.
"Such preconditions suggest the White House is not serious about genuine negotiations," it continued. "A large majority of the American people strongly oppose the Democrat's massive bill, and Republicans will not abandon them."
Top House GOP leaders sent a letter to Obama Monday asking who would be allowed to participate in the meeting. They warned that if "the starting point for this meeting is the bills the American people have already soundly rejected, Republicans would rightly be reluctant to participate."
"Bipartisanship," the GOP leadership argued, "is not writing proposals of your own behind closed doors, then unveiling them and demanding Republican support. Bipartisan ends require bipartisan means."
In a CBS interview broadcast nationally Sunday, Obama said: "What I'd like to do is have a meeting whereby I'm sitting with the Republicans, sitting with the Democrats, sitting with health care experts, and let's just go through these bills -- their ideas, our ideas -- let's walk through them in a methodical way so that the American people can see and compare what makes the most sense."
Obama first floated the idea of face-to-face, televised talks with Republicans to seek a health care compromise last week. In a speech Thursday at a fundraising crowd, he said that whatever legislation emerges from the talks should then go to Congress for a vote.

Video: Health care simplified: Part 1

Video: Health care simplified: Part 2

Video: Clinton talks health care
"If Congress decides we're not going to do it, even after all the facts are laid out, after all the options are clear, then the American people can make a judgment as to whether this Congress has done the right thing for them or not," Obama said Thursday. "That's how democracy works."
The senior administration official said Obama was determined to keep pushing for a health care bill.
Obama will not "let this moment slip away," the official said. The president "hopes to have Republican support in doing so -- but he is going to move forward on health reform."
The planned talks with Republicans are the first clear strategy by Obama and Democrats on how to proceed on health care after losing their 60-seat supermajority in the Senate.
Republican Scott Brown was sworn in as the new U.S. senator from Massachusetts last week, leaving the Democrats one vote shy of being able to overcome GOP filibusters of health care reform and other major initiatives.
The House and Senate have passed separate health care bills supported by Democrats. Obama said last week that Democratic leaders were completing work on merging the two bills into a single Democratic proposal for the talks with Republicans.
In the interview Sunday with Katie Couric of CBS News, Obama said he planned to ask Republican leaders "to put their ideas on the table."
"What I want to do is look at the Republican ideas that are out there, and I want to be very specific," Obama said. "How do you guys want to lower costs? How do you guys intend to reform the insurance market so that people with pre-existing conditions, for example, can get health care? How do you want to make sure that the 30 million people who don't have health insurance can get it?
"If we can go step by step through a series of these issues and arrive at some agreements, then procedurally, there's no reason why we can't do it a lot faster than the process took last year," Obama said.
On Monday, Republican leadership aides said they were unaware of any formal invitation to the February 25 meeting.
The aides said they received notification before Obama's CBS interview yesterday that he was going to talk generally about inviting them for a bipartisan meeting on health care after next week's February congressional recess. However, the aides said they didn't get many specifics about the format or other details. That information came from media reports, the aides said.
Senate Minority Leader Mitch McConnell, R-Kentucky, said in a statement that while Republicans "appreciate the opportunity to share ideas with the president," to reach a bipartisan consensus, "the White House can start by shelving the current health spending bill, and with it their goal of slashing a half trillion dollars from Medicare and raising a half trillion in new taxes."
"Setting these goals aside would be a sign that the administration and Democrats in Congress are listening to the country and are truly interested in a bipartisan approach," McConnell said.
On the House side, Minority Leader John Boehner, R-Ohio, said in a statement that he was "pleased that the White House finally seems interested in a real, bipartisan conversation on health care."
But Boehner added: "The problem with the Democrats' health care bills is not that the American people don't understand them; the American people do understand them, and they don't like them. The best way to start on real, bipartisan reform would be to scrap those bills and focus on the kind of step-by-step improvements that will lower health care costs and expand access."
Democratic leaders in Congress said they would continue pushing for health care reform.
"As we continue our work to fix our broken health care system, Senate Democrats will not relent on our commitment to protecting consumers from insurance company abuses, reducing health care costs, saving Medicare and cutting the deficit," Senate Majority Leader Harry Reid, D-Nevada, said in statement.
House Speaker Nancy Pelosi, D-California, noted Sunday that the health care bill passed by the House "included a number of Republican amendments -- added as the bill worked its way through three committees."
"We remain hopeful that the Republican leadership will work in a bipartisan fashion on the great challenges the American people face," Pelosi's statement said.
Republicans say the comprehensive Democratic health care bills would lead to a government takeover of health care. They call for smaller steps focused on individual issues, such as limiting medical malpractice lawsuits.
Democrats, however, say that spiraling health care costs that threaten the nation's future economic stability can be addressed only through comprehensive reform.
Obama said Thursday that a merged Democratic bill would expand coverage to 30 million Americans who lack health insurance while reducing long-term health care costs.
It would include an insurance exchange to allow people and small-business owners to pool resources to purchase coverage, Obama said, but he made no mention of a government-run public health insurance option that Republicans have rallied against.
Obama said the Democratic bill would include reforms that prevent insurance companies from denying coverage for pre-existing medical conditions or capping lifetime benefits.
"And by the way, all of it is paid for," Obama said Thursday. "Not only is it deficit-neutral, but the Congressional Budget Office, which is the bipartisan office that is the scorekeeper for [how much] things cost in Congress, says it is going to reduce the costs by $1 trillion."
Obama called health care reform the "single best way to bring down our deficits," adding that "nobody has disputed that."
"Nobody can dispute the fact that if we don't tackle surging health care costs, then we can't control our budget," he said.
CNN's Ed Henry, Dana Bash, Tom Cohen and Alan Silverleib contributed to this report.